Have you heard about GentleCath™ Hydrophilic Catheters? At 180 Medical, we love sharing the latest scoop on new catheter products. Check out some of the top benefits, features, and details about Convatec GentleCath™ hydrophilic catheters.
What is a Hydrophilic Catheter?
A hydrophilic catheter is an advanced catheter type, which features a unique coating that acts like lubrication when it touches water. This means there is no need to manually apply lubricating jelly to the catheter as you would with a regular uncoated catheter.
Would you like to try free samples of hydrophilic catheters but you're not sure if your insurance would cover this type of advanced product? Reach out to 180 Medical to get started! Our experts can verify your insurance and walk you through your options.
Verify Your Insurance Now
What is a GentleCath™ Catheter?
Convatec designed its line of GentleCath™ catheters with the user in mind. GentleCath™ is known for comfort, safety, and ease of use.
All GentleCath™ brand catheters feature soft, rounded tips and polished eyelets for a smoother insertion. They're available in a wide variety of types, including straight catheters, coudé tip catheters, hydrophilic catheters, and more.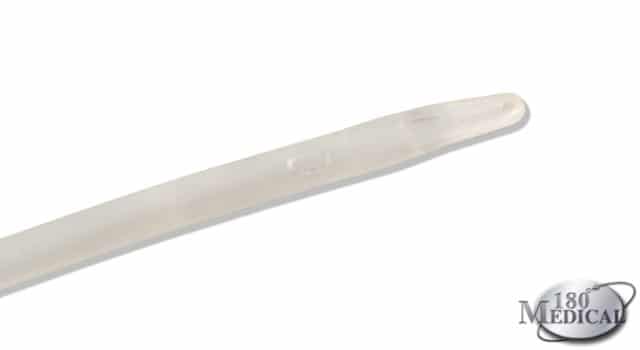 What Are the Features of GentleCath™ Hydrophilic Catheters?
GentleCath™ hydrophilic coated catheters are designed to minimize the risk of complications and infection while delivering a simple, easy experience.
Also, GentleCath™ hydrophilic catheter supplies feature a unique polymer that reacts with water. This fully lubricates the catheter prior to insertion so you'll never need additional lubricating jelly.
Because the coating is bonded to the catheter, the water-activated lubricant will not slough off as the catheter enters your urethra. In other words, catheterization with a GentleCath hydrophilic catheter may help make catheterization more comfortable from beginning to end.
Plus, you'll never have to directly touch the catheter, which may help reduce the risk of urinary tract infections (UTIs).
Here are some additional benefits of GentleCath™ Hydrophilic Catheters:
No Touch Handling Strip
This blue strip is on each GentleCath hydrophilic catheter, which makes it easier to handle the catheter during insertion. It also helps facilitate a more sterile, no-touch catheterization.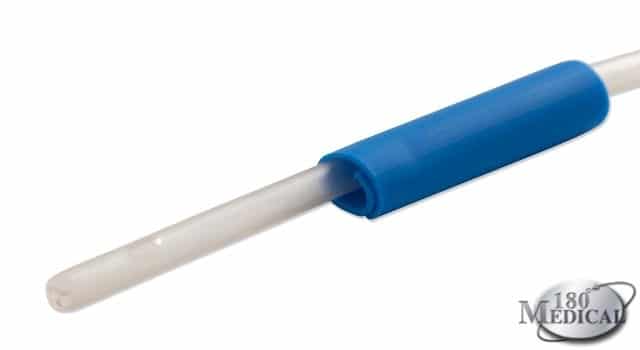 Sterile Water Sachet
This easy-to-pop water sachet is included. So you'll never have to search for a separate water source to activate your hydrophilic catheter. This makes cathing more convenient, whether you're at home or on the go!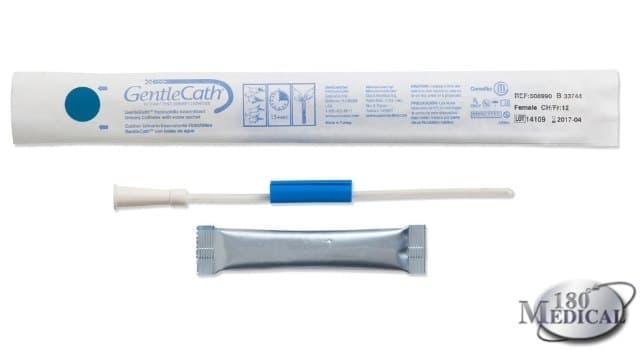 Wall Attachment Tab
The package includes a blue circular wall attachment tab. When you pull off the blue circle, it reveals a sticky surface. Next, you can attach the package to the wall while you wait 15 seconds for the water to activate the hydrophilic coating.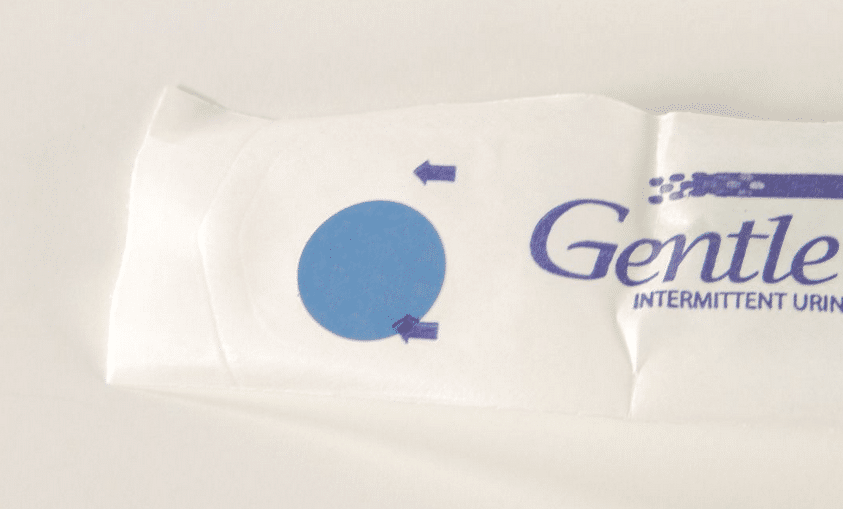 Color-Coded Funnels Indicate French Size of Catheters
These latex-free hydrophilic catheters also feature color-coded funnels to help you determine French size.
Optional Insertion Supplies in a Hydrophilic Catheter Kit Also Available
In addition to all these great features, you may also be eligible to receive sterile insertion supplies in the GentleCath™ hydrophilic catheter kit.
The GentleCath Hydrophilic Catheter Kit, also available in male, female, and coudé options, includes a collection bag, antiseptic pad, gloves without latex, and an underpad.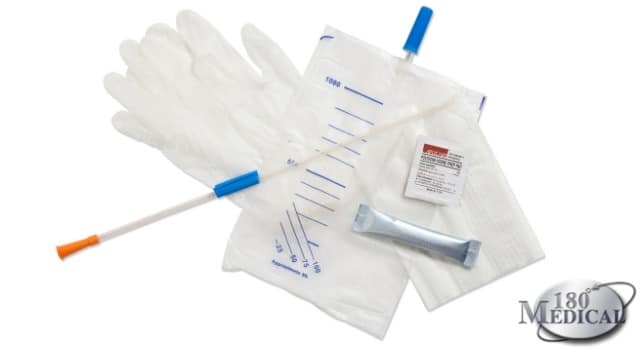 How Do I Use GentleCath™ Hydrophilic Catheters?
Take a look at this quick introductory video direct from Convatec, which gives you some step-by-step cathing instructions and a good look at the catheter features in action.
For more information regarding how to catheterize, feel free to call one of our trained specialists so we can walk you through that process.
180 Medical also offers helpful online cathing instructions at howtocath.com.
Can I Get a GentleCath™ Hydrophilic Coated Catheter in My French Size?
With a variety of lengths, diameters (French sizes), and options, it's a good possibility. Take a look below to see what might suit your needs best.
To determine which French size is right for your anatomy, be sure to consult with your prescribing doctor.
| | |
| --- | --- |
| French Size | Item Number |
| 8 Fr | 508993 |
| 10 Fr | 508994 |
| 12 Fr | 508995 |
| 14 Fr | 508996 |
| 16 Fr | 508997 |
| 18 Fr | 508997 |
Request Free Male Hydrophilic Catheter Samples
| | |
| --- | --- |
| French Size | Item Number |
| 8 Fr | 508988 |
| 10 Fr | 508989 |
| 12 Fr | 508990 |
| 14 Fr | 508991 |
| 16 Fr | 508992 |
Request Free Female Hydrophilic Catheter Samples
| | |
| --- | --- |
| French Size | Item Number |
| 10 Fr | 508999 |
| 12 Fr | 509000 |
| 14 Fr | 509001 |
| 16 Fr | 509002 |
| 18 Fr | 509003 |
Request Free Coudé Hydrophilic Catheter Samples
Which GentleCath™ Products Does 180 Medical Carry?
180 Medical carries Convatec's entire line of GentleCath™ catheters, including all the latest options. You can try options including their 100% latex-free straight catheters, coudé catheters, red rubber catheters, hydrophilic catheters, and hydrophilic catheter kits.
Plus, we carry the popular GentleCath™ Glide Catheters, which are hydrophilic catheters with a whole new type of technology called FeelClean™ Technology. This catheter isn't just coated with hydrophilic properties; the properties are embedded within the actual material of the catheter.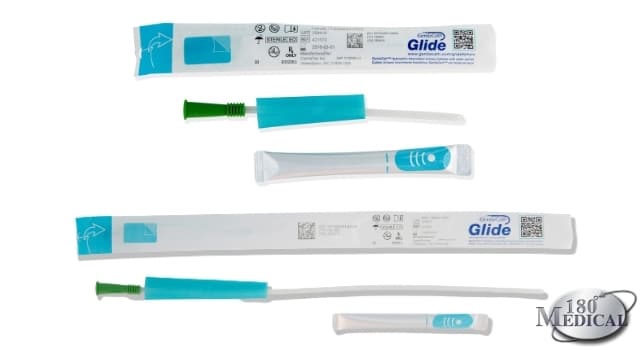 This creates a clean, quick, comfortable catheterization experience from start to finish when you use a Glide catheter.
Request Free Glide Catheter Samples
How Can I Find the Catheter That's Right for Me?
We know catheters aren't one-size-or-type-fits-all. That's why we carry one of the largest selections of catheter brands.
You deserve the freedom to try options and figure out what feels and works best for you based on your health insurance coverage and catheterization prescription.
Just contact 180 Medical by filling out our online inquiry form or give us a call at 1-877-688-2729.
Our friendly product experts are ready to help you find the right catheter product for your needs.