Are you looking for a hydrophilic catheter that's comfortable and easy to use? You might want to know more about Hollister Onli™ Intermittent Hydrophilic Catheters. Hollister Onli™ catheters are a popular option, and we have some exciting news. Hollister has recently upgraded the line of Onli™ catheters. Find out more details here!
Get Free Onli Samples
About Hollister Onli™ Hydrophilic Catheters
Hollister Onli™ Ready-to-Use Hydrophilic Catheters are great for everyday use. Whether you need male length or female length, the Onli™ catheter is available in both.
Each hydrophilic coated catheter is already pre-hydrated inside its own easy-open package. In other words, you won't have to pop a water packet and wait for it to soak and activate. It's ready to use as soon as you're ready to cath.
Onli™ Male Length Catheter
The Hollister Onli™ male catheter is 16 inches long and features a blue ergonomic gripper for easier handling. Additionally, this gripper keeps your hands from directly touching the catheter tube.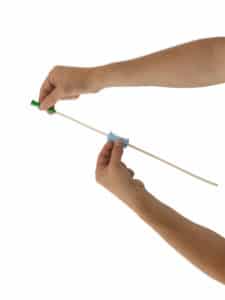 Onli™ Female Length Catheters
The Hollister Onli™ female catheter is 7 inches long, which makes it perfect for discreetly storing in your pocket, backpack, or purse until you're ready to use it. The color-coded funnel can help you determine the French size of your catheter. Plus, it's helpful for women and girls to hold on to as they insert the catheter, which also helps reduce the risk of contamination from hands during self-cathing.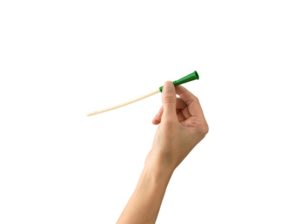 Hollister Onli™ Hydrophilic Catheter's Upgraded Features
Pre-hydrated and ready to use with a more lubricious hydrophilic coating for easy insertion
Color-coded funnel for easy French size identification
Clear catheter tube for increased visibility of urine flow
Two finger holes and peel-apart packaging for easy opening
New sticky tab on packaging to support preparation
Reduced spilling
Lighter packaging for less weight and waste
No staining of clothing (denim, linen, and polyester)
Available in both male length and female length
Free from PVC, DEHP, and phthalates for improved sustainability
Ergonomic gripper on male length for no-touch catheterization
Not made with natural rubber latex
How to Catheterize with Onli™ Catheters
180 Medical is glad to provide online educational information on how to cath for men, women, and children at howtocath.com.
Also, when you order from 180 Medical, let us know you'd like to receive our how-to cath booklets. These not only teach the basics of catheterization step-by-step but also offer tips for proper hygiene during cathing.
Plus, our staff of trained Catheter Specialists can help answer questions about catheter products that may be best for your unique anatomy and needs.
Hollister Catheter Supplies at 180 Medical
180 Medical is proud to offer our customers a wide range of catheter choices from all the catheter manufacturers available today, including the entire range of Hollister brand catheters.
You can explore the Hollister Onli Male Catheter and Hollister Onli Female Catheter below. Next, explore the range of Hollister products on our online catheter showcase, such as the popular Hollister VaPro Plus catheters or Hollister Advance Plus closed system catheter kits.
Hollister Onli™ Hydrophilic Catheter Information
Hollister Onli™ Hydrophilic Female Catheters
| | |
| --- | --- |
| French Size | Item Number |
| 8 Fr | 82081 |
| 10 Fr | 82101 |
| 12 Fr | 82121 |
| 14 Fr | 82141 |
Hollister Onli™ Hydrophilic Male Catheters
| | |
| --- | --- |
| French Size | Item Number |
| 8 Fr | 82084 |
| 10 Fr | 82104 |
| 12 Fr | 82124 |
| 14 Fr | 82144 |
| 16 Fr | 82164 |
What catheter should I use?
With years of experience in helping our customers find the right catheter for their unique needs, 180 Medical knows catheters inside and out. We understand that a catheter product that might work perfectly for one person may not always be the right fit for another's needs. While your doctor is the best source for medical advice as well as determining the French size of your catheter, our Catheter Specialists are trained and ready to help you narrow down the wide selection.
Request Free Samples
At 180 Medical, you get access to a wide selection of catheter products from all the leading manufacturers. Instead of being told which brand or product to use, we offer you flexibility and free samples based on your prescription and insurance coverage. This way, you get to choose and decide what works and feels best for you.
It's important to note that your particular insurance plan may or may not cover advanced catheter products like hydrophilic catheters or closed system catheter kits. However, our specialists will verify your insurance and follow up quickly to inform you about your catheter coverage.
Contact 180 Medical to get the ball rolling. We're ready to help you.