180 Medical is proudly honoring Urology Nurses and Associates Week!
Honoring Urology Nurses and Associates Week at 180 Medical
At 180 Medical, we recognize the hard work, care, and dedication that urology nurses and other urology healthcare associates put in at their jobs every day.
Urology Nurses Week is a time to honor all of their contributions. Urology professionals make a positive impact on their patients' lives every day.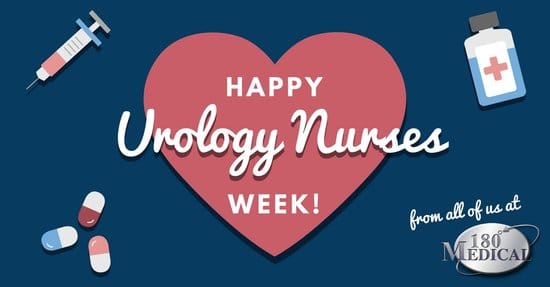 What Do Urology Nurses Do?
Urology nurses, assistants, doctors, and associates play a crucial role in the care of their patients' overall well-being.
It takes a truly compassionate person to care and listen with respect to their patients. Many of the urological conditions, such as urinary incontinence, can feel embarrassing for a patient to bring up.
However, urology professionals are empathetic and kind as well as incredibly knowledgeable.
Whether they work in roles with surgery, office visits, testing, or even demonstrating to their patient how to use catheters for the first time, urology nurses and other urology professionals have important roles in healthcare.
About SUNA
That's why Urology Nurses and Associates Week was established back in 2006 by the Society of Urologic Nurses and Associates (SUNA).
180 Medical is a proud corporate sponsor of SUNA.
"Urology nurses often tell me that they want their patients to feel like family. I'm happy to work for a company that feels the same way," says Krista Howard, one of 180 Medical's Urology Territory Specialists. "When they refer their patients to 180 Medical, they know they will receive the same level of care and compassion that urology nurses give every day in their jobs."
Leading Provider of Urologic Supplies
180 Medical provides intermittent catheters, urostomy supplies, and other urological supplies. Because of this, we regularly interact with urology offices and the nurses at these great facilities.
We're proud to be a preferred provider for urology nurses, doctors, and other healthcare professionals across the country. We gladly act as an extension of their superior care and compassion. In addition, we provide the high-quality catheter supplies and customer service their patients need.
If your life has been touched by a urology nurse or associate, we encourage you to let them know. They truly deserve recognition for all the hard work they do.