For the 8th year, 180 Medical is again one of the Best Places to Work in Oklahoma in 2017. In addition, some employees recently attended the Best Places to Work banquet where we found out we ranked 7th among large employers in Oklahoma!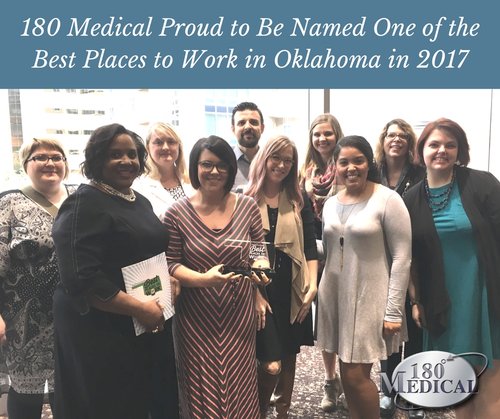 What Are the Best Places to Work in Oklahoma Awards?
The Oklahoma-based Journal Record and Best Companies Group joined together to create the Best Places to Work awards. These awards go to recognize the top employers in the state with the best business practices and most satisfied employees.
The Best Places to Work awards include many industries in the state, such as finance, healthcare, and non-profit businesses.
They conduct a detailed process of collecting data from entrants. Plus, they analyze anonymous feedback from employees in surveys. Then they give out the awards to the workplaces that exhibit the most positive, safe, and happy workplace culture.
"The real honor in this ranking is that it comes from feedback from our own employees. To rank so highly among the many workplaces in Oklahoma is a testament of just how awesome 180 Medical is," says Angie Christopher, Director of Human Resources at 180 Medical. "We truly care about making 180 Medical a place where people with big hearts and a good work ethic can enrich their careers and lives."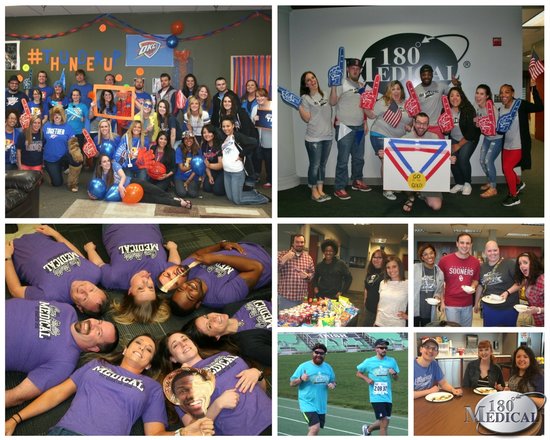 Mark Jassey, CCO of 180 Medical, says, "We're so glad to be able to continue to honor Todd's original vision for this company when he first founded it fifteen years ago. It's amazing to witness the company's growth, but even more humbling when we consider just how many people we have been able to help over the years, thanks to the solid foundation of compassion and integrity that Todd built this company on in 2002."
We're happy and proud to stand among the best in Oklahoma!
Apply at One of the Best Places to Work in 2017
Are you seeking a job where you can develop your skills while helping others in a positive team environment?
Apply today at www.180medical.com/careers.