Want to find out the latest catheter news? 180 Medical now carries the Cure Ultra Catheter for men and women.
Cure Ultra Pre-Lubricated Catheter for Men and Women
The Cure Ultra Pre-Lubricated Catheter is a new ready-to-use catheter option in both male and female length. It's now also available with a coudé insertion tip for users who are unable to pass a straight tip catheter.
This new catheter was designed to make the catheterization experience as "no-fuss" as possible. With an easy-to-open package and a "No Roll" connector/funnel end, the Cure Ultra makes self-cathing and disposal after use simple, comfortable, and quick.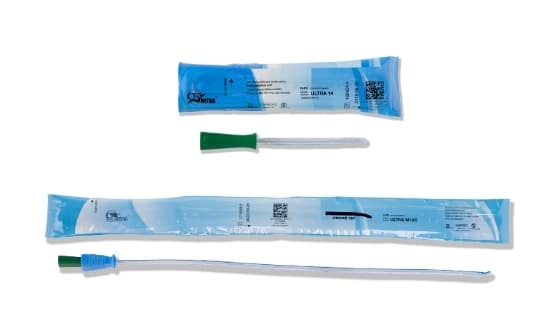 Here are some of the main features:
Smaller package to ensure disposal of minimal materials
Polished eyelets for smooth insertion and withdrawal
Pre-lubricated, so no need for additional lubrication
"No Roll" funnel end for ease of use
Easy to open packaging, which can be especially helpful for those with dexterity issues
Water-soluble lubricant creates a smooth cathing experience
Made of high-quality material, not made with DEHP, BPA, nor latex
Cure Medical donates 10% of their net income to research for a cure for spinal cord injuries and central nervous system disorders
How to Catheterize with a Cure Ultra Catheter
We offer online catheterization instructions at howtocath.com. We also have one-of-a-kind helpful instructional materials that can be sent to you with your order, including printed color brochures and a step-by-step DVD.
Which Cure catheters does 180 Medical carry?
180 Medical is proud to carry the full Cure Medical catheter product line, including their straight catheters, coudé catheters, hydrophilic and pre-lubricated catheters, closed system catheters, pocket catheters, and more.
How can I find the catheter that's right for me?
Just contact 180 Medical by filling out our online inquiry form to connect with one of our trained, friendly specialists. We are happy to help you find the right catheter for your needs!