We recently got to participate in the 2017 OKASA Wheelchair Basketball Tournament. This is one of our favorite annual events to attend and support.
About the 2017 OKASA Wheelchair Basketball Tournament
The event supports the Oklahoma Adaptive Sports Association (OKASA) while raising funds for disabled athletes.
During this fun wheelchair basketball tournament, teams of doctors from OU Medical Center and a team from 180 Medical play against the awesome Oklahoma Blaze.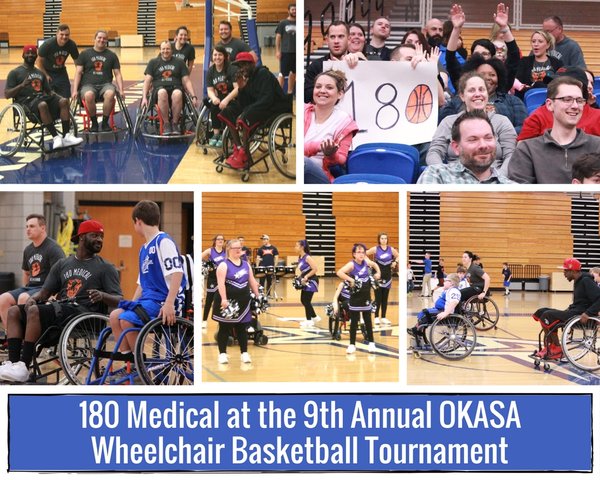 During the event, there's a lot of fun, even outside of the basketball games, like face painting, carnival games, popcorn, and other tasty treats, and a silent auction to benefit OKASA. On top of that, the OKC Thunder Drummers came out again this year to entertain the crowd, and the children's cheerleader group, Inspiring Attitudes, performed dance routines between games, too. The annual wheelchair basketball tournament is a blast for all our employees to watch and cheer on the Blaze and all the other great teams, including our own.
"It's so incredibly important to us to support the doctors and providers and patients that we work with, and we love the event. We're just so happy to be a part of it," says Michael Pampalone, one of 180 Medical's Urology Territory Specialists.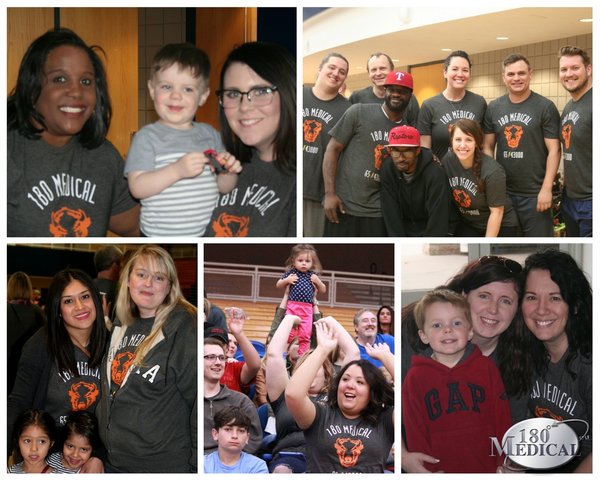 The OKASA Blaze is still just too good for us to beat! We didn't even score a basket this year. However, 180 Medical employees had a great time, as always. We love being a part of this important and fun annual event!
About OKASA: The Oklahoma Adaptive Sports Association
The Oklahoma Adaptive Sports Association is an organization that supports recreational and athletic activities for adults and children with disabilities. These events include wheelchair basketball, track and field, swimming, table tennis, and competitive weight-lifting. The organization promotes health and fitness. Plus, they encourage life skills such as good sportsmanship, setting goals, and responsibility. Connect with them on Facebook or Twitter.