Navigating life with a colostomy or an ileostomy can be challenging at first, but with the right resources, support, and ostomy supplies, it can get a little easier. As you begin to look at your ostomy product options, the choice between a drainable ostomy pouch or a closed ostomy pouch (also known as a disposable pouch) can make an impact on the ease of your daily routine as well as your comfort, confidence, and security.
Let's go over these two ostomy bag types and how they can fit different needs and preferences.
If you're ready to explore your options now, reach out to our friendly Ostomy Specialists to request free ostomy samples.
Request Samples
Which Type of Ostomy Pouch to Choose: Drainable or Closed?
The type of ostomy pouch you choose may depend on several factors. For example, you'll want to consider your activity level, hand dexterity, stoma output amount and type (fluids, solids, etc.), and your daily schedule. Whether you have an ileostomy or a colostomy, your choices aren't limited with 180 Medical.
Take a look at this helpful breakdown of each ostomy bag type and its respective advantages and features.
Drainable Ostomy Pouches
Drainable pouches are open-ended with some type of secure closure, such as a clamp, press and seal, Velcro, etc., so that you can empty your pouch and reuse it.
For instance, Convatec's popular Natura + Drainable Pouches feature a wide tail-like opening for easy, safe emptying. Plus, they have a unique Invisiclose® Lock-It Pocket™ that rolls up to hide the tail-end opening. This closure type provides the security and comfort of a closed pouch, so you can feel confident about reducing your risk of ostomy leakage.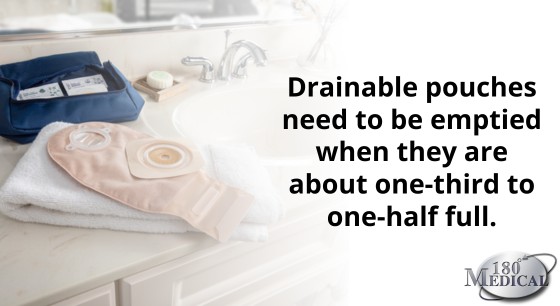 Pros and Cons of Drainable Ostomy Bags
These pouches offer more flexibility for those unpredictable days when output varies
Since drainable ostomy pouches are also reusable, they may be more economical in the long run and help cut back on pouch changes
Drainable pouches may be more suitable for liquid or high amounts of output and may be more difficult to empty for ostomates with thick, solid output
Will need to be emptied throughout the day when the pouch is about one-third to halfway full
After each time the pouch is emptied, you'll need to clean the drainage outlet/closure
View Drainable Pouches
Closed Ostomy Pouches
Closed-end pouches, also known as disposable ostomy bags, are designed for one-time use only, so they must be removed and disposed of once they are full.
One popular option is the Esteem + Closed Pouch, which is a discreet pouch made of quiet materials, featuring an advanced filter with an anti-clog layer.
Like drainable pouches, disposable closed pouches are available in one-piece or two-piece bag options.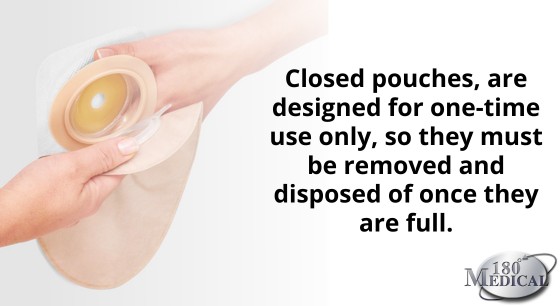 Pros and Cons of Closed Ostomy Bags
Convenient for busy people on the go; simply dispose of the old bag and replace it with no need to empty or reuse
May require more supplies on hand than with a reusable ostomy pouch, since these may need to be changed around up to several times per day (the frequency is based on your individual needs and your healthcare professional's recommendation)
Ideal for swimming, exercise, or intimate moments as a closed pouch can provide extra security without an opening for output to seep out
Most suitable for collecting fully formed bowel movements or output of thicker consistency.
View Closed Pouches
One-Piece vs. Two-Piece Ostomy Bags
Another key decision is the choice between one-piece or two-piece ostomy pouching systems, whether that's a drainable or closed ostomy pouch. This quick guide may help you determine which may be optimal for your lifestyle, anatomy, and needs.
One-Piece Ostomy Bags
One-piece pouches combine the ostomy pouch and the skin barrier (the adhesive part that sticks to your skin) into a single unit.
One-piece pouches offer a simpler option with minimal steps for application and removal
A more streamlined, discreet option, which may be Ideal for those who want a less visible pouch beneath clothing
If you have limited hand dexterity or vision problems, it may be easier to use
May be more economical
Fewer supplies to keep track of and carry

Two-Piece Ostomy Bags
Two-piece systems separate the ostomy pouch from the skin barrier. This allows you to change out your pouch without removing the adhesive barrier from your skin.
Two-piece pouches may be ideal for ostomates who need to replace pouches more often than their adhesive skin barrier
Allows the skin barrier to remain in place longer, which may help minimize the risk of skin irritation
A two-piece system allows flexibility to switch between drainable and closed pouches as needed for intimacy, swimming, etc.
Pouch changes may be quicker and easier
While the decision between one-piece and two-piece systems often comes down to personal preference, it's essential to consider things like your daily activity level, your output level, and your skin's sensitivity.
And remember, whether you choose a one-piece or two-piece pouching system, you have options when it comes to the skin barrier type. From pre-cut, cut-to-fit, and Moldable Technology™ skin barriers, it's up to you what works and feels best for you.
Navigating Your Ostomy Pouch Options with 180 Medical
Your ostomy journey is uniquely yours. At 180 Medical, we understand how important it is to get the right ostomy supplies so you can feel comfortable and confident. Our goal is to help you find just the right products to suit your ostomy, preferences, needs, and lifestyle.
Remember: your ostomy nurse or prescribing healthcare provider is the best resource when it comes to medical advice. However, 180 Medical's highly-trained Ostomy Specialists are here for all your product support needs.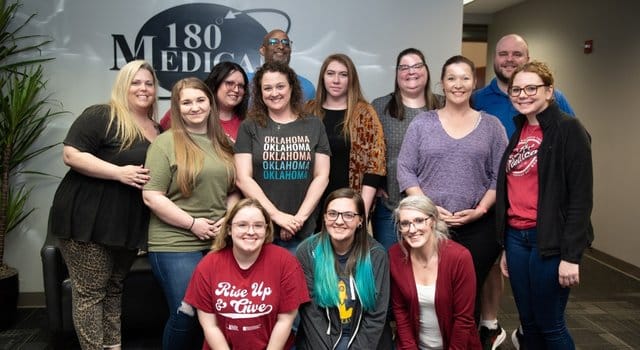 From closed disposable ostomy pouches to drainable pouches, along with a wide selection of ostomy accessories like skin barriers, adhesive remover wipes, protective barrier spray, and more, we've got you covered every step of the way.
We want you to feel confident, comfortable, and secure every day in your ostomy system. Whether you know what you want or you're ready to explore your options, we can help. Reach out to us today to get started!
Get In Touch With Us