For people living with a colostomy, urostomy, or ileostomy, ostomy pouch leakage can feel like a nightmare. Whether it's at night or during the day, a leaky ostomy pouch means you often have to deal with changing your pouch and washing your clothes or bedding. And no one wants to scramble to hide if their ostomy bag is leaking in public.
Let's troubleshoot this issue with our top 10 tips for reducing the risk of your ostomy bag leaking.
Why is my ostomy bag leaking?
This is one of the most frequently asked questions that people with an ostomy have. After all, you want to feel secure in your pouching system and enjoy your life without fear of unexpected messes.
But why do ostomy pouch leaks happen? Well, it turns out that many potential contributing factors affect the seal of your ostomy system.
Our top tips address these reasons and offer helpful solutions to combat stoma bag leakage.
Top 10 Tips to Reduce the Risk of Ostomy Bag Leakage
Tip 1. Get the right type of ostomy skin barrier.
First, ensure you're using the right ostomy supplies to fit your unique body and stoma. The right size and type of skin barrier, also known as a wafer, will adhere snugly and keep your skin protected from irritation and leakage. This is important because you want your stoma output to flow into your ostomy pouch and not underneath or around the skin barrier.
Additionally, if your stoma is flush or recessed below your skin level, talk to your doctor or a certified ostomy nurse about changing from a standard flat skin barrier to a convex skin barrier, such as the popular Esteem Synergy Convex Moldable Durahesive Skin Barrier.
Convex skin barriers are ideal for people with:
Rounded abdomens
Hernias
Skin with folds and creases
Flush or recessed stomas
You can find out what type of ostomy skin barrier is right for you here.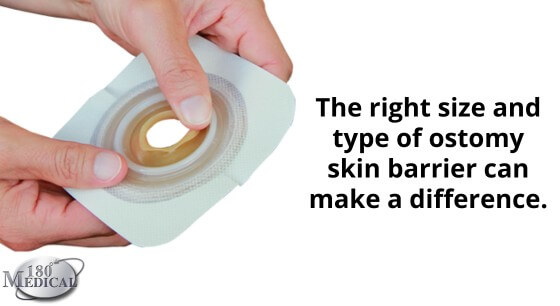 Wondering how many skin barriers per month your health insurance plan covers? Curious if your insurance covers other ostomy supplies and accessories? Our insurance experts can help. Reach out to 180 Medical to get started!
Verify Your Coverage
Tip 2. Measure your stoma to get the right size for your skin barrier.
Getting the right size can make all the difference in how your ostomy appliance fits. A skin barrier that doesn't provide a snug fit may allow stomal output to seep under or around it, which results in leakage.
Here's something you may not know. Even if you have used the same size of skin barrier for a while, it might not be the right size for you today as it was months ago. This is because stoma sizes and shapes can gradually alter over time, although usually, the most significant changes occur as it heals during the months and weeks after ostomy surgery.
That's why it's important to regularly measure your stoma to be sure you're still getting a good snug fit. 180 Medical can help you figure out the right size for your unique stoma shape.
Request Samples
Here's a helpful video from Convatec so you can learn how to size your stoma correctly.
Tip 3. Apply your ostomy skin barrier to clean, dry, shaved skin.
To make sure your ostomy pouch will stay secure without leaks, apply your skin barrier to clean skin. Also, be sure your peristomal skin is dry before applying your pouching system. In other words, if you've been sweating or swimming or if you've just recently taken a bath or shower, dry your skin with a clean towel.
Don't use oily or alcohol-based lotions, soaps, or hair removal creams around your stoma. Be sure to only apply ostomy-safe skincare products.
If you have body hair in the peristomal area, carefully shave the area with a clean safety razor before applying your ostomy pouching system. You may have to shave every few days since hair regrowth can interfere with getting a secure seal.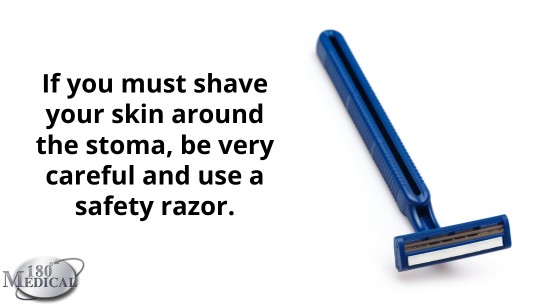 Tip 4. Keep your peristomal skin healthy.
If the skin surrounding your stoma is weepy, raw, rashy, or irritated, your skin is telling you something is wrong. Not only will skin conditions like this make it harder to keep your ostomy appliance secure and properly sealed, but it can also cause more issues down the road if left ignored.
First, consider talking to your doctor or an ostomy nurse about any skin issues you're having. They are qualified to offer medical advice and may be able to pinpoint the cause of your skin issues, such as an allergic reaction, a poorly-fitting ostomy pouch system, or irritation from leakage or too frequent skin barrier changes.
Next, talk to our Ostomy Product Specialists at 180 Medical. Our highly trained team members can provide you with options to assist in reducing and preventing skin irritation. For example, Stomahesive Protective Ostomy Powder is a specialized powder that absorbs moisture to create a protective barrier. This may help maintain your peristomal skin's health while increasing your ostomy pouch's wear time.
Talk to Our Ostomy Specialists
Tip 5. Consider using an ostomy belt for additional security.
If your ostomy pouch leakage occurs most frequently during physical activity or movement, you may need additional support in the form of an ostomy belt.
Ostomy belts attach to your pouch and wrap around your waist for a comfortable and secure fit while providing support to compensate for the weight of your ostomy bag. This is especially helpful when you're engaging in physical activity such as yoga, running or walking, or weight lifting. If you have an active lifestyle, an ostomy belt could be just what you need for more security to reduce the risk of stoma leaks.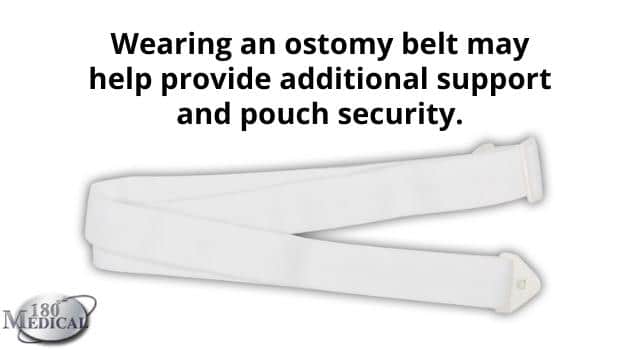 Tip 6. Make sure you're emptying or changing out your pouch frequently.
The fuller your ostomy bag gets, the more it weighs down and pulls against the seal around your stoma. This is actually one of the number one causes of frequent ostomy leaks. It's important to make sure you're taking bathroom breaks to empty or change your pouch throughout the day. This helps reduce the risk of leakage or blowout due to an overfull ostomy pouch.
A good rule of thumb to follow is to empty your pouch as soon as it's around 1/3 full. By the time it's halfway full, your pouch will likely weigh more and exert more pressure against your ostomy seal. Above all, be sure to avoid the danger zone, which is when your bag gets so full that output collects around the stoma itself. This highly increases the risk of leakage. Plus, it can irritate your stoma or even cause infection if left unattended or if it happens frequently.
Also, if you primarily experience leaks during the nighttime, be sure to empty your pouch before bed as well. You may also try additional safeguards, such as putting pillows around you to prevent you from rolling over on your pouch in your sleep. On the other hand, you can also try wearing an ostomy wrap or a tighter shirt to keep your pouch snug against your body.
If you're living with a urostomy, you may be able to avoid nighttime urostomy pouch leaks by trying out the Convatec® Night Drainage System, which offers a convenient way to collect urine overnight.
Tip 7. Avoid ileostomy and colostomy bag blowouts by reducing gas or using a pouch with a filter.
Ileostomy and colostomy bag blowouts are one of the dreaded issues many ostomates face. This is because gases from fecal output can build up and fill a pouch quite quickly. The bag's weakest point will be the first place that will blow open, which is usually either the drain outlet near the bottom of the stoma bag or the barrier and pouch connection.
First, let's focus on the type of pouch you're using. You may want to start using a pouch with an enhanced charcoal filter, which allows your bag to "burp" throughout the day, reducing the risk of pouch ballooning or later blowouts. Plus, pouches such as the new Natura + Two-Piece Ostomy Systems with enhanced filters reduce odors. These pouches were designed with feedback from ostomy nurses and ostomates, so they provide other great security features like an audible click sound when you snap your pouch to your barrier.
Also, talk to your doctor or ostomy nurse about ways you can start reducing gas by making easy diet changes. Limiting gas-causing foods such as broccoli, beans, dairy products, onions, carbonated drinks, sugars, and artificial sweeteners may be a good first step.
Tip 8. Avoid pancaking in your colostomy bag.
Pancaking is a term used to describe what happens when thicker ostomy output doesn't drop to the pouch's bottom. Instead, it may collect near the top of the pouch or even around the stoma. This can cause leakage for people using colostomy bags or people with an ileostomy who have thick output.
It can be a frustrating problem. However, we can troubleshoot this issue with ease! First, consider using a pouch lubricant such as lubricating deodorant or lubricating drops to coat the inside of your pouch. This helps your stool slide down to the bottom of your pouch. However, if you're using ostomy pouch lubricant, be sure to reapply it whenever you empty your pouch.
In addition, you may want to try a few easy lifestyle changes to help soften your stool. Make sure you're drinking enough water throughout the day to stay hydrated. Some ostomates prefer drinking beverages like apple, grape, or prune juice to help soften their colostomy output too.
Tip 9. Make sure your ostomy products aren't expired or damaged.
Adhesive properties and even the fit or effectiveness of certain ostomy products can change if used past their expiration date. The best way to avoid this is to always check the expiration date on your ostomy products' packages before using them.
Be sure you're taking care to keep your ostomy supplies out of the sun and never leave them in the car. You don't want your ostomy products to get too hot or too cold. Store them indoors and follow any instructions for proper storage on your ostomy supplies' packaging.
Tip 10. Try ostomy accessories for a more successful seal.
Lastly, to avoid your ostomy bag leaking, consider trying out some new ostomy accessories to enhance your pouching routine. In addition to carrying the full range of Convatec ostomy products, 180 Medical also offers a wide variety of ostomy accessories to fit our customers' diverse needs.
For example, are you seeing leftover residue on your skin from adhesives? Consider using an adhesive remover, such as the ESENTA Adhesive Remover Wipes and Spray or AllKare Adhesive Remover Wipes, on your peristomal skin before applying your pouch.
You might also want to consider trying out Convatec ease™ strips, which are comfortable, flexible barrier strips that can help keep your ostomy skin barrier in place. Plus, these hydrocolloid strips are waterproof and skin-friendly.
How Do I Get the Right Ostomy Supplies For Me?
Curious about which products might fit you best? Just reach out to us at 180 Medical. Our trained Ostomy Specialists will listen with compassion to your needs. Together, we'll come up with just the right combination of ostomy products to add more security and protection to your day.
Disclaimer: This content is not intended to substitute for professional medical advice, diagnosis, or treatment. For medical advice, please see your physician or another qualified healthcare provider.