If you have a colostomy, you may already know that not every ostomy product will fit everyone's needs. But how do you know which colostomy pouch type is right for you when there are so many ostomy product options out there?
Which Type of Colostomy Pouch is Right for Me?
At 180 Medical, we specialize in ostomy supplies as well as catheter supplies. We know the sheer number of ostomy products out there can feel overwhelming. Where do you even start with finding the right colostomy bags, skin barriers, skincare products, and more?
The good news is that you don't have to navigate the world of colostomy supplies alone. Our Ostomy Specialists are highly-trained, and they know our ostomy supply offerings inside and out — even the latest product releases.
Contact our Ostomy Specialists to get started and try out some ostomy product samples.
Request Free Samples
Should I Use One-Piece or Two-Piece Colostomy Bags?
All ostomy bags, whether for ileostomy, urostomy, or colostomy pouch needs, come in two basic types: one-piece or two-piece.
One-Piece or Two-Piece Ostomy Pouch Explanation Video
Two-Piece Colostomy Bags
The two-piece colostomy pouch is a tried-and-true classic design.
In two-piece pouching systems, the skin barrier (also known as an ostomy wafer or baseplate) that adheres to the skin around the stoma is a separate piece from the collection pouch. So the two pieces involved will be the separate skin barrier and a colostomy bag of your choosing.
Some ostomates prefer having a two-piece system in order to position their skin barrier without the pouch getting in the way.
The main goal is to make sure you get a tight seal between the skin barrier and the pouch. Many brands have developed simple methods for assuring your pouch is fully attached and resistant to ostomy leakage.
For example, you might like ConvaTec's Natura+ Two-Piece Pouching Systems. Many of our customers love that they can hear an audible clicking sound when they snap their Natura + ostomy bag to its corresponding ostomy wafer.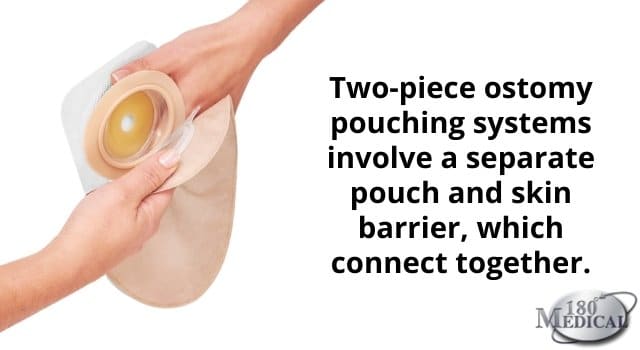 Pros of a Two-Piece Colostomy Pouch
Your skin barrier can remain in place longer, which may be more gentle for sensitive or easily irritated skin
Bag changes may feel quicker and easier than a one-piece system
Better visibility for application of skin barrier
Easy to detach the bag for draining or changing without irritating the skin
Cons of a Two-Piece Colostomy Pouch
It might be bulkier due to the coupling between the two pieces
Slightly higher risk of leakage between the barrier and pouch without a good seal
More pieces to keep track of
Request Two-Piece Pouches
One-Piece Colostomy Bags
For ostomates who prefer fewer steps in their pouching process, one-piece colostomy pouches are a simple option. This is because this type of ostomy bag is all one-piece, meaning the skin barrier and pouch are already joined together.
In other words, a one-piece ostomy pouch is ready to be fitted over the stoma. Once the pouch is in place, you don't have to worry about attaching anything else.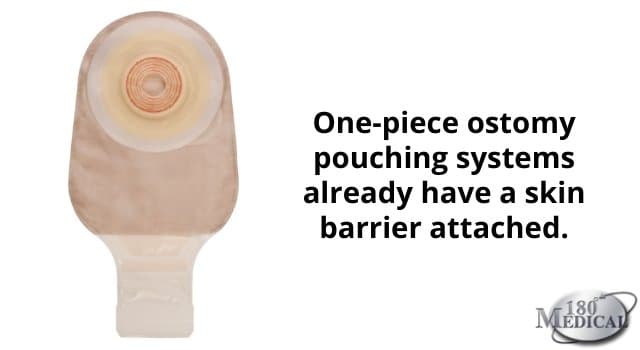 Plus, a one-piece pouch reduces the possibility of leakage between the skin barrier and the colostomy bag. However, you must take care to make sure you get a complete seal when placing the pouching system over your stoma.
Pros of a One-Piece Ostomy Pouching System
Reduced risk of leakage due to the ostomy bag and skin barrier coming apart
All-in-one option
Fewer pieces to manage
Cons of a One-Piece Ostomy Pouching System
Potentially reduced visibility may cause difficulty with the attachment process
May not be an easy first pouching system for new ostomates and beginners
Frequent pouch changes may irritate the skin
Not an ideal system for ostomates with frequent, high levels of fecal output
Request One-Piece Pouches
Which Product Is Right For Me – A Closed or Drainable Colostomy Bag?
Next, you'll want to think about which type of colostomy bag will suit your needs best. Should you use a drainable or closed ostomy pouch?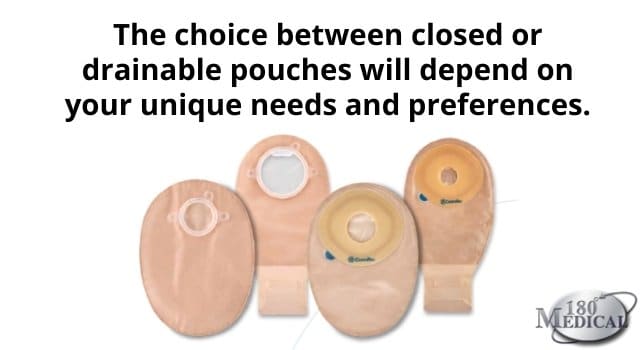 Some people prefer drainable pouches, while others prefer closed pouches. However, you may prefer to get some of each type in your orders, depending on your insurance coverage for ostomy supplies.
But what's the difference between these two ostomy pouch types? Learn more about the benefits and features of each below.
Closed Colostomy Bags
Closed ostomy pouches, also known as closed-end or disposable pouches, are entirely enclosed. In other words, closed pouches do not have an opening to drain or empty the bag for reuse.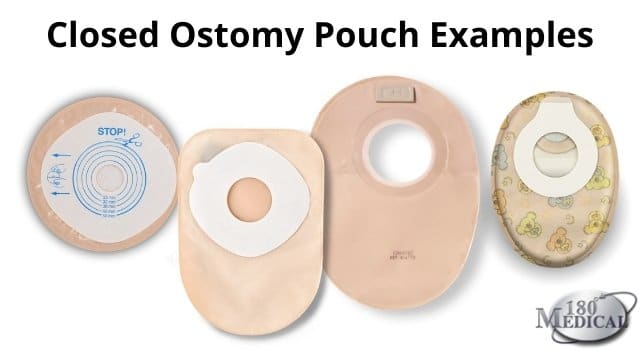 If you prefer a one-time-use only pouching option, closed colostomy bags may be what you want. You can wait until the pouch is ready to be changed, and throw it away once they're full.
Closed pouches also come in mini sizes, commonly called stoma caps. These are great for very short-term use if you need more discretion.
Pros of a Closed Ostomy Pouch
Reduced risk of ostomy bag leakage since there is no drainable opening
Single-use may make pouch changes quicker and easier
Great for bathing, showering, swimming, or moments of intimacy with a partner
Ideal for those with colostomies that have less output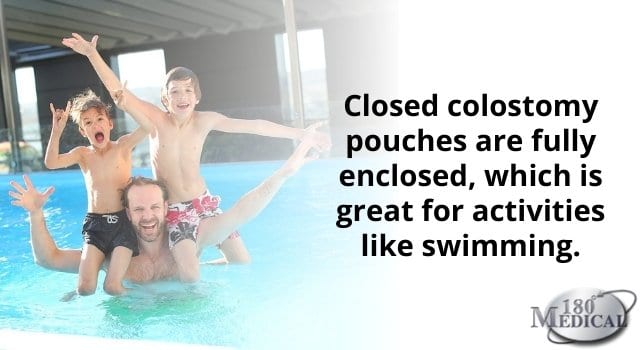 Cons of a Closed Ostomy Pouch
Depending on the output, you may use more bags per day, which can potentially increase the cost (depending on insurance)
Frequent pouch changes may irritate the skin if you choose a one-piece closed ostomy pouch)
Not an ideal system for ostomates with frequent, high levels of fecal output
May fill up quickly with gas (although we offer options with charcoal filters to "burp" your bag)
Try Closed Pouches
Drainable Colostomy Pouches
Drainable colostomy pouches feature a wide-mouthed drain on the bottom, which you can open to drain the contents into a toilet.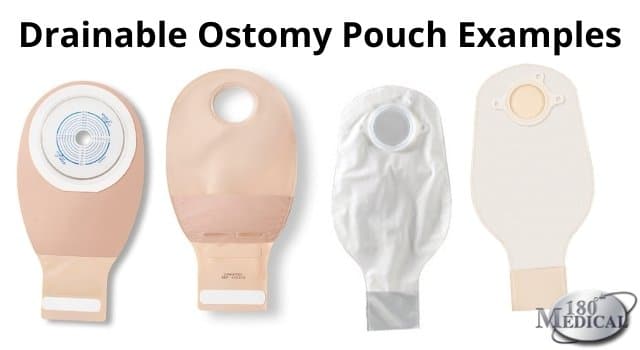 These types of colostomy bags are reusable too. After emptying your pouch, you can re-close it and continue with your day. In other words, you can continue using a drainable pouch for a longer period of time, rather than replacing it every time it's full (as with closed pouches).
Pros of a Drainable Ostomy Pouch
Great for ostomates with high stoma output
Cost-effective since you can use and empty the same pouch multiple times
Easy to release any built-up gases within the bag
Simple to drain and close with secure closure options like clamps/clips and roll-up integrated closures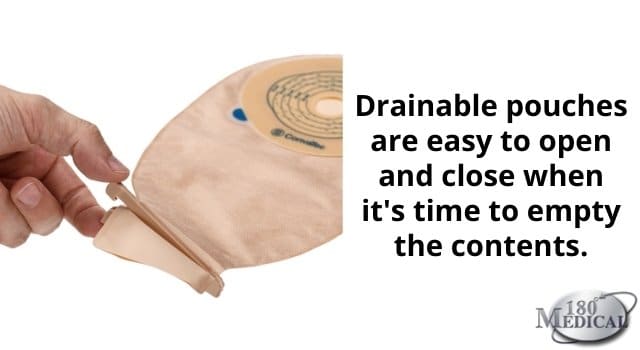 Cons of a Drainable Ostomy Pouch
May feel less secure if you're concerned about potential ostomy bag leaks
Can release more odor when draining a pouch in a public restroom or at a friend's house
Try Drainable Pouches
Clear or Opaque Ostomy Bags
Lastly, let's talk about transparent (clear) and opaque ostomy pouches. When choosing between a transparent or opaque colostomy bag, this primarily depends on your personal preference as well as the availability of the ostomy pouch type that fits your needs.
Many ostomates prefer an entirely or mostly opaque ostomy pouching system. This is because it not only conceals the contents of the pouch but also because they are often made of materials that are quieter and more discreet.
However, keep in mind that some ostomates prefer clear ostomy pouches since they're much easier to check the contents. Additionally, a clear colostomy bag may be more caregiver-friendly.
Get the Right Colostomy Pouch For You at 180 Medical
At 180 Medical, we have all of these colostomy bag options as well as other insurance-covered ostomy products, such as ConvaTec's popular skin barriers featuring Moldable Technology™.
Additionally, we carry high-quality ostomy accessories, including colostomy skincare products like the new ESENTA™ Sting-Free Adhesive Remover and ESENTA™ Sting-Free Skin Barrier spray and wipes.
Contact us to speak to one of our knowledgeable, friendly Ostomy Specialists.