After urostomy surgery, you'll naturally have a lot of questions as you adjust to living with an ostomy. For example, how do you navigate all the different brands and types of urostomy bags and ostomy supplies? And how do you choose the right urostomy pouch for you?
Let's go over some things to consider when choosing the right urostomy supplies for your unique needs.
Request Samples
What is a Urostomy Pouch Used For?
In a normally functioning urinary system, urine is filtered waste that leaves the kidney and travels to the bladder via small tubes called ureters. Urine stays in the bladder until you're ready to void, and then it passes through another tube called the urethra and out of the body.
After a urostomy, the bladder is either removed or bypassed, whether due to bladder cancer, neurologic bladder issues, chronic infection or inflammation, or another issue. Then the ostomy surgeon creates a new channel through which urine can pass and exit the body. This is called a stoma, which is an opening on the lower abdomen.
Urine will flow or dribble continuously from the stoma. A urostomy bag, also known as a urostomy pouch or pouching system, must be attached over the stoma to collect the urine.
Are There Different Types of Urostomy Bags?
Yes, urostomy pouches are available in a variety of sizes, shapes, colors, and materials. Urostomy pouching systems are either one-piece or two-piece systems.
Plus, urostomy bags offer different kinds of valves or drain openings. These are typically located at or near the bottom of the pouch.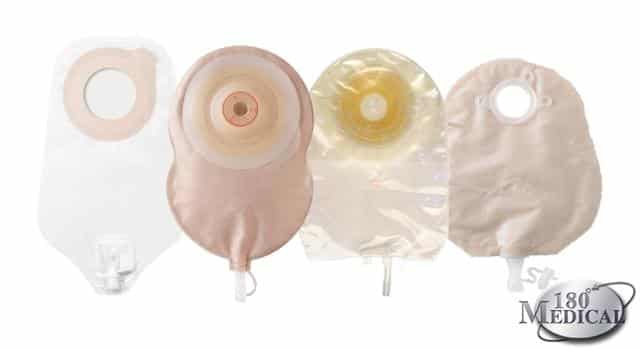 Is there one kind of urostomy pouch that's better than others? The honest answer is that what works great for one individual may not work for another. What works and feels best for you will depend on your individual needs and preferences.
3 Tips for How to Choose the Right Urostomy Bag
First, before you start shopping for urostomy supplies, you should always consult with a medical professional, such as your doctor or a certified ostomy nurse.
While recuperating in the hospital, your nurse will go over the basics of living with an ostomy, including stoma and skin care and the pouching process. They may have product recommendations or be able to go over some of the features of pouches and skin barriers with you.
1. Consider whether a one-piece or two-piece pouching system will work best for you.
As you begin getting used to your new urostomy in the first few weeks, you'll probably already find yourself with a preference between the two main types of urostomy pouches: one-piece or two-piece.
The main difference is that one-piece urostomy pouches combine the two elements of a two-piece pouch: a skin barrier and a collection bag.
When wearing a one-piece urostomy pouch, and it's time to change your pouch for a new one, you will have to remove both the skin barrier and the pouch each time. A two-piece system allows you to keep your skin barrier in place for longer periods of time, which may reduce peristomal skin irritation.
Benefits of One-Piece Urostomy Pouches
Less likely to leak between the ostomy pouch and skin barrier
Fewer parts to manage
Benefits of Two-Piece Urostomy Pouches
May be better for sensitive skin because the skin barrier can stay in place longer
Bag changes may feel quicker and easier than a one-piece system
May be easier to see the stoma when applying the skin barrier
See More Options
2. Consider how a pouch feels and works for you when wearing and using it.
When wearing an ostomy pouch, you want to feel comfortable and confident. You want to feel just like yourself, plus a new stoma. And the last thing you want is for your urostomy pouch to irritate you all day, look too large or obvious, or start to leak.
When you're trying out or just thinking about your urostomy pouch options, you might ask yourself:
Is the drainage valve secure enough for me not to worry about leakage?
Is it easy to open and close when I need to drain my urostomy bag?
Does the bag size feel discreet or slim against my body?
Is the pouch material irritating, or is it mostly pretty comfortable against my skin all day?
Does it fit well and suit my lifestyle/activity level?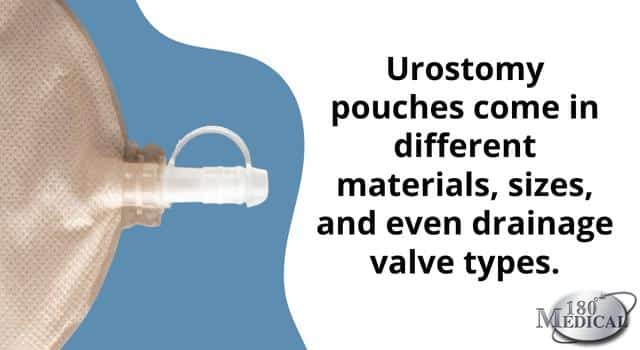 3. Reach out to a company that specializes in ostomy supplies.
There are plenty of medical supply companies that offer ostomy supplies alongside many other different types of products.
But if you need help figuring out which types of urostomy bags may be right for you, you'll want a company with trained specialists who know their product offerings inside and out.
180 Medical specializes in catheter and ostomy supplies. Our ostomy experts can walk you through your product options, let you know how your insurance would cover our ostomy supplies, and send free samples. We want to help you customize an order that perfectly fits your needs.
Request Samples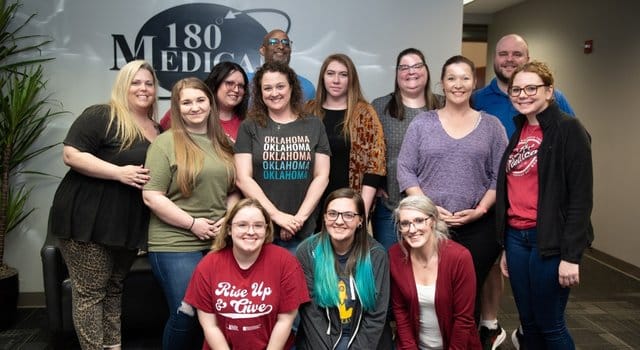 Are There Types of Urostomy Products for Night Drainage?
Is there a product option for nighttime urostomy drainage? Yes!
Some people prefer to wear a larger-sized urostomy pouch to collect urine while they sleep, so they don't have to get up in the middle of the night to empty it.
However, there's an even easier option. The Convatec Night Drainage System can connect your pouch valve with a universal adapter. Then urine can drain directly through your pouch, a connecting tube, and into a 67 oz. container (around a half-gallon).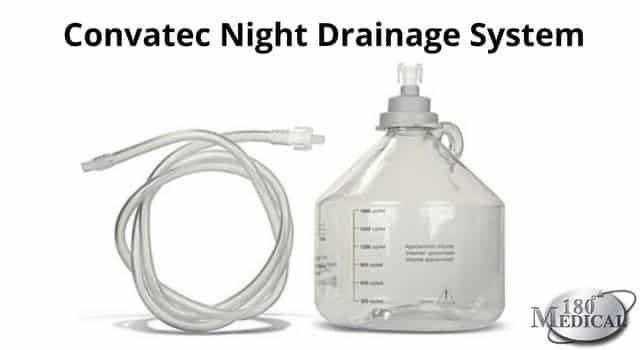 Where to Get Home-Delivered Urostomy Supplies
Finding the right urostomy pouching supplies for you can make all the difference in your overall quality of life post-surgery. We understand it can be overwhelming to try to wade through your product options when you're trying to adjust to life with a new ostomy.
180 Medical can be your partner every step of the way. We want to lighten your load and help you find the right products that can help turn the quality of your life around.
Contact us to speak to one of our knowledgeable, friendly Ostomy Specialists.