June is Men's Health Month, which is a great time to raise awareness about health issues that primarily affect males, such as prostate cancer.
Plus, Men's Health Month is a great time to encourage the men in your life to see their doctors for early detection and treatment. Why? Studies show that men rarely see a doctor for regular check-ups, and only 40% of men go to the doctor when they have a serious health issue.
That's why we'd like to take this moment during Men's Health Month to help educate and raise awareness about prostate health and prostate cancer.
What to Know About Prostate Cancer
First, what is a prostate? It's a small walnut-shaped gland near the bladder. The male urethra runs right through the center of this gland. Its primary purpose is to function as part of the male reproductive system.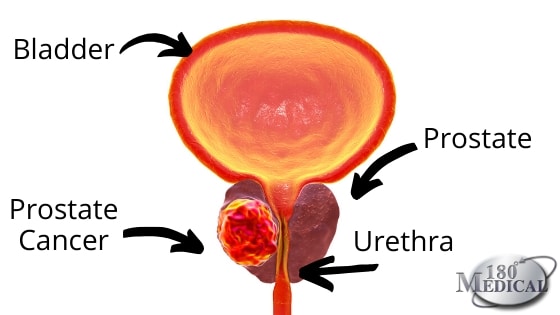 How common is prostate cancer?
According to the American Cancer Society, prostate cancer is a leading cause of cancer-related death in men in the United States, second only to skin cancer. That means that 1 man out of 9 will have prostate cancer in his lifetime at some point.
That being said, most men do not die from prostate cancer. According to ZERO, more than 99% of men survive prostate cancer when it's caught early.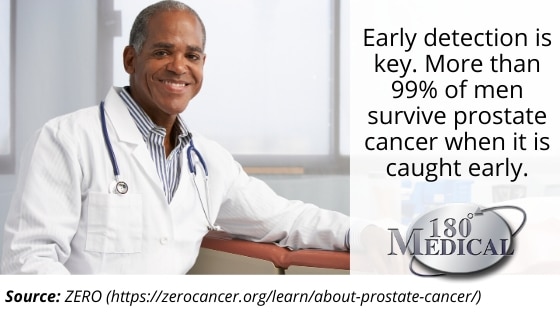 How is prostate cancer diagnosed?
See your doctor. They can find prostate cancer early by a digital rectal exam and a PSA test (prostate-specific antigen blood test), which the MD Anderson Cancer Center suggests should be done annually beginning at age 45 to 50.
However, men at higher risk may want to talk to their doctor about starting the exams as soon as age 40.
What are the risk factors for prostate cancer?
First, age is the top risk factor. Prostate cancer risk goes up every year as you age. Men younger than 40 rarely get it. However, weight may play a role as well. Some studies indicate that men who are overweight or obese may be at higher risk of developing prostate cancer.
Also, family medical history may have a hand in risk. Men with close relatives who have had prostate cancer are more likely to develop prostate cancer.
Ethnicity may also affect risk because studies show that men who identify as black or African-American have the highest incidence of prostate cancer.
How can I help prevent prostate cancer?
While some risk factors are simply genetic or age-based and may not be preventable, you can always make adjustments to your lifestyle for your overall health. Since being overweight is a potential risk, you may want to focus on getting to and staying at a healthy weight. Talk to your doctor about ways you can achieve this. They may suggest introducing more physical activity into your daily schedule as well as eating healthier.
Include plenty of colorful fruits and vegetables as well as whole grains in your diet. Limit sugar and sweetened beverages and highly processed foods. Also, while you don't have to completely eliminate meat, studies indicate it may be a good idea to avoid or limit red or processed meats to reduce your risk of prostate cancer.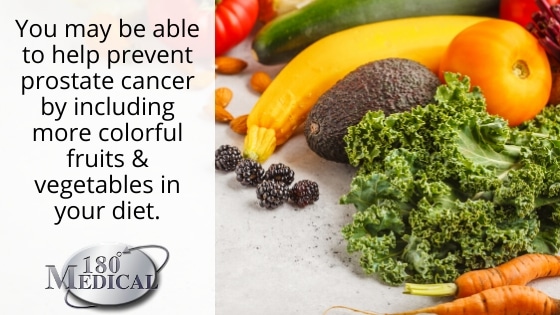 How is prostate cancer treated?
If you have a diagnosis of prostate cancer, the good news is that it has been caught sooner rather than later. Don't panic just yet. Talk to your doctor about your treatment options, which will depend on the stage and grade of your cancer.
Your urologist or oncologist may recommend surgery to remove cancer cells or a radical prostatectomy to fully remove the prostate. Radiation therapy, chemotherapy, and hormone therapy may also be options.
What are some potential side effects of prostate cancer treatment?
Sometimes, after prostate cancer surgery or radiation therapy, men may have a more difficult time controlling their bladders, which may be chronic or only short-term.
Here are some symptoms of bladder retention and urinary incontinence to know:
Unintentional urine leakage
Nighttime bedwetting (nocturia)
Difficulty starting to urinate
Lack of urge to urinate
A weak stream of urine or dribbling
A feeling of pressure in the pelvic region
Difficulty fully emptying the bladder
If you are experiencing any of these symptoms, it's important to speak to your doctor. After all, Men's Health Month is all about encouraging men to seek medical help more often. This is not only about catching diseases like prostate cancer early. It's also about getting the treatment you need so you don't have to suffer in silence.
Will I need to use catheters or incontinence supplies after prostate cancer treatment?
While rare, some men may have to use intermittent catheter supplies or incontinence supplies to handle symptoms of bladder retention or male incontinence after prostate cancer surgery.
Talk to your doctor about your treatment options. They may recommend easy Kegel exercises to start doing at home to help strengthen your bladder muscles. Other options may include medication or additional surgery.
Also, they may discuss using intermittent catheters after prostate cancer surgery to help empty your bladder fully.
On the other hand, you may simply need to use male incontinence products to help manage urine leakage after prostate cancer surgery.
Where to Buy Male Catheters and Male Incontinence Supplies
If you need insurance-covered male catheters, 180 Medical is one of the leading catheter companies. We offer a wide range of high-quality male catheters from all the top brands on the market today. Plus, customers know they can count on us for our reliable shipments and customer service.
Whether you want to see if your insurance will cover the supplies you need or if you want to try out some free samples, 180 Medical is here for you! Just get started by contacting us, and we'll be glad to help.