When living with a spinal cord injury (SCI), you encounter a lot of new challenges. I found out one of those challenges for me would be battling frequent urinary tract infections (UTIs), which are common for some people with an SCI. I've discovered a few tips and tricks throughout the last few years that have helped me. Here are my top tips for preventing UTIs when living with a spinal cord injury.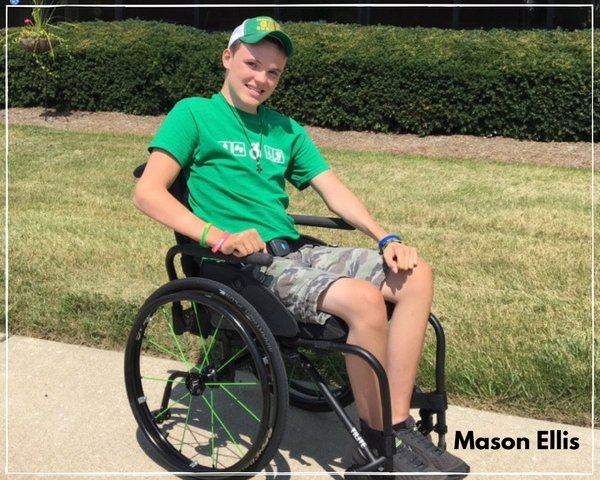 1. Consider Taking Supplements.
D-Mannose
D-mannose is a supplement that may help prevent and treat UTIs. It's commonly found in apples, berries, and other fruits. You may find it easier to get the recommended dosage by taking a supplement in a pill or capsule form. D-mannose works by attaching to E. coli bacteria, which prevents bacteria from sticking to the walls of the bladder and urethra. Next, the bacteria are more easily eliminated during urination (or catheterization) because it has to adhere to the body. Although this supplement has been shown to work, it is only effective for UTIs caused by E. coli.
The good news is E.coli account for most urinary tract infections, although other types of bacteria can also cause them too. Therefore, it's important to take more steps to prevent UTIs and CAUTIs (catheter-associated urinary tract infections).
Additionally, as with any supplement, taking D-Mannose may have risks. Talk to your doctor about what may be best for you.
Cranberry Pills
Another medication that can help with UTIs are cranberry pills, which have a similar effect as D-Mannose. A specific compound in cranberries helps prevent E. coli bacteria from attaching to walls of your bladder and urethra.
Several studies have shown a link between taking cranberry pills every day and a significant reduction in the frequency of UTIs, particularly in women. Again, please talk to your doctor about whether or not they would recommend a supplement to help you keep preventing UTIs with a spinal cord injury.
2. Drink Plenty of Water and Stay Hydrated.
When you first start noticing symptoms of a UTI, such as cloudy or strange-smelling urine, a burning feeling of the area, frequent urge to pee, tiredness, fever, or chills, the easiest way to begin combatting it is to drink more liquids.
I try to stay away from beverages with a lot of sugar and caffeine when dealing with a urinary tract infection. This is because caffeine is a bladder irritant, and bacteria use sugar to grow and thrive. You might want to consider choosing water or natural fruit juices with no added sugar.
Staying well-hydrated may help dilute your urine so the infection is not as concentrated. Plus, it will help your body urinate more often to help get rid of the infection. While this won't cure a UTI once you have it, it may be a big help.
3. Practice Proper Cathing Hygiene.
When it comes to using intermittent catheters, as many of us living with spinal cord injuries do, it's important to practice sterile use (using a catheter one time and then disposing of it). You don't want to reuse your catheters because this may actually cause UTIs. This is because catheters, which are considered single-use devices by the FDA, often have pathogenic bacteria, viruses, and other microorganisms left behind even after professional cleaning. Additionally, you want to use proper hygiene to keep things clean and reduce the risk of any contamination. Here are a few steps to take when self-cathing hygienically.
Wash Your Hands
Washing your hands before intermittent catheterization may help prevent contamination, which can sometimes lead to bacteria spreading. This is especially important if you use a manual wheelchair since your hands are constantly on your wheels to propel yourself.
180 Medical offers step-by-step tips for proper hand-washing here.
Use Gloves
On top of washing your hands, it may be helpful to have an additional barrier like gloves when preparing to self-cath. This may not be possible if you are a quadriplegic with poor hand dexterity, although some quads can and do prefer to use gloves when possible. This is particularly helpful when cathing in public restrooms, where you can't guarantee the cleanliness of the environment.
Clean the Area
Cleaning the external area of the urethral opening where you insert the catheter is important. Most people do this with antiseptic wipes or swabs, typically with povidone-iodine or clear BZK (benzalkonium chloride).
4. Use an Advanced Catheter Product.
Speaking of using cathing accessories to help prevent infection, consider using a hydrophilic or pre-lubricated closed system catheter. This catheter supply type works to minimize hand contamination and keep cathing sterile, smooth, and comfortable from start to finish.
Insertion Supplies for Hygienic Cathing
Closed system catheter kits often include antiseptic wipes or swabs, gloves, and an underpad. Some catheter brands even include a discreet disposal bag. For example, the catheter I use (MTG EZ-Gripper® Closed System Catheter Kit) includes a pre-lubricated catheter, gloves, underpad, gauze pad, antiseptic wipe, and a trash bag. I like that it has thumb holes to help people with limited hand dexterity hold the collection bag more easily. Additionally, this intermittent catheter type includes an EZ-Advancer®. This unique feature grips the catheter tube for you and keeps it from retracting as you insert it.
Introducer Tips
Most closed system catheters include a special feature that works to help reduce the risk of UTIs. It's called an introducer tip and it works to shield the catheter tube from coming into contact with the bacteria often found in the first half-inch or so of the urethra. This has been shown to be effective because the catheter has passed this area when it comes into contact with the urethra.
Regarding Insurance Coverage for Closed System Catheters
Not sure if your insurance will cover closed system catheter kits? Contact 180 Medical's specialists, and they will help you out. They'll verify your insurance plan and help determine what catheter types you may be eligible to receive under your plan's specific coverage.
If you have Medicare, please note that you may not have a closed system catheter as a first option. However, if you have recurrent urinary tract infections, you may become eligible with proper documentation from your doctor's office. You can find out the full details here.
5. See Your Doctor.
Most importantly, contact your doctor at the first sign of an infection. Not only will they be able to diagnose what's going on, but they will also be able to prescribe you antibiotics to cure the infection. You don't want to leave it alone, try home remedies, and hope for the best, because UTIs can travel up the urinary system and even affect the kidneys, which can become a serious issue.
Additionally, they may want you to catheterize more often to help flush out the infection, especially if you're drinking more liquids. In order to receive more catheters in a month, your catheter supplier will need an updated prescription and documentation in order for your insurance to cover any additional catheter supplies.
Final Notes on Preventing UTIs with a Spinal Cord Injury
Lastly, I want you to know you're not alone when it comes to living with frequent UTIs. Even 180 Medical's founder Todd Brown dealt with recurrent infections that really dragged down his health until he began practicing sterile use and using closed system catheters. There are options that may help you, including my tips. Be sure to talk to your doctor for any medical advice about additional ways to prevent and fight UTIs.
If you're interested in urinary catheter products that may help make cathing more sterile, comfortable, and convenient, get in touch with 180 Medical. Their specialists will be glad to help you out with finding just the right intermittent catheter for your needs.
Disclaimer: Please note that this is intended to provide a general understanding of self-catheterization. It is not medical advice, nor should it not be used in place of a visit, call, or consultation with a physician or another prescribing healthcare provider.