Each year, we love celebrating our 180 Medical College Scholarship Recipients and their inspiring stories. Part of how we do this is by featuring their inspiring stories on our blog. Today, meet Reo, one of 180 Medical's spinal cord injury (SCI) scholarship recipients.
Meet Reo, 2020 SCI Scholarship Recipient
You've heard the saying: "everything happens for a reason." Reo says he never really liked that phrase. Before his spinal cord injury, his life revolved around staying on the Principal's Honor Roll, swimming at State, and volunteering at OU Medical.
However, he never expected the car wreck that nearly derailed his dreams. Reo suffered a complete C4/C5 spinal cord injury. This level of spinal cord injury is one of the most severe. It can cause paralysis not only in the legs but also in the hands, arms, and trunk. In fact, many times people with a C4/C5 spinal cord injury cannot breathe on their own.
Reo had to go through many surgeries, ventilation, and months of bed rest as well as rehabilitation therapy. During his recovery, he often wondered why this had happened to him and what the point of it all was. He says at that time, his injury shattered his worldview.
"No matter how hard I worked, I wasn't getting the results I wanted," Reo says.
Seeing the Reason
Over three years have passed since Reo's initial injury. Since then, he says he has learned a valuable lesson.
I had focused so heavily on what I lost that I overlooked just how fortunate I am. I am still here. That in itself is a miracle.
He has the support of close friends and family, and each day, he recognizes the beauty of that unconditional love. While progress is still somewhat slow for him, he is working hard to make progress every day. He still goes to therapy three times a week.
In addition, he's attending classes again at the University of Oklahoma (OU). Thanks to his experience and the experience of other students, he's realizing how difficult it can be for students with spinal cord injuries and other disabilities to afford and attend in-person college classes.
"Something has to be done," Reo says. That's why his new career dream is to build a school that's totally new and different. He hopes to create a school specifically for people with severe physical impairments. "Bringing this school into existence and managing it is now my ultimate goal in life."
Reo has truly gone through some of the hardest challenges a person can face. We're so proud to be able to assist him in achieving his dream by providing our annual college scholarship program. We wish Reo the best of luck and know he will truly change lives in the future.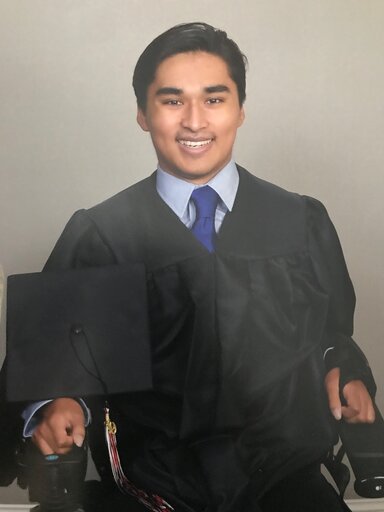 About the 180 Medical College Scholarship Program
Are you also living with a spinal cord injury? Are you planning to go to college this fall? We're still accepting applications for the 2021 180 Medical College Scholarship Program through June 1st.
This annual scholarship program opportunity is open to eligible college students with one or more of the following medical conditions.
Spina bifida
Transverse myelitis
Spinal cord injury
Neurogenic bladder
Ostomy (colostomy, urostomy, and/or ileostomy)
You can apply online at www.180medical.com/scholarships.