Many people who use wheelchairs have asked me how I travel by plane. After all, it can be intimidating, especially because our wheelchairs are the most important part of our daily lives. I'd love to share what I have learned through my journeys as well as some tips for traveling on a plane with your wheelchair.
By being proactive in your travel plans, you can have pleasant vacations too!
Tips for Traveling with a Wheelchair by Air
1. Talk to the Airline and TSA Cares Passenger Support
As soon as you book your flight, it's a good idea to check out TSA Cares, the Transportation Security Administration's passenger support program. TSA Cares is there to assist disabled passengers traveling with a wheelchair or medical supplies. They'll be able to help you with any questions or issues with getting through the security lines.
Next, reach out to the disability service division of your airline. If they don't have a designated department, then their customer service department should be able to help you. They may ask questions about your chair, including its size and weight, so they know how best to stow it away during your flight. A manual wheelchair is typically easier to stow than a power wheelchair because of the size and capacity differences.
After you have spoken to them, they should have noted in their system that you will need assistance. Please note, this service should be at no additional cost. You won't be charged for stowing your wheelchair.
2. Pack Enough Catheters or Other Daily Medical Supplies You May Use
Pack enough of your daily supplies to last you throughout the trip. Plus, bring along more supplies for an extra few days in case of delays. Bring a backup supply in your carry-on, just in case your checked baggage is damaged or lost.
Check 180 Medical's travel blog posts for all the content related to traveling with your supplies. With these posts, you'll get helpful step-by-step tips that can help you feel more confident about flying with your catheter supplies, just as I hope my tips will help you feel free to begin traveling in your wheelchair more.
3. Know Your Rights as a Disabled Traveler
As a disabled passenger traveling with a wheelchair, it's important to know your rights.
For starters, check out the US Department of Transportation's Aviation Consumer Protection for those traveling with a disability. This page lets you know how the airline will work with you, as well as information about The Air Carrier Act (ACAA), a law protecting disabled passengers traveling with adaptive equipment.
4. Make an emergency repair kit
It's a good idea to make a little kit for any repairs that may need to be made to your wheelchair during your travels.
A couple of things I suggest having in your kit would include:
Duct tape
Bubble wrap to protect your chair during the flight
Allen wrenches to fit the screws on your wheelchair
Replacement screws
The user's manual to your wheelchair
When your wheelchair is given to the crew, attach the manual to the chair. Plan to carry the rest of your kit with you on your flight.
5. Prepare Your Wheelchair for Your Flight
If you've ever had a manual wheelchair, you know it's pretty easy to prepare, because you can take off the wheels and fold it. Oftentimes, the airline attendants will stow it in a closet on the airplane. It was usually pretty simple for me when I had a manual wheelchair.
However, a power wheelchair requires a little more attention because it has so many components necessary to make it function properly.
Ideally, you could schedule an appointment for the Adaptive Technology Technician (ATP) from your wheelchair mobility company to come to your home and prepare your wheelchair for travel.
I learned how to prepare my Permobil power wheelchair, just in case, although it's always easier on you if a specialist can do it for you. If you'd like to learn how to do this for yourself, I'd suggest doing some homework and getting to know the ins and outs of your wheelchair first.
Here are the main steps to know about preparing your power wheelchair for traveling by plane:
Turn off the control panel from the main switch, typically at the back of the wheelchair.
Switch the brakes off, so your chair becomes manual and can be pushed.
Recline the back of your wheelchair all the way down to ensure it will fit in the cargo space.
For an extra safety measure, pull the joystick control panel inwards, then wrap it in bubble wrap and secure it with duct tape.
Attach the manual to the wheelchair.
This final state is how you will hand your wheelchair over before the flight crew helps you into the airplane.
Arriving at the Airport for your Flight
From here, I'd like to let you know a little about what you might encounter as you arrive at the airport and get ready to board your flight.
At the check-in counter where you check your baggage, this is where you will likely meet the attendant that will be assisting you throughout your flight. You'll receive a special tag to attach to your wheelchair, which ensures it will be stowed on the correct plane.
The assistant will be with you the whole way to the gate. When the airplane is ready to board, your assistant will help you into the aircraft, where your aisle chair will be ready for you. Typically, it's best if two attendants are available to lift you from your temporary wheelchair into the aisle chair. If they seem unsure how to lift you, you can direct them that one should stand in front and hold your legs from behind your knees. The other should be able to lift you by grabbing under your armpits.
If your personal wheelchair hasn't already been handed over to them, you will relinquish it to them at this time. Don't be afraid to explain to the crew how to handle your chair. I didn't do this on a recent flight from the United Kingdom back to the States, and I didn't leave my wheelchair's manual. Unfortunately, it came back damaged. So that's why I recommend all these steps when traveling with your wheelchair by air.
What Do I Do If the Airline Damages My Wheelchair?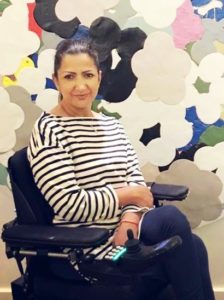 In case of damage to your wheelchair, the airline must pay for repairs. If it cannot be repaired, they are responsible for its replacement. All airlines must meet the requirements stipulated by the Department of Transportation and the Air Carrier Act.
Trust me. I know how upsetting and unnerving it is to see your wheelchair given back to you damaged after a flight. However, you don't need to panic. They can't leave you unless you are properly seated in your wheelchair and taken to the gate.
First, take a moment to assess the damage and ensure you can still use your wheelchair. If not, it is their responsibility to call someone to help you. Your emergency kit may help temporarily patch the situation. If they don't have anyone who knows how to handle your chair, ask them to call someone.
Ideally, your chair will come back in working order. Or you may have a working wheelchair with some new scratches and dings.
If you find any damage, go to the baggage claim area before leaving the airport. There, you should find a baggage service office for your airline. You'll need to file a damage report before leaving.
Personally, I was surprised and impressed at how attentive the airline was about fixing my wheelchair when it was damaged. This experience helped me better understand what I can do next time to prepare. Plus, now I'm able to share my knowledge to help you!
Now go book your flight and get ready to enjoy your holiday. Bon Voyage!