After a spinal cord injury (SCI), accomplishing tasks like taking a shower, driving a car again, or handling chores is a big part of regaining your sense of independence. My name is Steve Kearley, and I'm a Patient Advocate here at 180 Medical. I've been living with a C6 complete spinal cord injury due to a car accident since 1988. So I understand firsthand what it can be like when you're newly navigating the world in a wheelchair.
Even if you have a spinal cord injury, there are still options for completing self-care tasks on your own, such as taking a shower independently.
The Importance of Independence with a Disability
As a Patient Advocate, I often visit with newly injured patients in rehabilitation hospitals. One of the things I love most about my role is helping people see how much they can still accomplish.
When people are new to a spinal cord injury, they're adjusting to a lot of big changes. You'll naturally have some questions about how to maintain your health with a spinal cord injury. Plus, it's normal to have some concerns about independence when you're getting used to a wheelchair.
Getting back your independence can help immensely with improving your overall quality of life after a spinal cord injury. Being able to accomplish things on your own, no matter how small it may seem, can give back confidence and a sense of purpose.
Also, achieving new things like showering on your own can help with moving forward after a spinal cord injury.
Is Taking a Shower with a Spinal Cord Injury Possible?
So can people with spinal cord injuries bathe or shower independently? Absolutely, it's very possible.
Of course, keep in mind, it will likely involve a little trial and error. But don't let a momentary failure detour you from continuing to try.
Before trying it out on your own, you might want to clear it with your doctor, occupational therapist, or rehab therapist. They'll be the best go-to for advice. They may also connect you to some resources for accessible home equipment.
Additionally, for safety purposes, I would encourage you to initially have a friend, family member, or caregiver nearby just in case.
If you're ready, I've got a few more tips for taking on this new task independently.
My Top Tips for Taking a Shower with a Spinal Cord Injury
Now, here are a few tips that should help you on your way to taking a shower with a spinal cord injury on your own.
Tip 1. Make your bathroom wheelchair-accessible.
Now, if you're ready to try showering independently, one thing you'll want is a wheelchair-accessible bathroom at home.
I prefer a roll-in shower option, but many individuals with spinal cord injuries can use a regular bathtub too.
Here are a few additional mods for accessibility:
For a roll-in shower, install a wider shower door to allow wheelchair access or go "barrier-free"
Raise the shower floor a bit or create a ramp entry for easier access
Use securely-installed grab bars to help with transferring and positioning
Get a handheld shower attachment
Try using a suction cup handle if you need help closing the shower door from the inside
Need help with home modifications?
Some organizations offer assistance, such as grants for people with spinal cord injuries, which could help pay for the costs of modifying a home for wheelchair accessibility.
Also, you might check with your insurance. Some private insurance plans and even some state Medicaid plans may pay for some types of modifications to your home.
Luckily, you can install accessible shower aids like grab bars and handles for fairly cheap.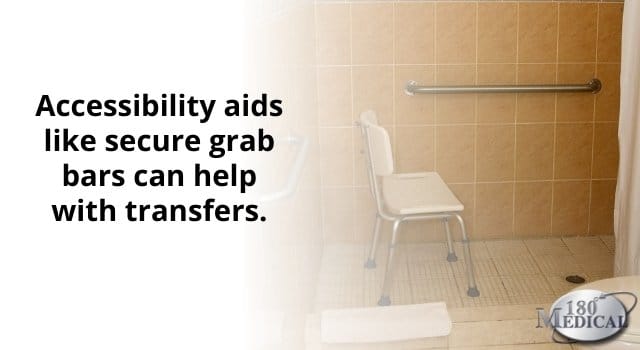 Tip 2. Use a padded shower bench or chair.
Whether you have a roll-in shower or a regular bathtub, you can still use a shower bench. Just place your padded shower bench in an area that allows for safe transfers. Also, make sure your bench is within easy reach to access everything along with the faucets and handle to turn the water on and off.
You can get a relatively inexpensive padded shower bench at online stores. These can come as a fully padded bench with a backrest or as a toilet-shaped cut-out bench option. I know some people who use padded shower wheelchairs, which are great, but they can be a more expensive option.
With having a C6 complete SCI, I prefer the cut-out shower benches. It helps me with stability. For some reason, when I use a full padded bench, I feel like I'm going to slide right off. Not a great feeling!
Fellow quadriplegics, you may want to set the transfer level (shower bench height) even to your wheelchair seat height, which should make for easier transfers.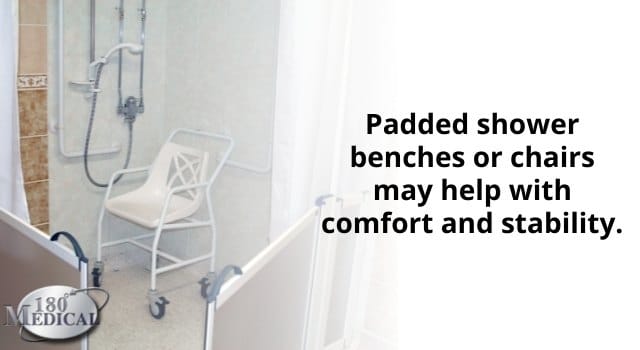 Tip 3. If you're a frequent traveler, try a travel shower bench.
Luckily, these days, you should be able to get a wheelchair-accessible room and bathroom at any hotel. While some hotels even include a shower bench in their accessible bathroom setups, you'll probably want to invest in a travel bench of your own if you travel frequently.
Do a little searching online, and you'll find there are some pretty great options to try out there. I personally like the Nuprodx Mobility MC3000TX portable shower transfer bench.
However, some of these travel options may be more expensive than the basic padded shower benches mentioned above.
Tip 4. Use a handheld shower nozzle attachment.
Some people prefer to take a shower the standard way with the shower head over them. I like to use a handheld shower nozzle attachment so I can spray to clean all around my body.
A handheld showerhead is not just super easy to install; it also offers easier control to clean those hard-to-reach places.
If you have limited hand dexterity, it won't matter if you happen to drop your showerhead. It won't ever stray too far from your reach, thanks to its attachment hose.
Plus, some newer low-flow showerhead attachments help reduce water waste, which might even help keep your water bills low.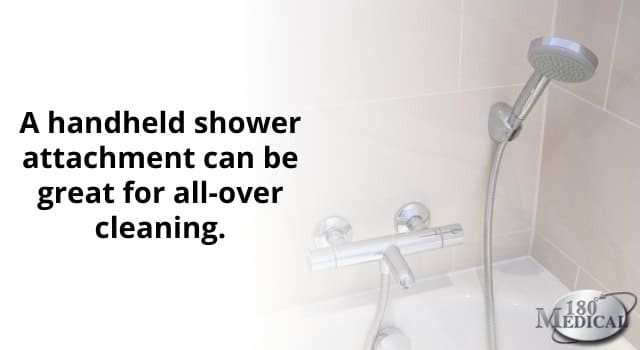 Tip 5. Keep your phone nearby.
When you're bathing or showering alone with a spinal cord injury, it's a good idea to keep a phone nearby. I typically keep mine somewhere on my wheelchair within reach but outside of the range of water spray.
This way, if a rare spill or fall happens, you can call for help. Having a voice-activated call option through a virtual assistant like Apple's Siri can also be helpful.
Tip 6. Check your water temperature constantly.
If you have limited to no sensation, you need to check the water temperature constantly.
I have friends that have gotten serious burns from showering, and they did not realize it until it was too late. Avoid this by checking the temp of your water.
Many household water heaters have a preset temperature, which is often way hotter than you really need. Some people like to have the set temperature on their water heaters turned down closer to 120 degrees or even lower. While still hot, it might help prevent severe burns from occurring in the shower.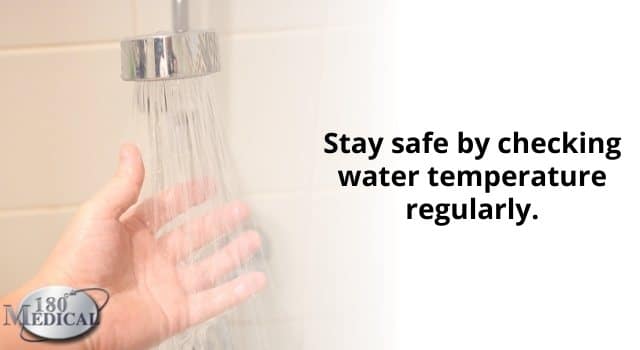 Tip 7. Watch out for potential slips or falls.
Remember: "slippery when wet!"
Keep in mind that in your shower, your wheelchair will be more prone to moving and slipping in wet areas. Especially early on, make sure that a friend or family member is home and within yelling distance just in case you need help.
Having proper shower equipment may also help prevent unexpected falls or slips. For example, many shower benches can be installed directly into the wall while others have rubbery, non-slip feet that grip the shower floor and help prevent the bench from moving.
Tip 8. Practice makes perfect.
Lastly, remember that you're probably not going to be an expert at taking a shower with a spinal cord injury right off the bat. Don't let yourself get discouraged too easily.
It will become easier the more you do it. Practice makes perfect. So keep practicing and working toward safe and independent outcomes.
Where to Get Urological Supplies
Of course, one crucial part of maintaining your independence is handling all of your bathroom routines, including learning how to self-catheterize with a spinal cord injury.
And yes, even if you have limited hand dexterity like me, self-cathing could still be possible.
180 Medical is one of the leading catheter companies in America today with a large inventory of all types and brands of intermittent catheter options.
We've got some really special people on staff who know the products we carry inside and out. If you need help finding the right catheter or figuring out what your insurance will cover, get in contact with 180 Medical.
As always, feel free to reach out to 180 Medical to get in contact with me. I'm happy to help!

Disclaimer: The information provided here is for informational purposes only. This is not medical advice nor is it a paid advertisement or recommendation. External product references or links do not constitute a formal endorsement.