Addressing the needs of our customers is a cornerstone of 180 Medical's mission. In fact, 180 Medical began with the story of our founder, Todd Brown, after he sustained a spinal cord injury (SCI). Plus, we like to offer helpful resources for others needing information, support, and education related to their condition. Take a look below to access this helpful list of spinal cord injury grants, scholarships, and more.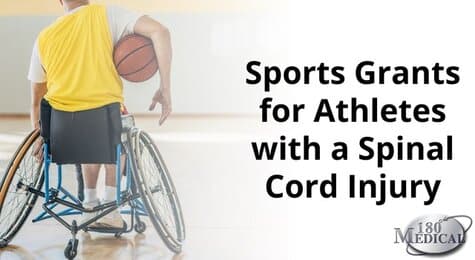 Sports Grants for Athletes with a Spinal Cord Injury
The following spinal cord injury resources include several grants, which are specifically available to help those with SCI and other disabilities to pursue an active lifestyle, including athletic endeavors and adaptive sports.
Challenged Athletes Foundation is dedicated to enabling those with physical challenges. It does this by providing opportunities such as peer mentoring and grants to encourage athletic activity. Available grants include options to help with travel, training, and coaching as well as equipment like wheelchairs and prosthetic devices.
The Kelly Brush Foundation offers grants to support its mission of driving those with spinal cord injuries to lead active lives. They offer grants to assist in purchasing adaptive sports equipment.
The IM Able Foundation seeks to remove obstacles to being physically active for those with physical and/or cognitive disabilities. Grants through IM Able are available for adaptive sports equipment.
SCORE provides grants to those who have been paralyzed while participating in sports or recreational activities for rehabilitation therapy. They offer grants related to sports equipment, home renovations for accessibility, and other quality-of-life improvements.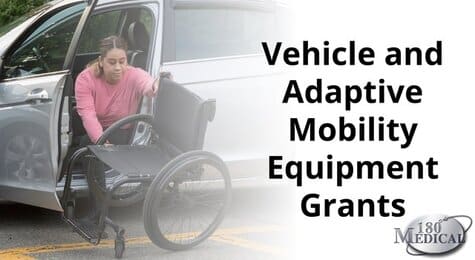 Vehicle and Adaptive Mobility Equipment Grants
The following listed grants offer help in financing adaptive vehicles as well as mobility equipment.
The Mobility Resource connects people with disabilities with financing grants for wheelchair-accessible vans, wheelchair lifts, scooters, and adaptive driving equipment as well as other mobility products.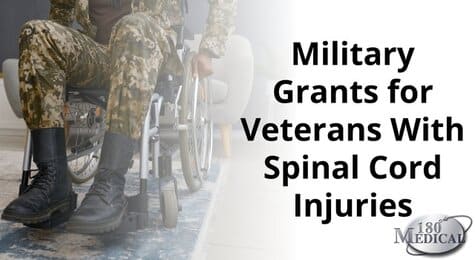 Military Grants for Veterans With Spinal Cord Injuries
These grants offer financial assistance to service members with a spinal cord injury, paralysis, or other physical disabilities.
The Semper Fi Fund is a charity that provides resources for injured members of the U.S. Armed Forces and their families. They offer grants for general financial assistance.
The Semper Fi & America's Fund seeks to support active service members, veterans of the United States military, and their families. They provide financial assistance and support to veterans and their families during all levels of recovery.
The High Fives Foundation is a non-profit that provides resources and inspiration to both athletes and veterans with a spinal cord injury. They offer grants for veterans and those pursuing outdoor adventure sports.
The US Department of Veteran Affairs (VA) offers this grant to adaptive sports programs whose mission is to offer rehabilitation, adaptive sports assistance, and therapeutic resources to United States veterans.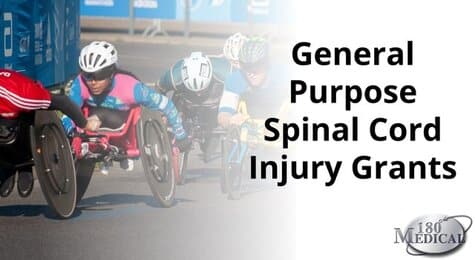 General Purpose Spinal Cord Injury Grants
Lastly, here are some additional grants and financial aid programs to help those living with a spinal cord injury.
The Bryon Riesch Paralysis Foundation (BRPF) has a goal to find a cure for paralysis. They help fund the latest medical research while also assisting those with neurological disorders. BRPF offers grants for financial assistance as well as research for cures.
The Travis Roy Foundation is focused on empowering spinal cord injured individuals through adaptive equipment grants, which enable independence. Plus, they fund SCI research to benefit people with chronic injuries. Grants are available to go toward durable medical equipment like wheelchairs or assistive devices as well as research regarding spinal cord injuries.
Be Perfect Foundation is a non-profit whose aim is to provide direct financial aid to individuals living with a spinal cord injury and/or paralysis. They offer grants for financial assistance as well as scholarship opportunities.
Friends of Man is a non-profit working with referring professionals to supply mobility equipment and additional supplies for those with qualifying disabilities. This non-profit offers grants for financial assistance and durable medical equipment like wheelchairs, walkers, canes, and other assistive devices.
The Dream2Walk Foundation is a non-profit organization offering financial assistance at approved recovery-based therapy facilities. Dream2Walk has available grants for financial assistance for approved physical therapy.
The Triumph Foundation helps to cover the gap in insurance coverage for those with spinal cord injuries. In addition, they provide necessary equipment through various missions such as the Keep Moving Forward Grant program, the Employment Achievement Award, and the Equipment and Supply Exchange. They offer grants for financial assistance and assistive technology.
The Michael Feger Paralysis Foundation is a charity devoted to assisting individuals with spinal cord injuries. They do this by providing access to assistive technology products and educational materials.
The Cindy Donald Dreams of Recovery Foundation is committed to creating positive change for people facing the challenges that often accompany spinal cord injuries or traumatic brain injuries (TBI). This grant helps those affected individuals receive therapy.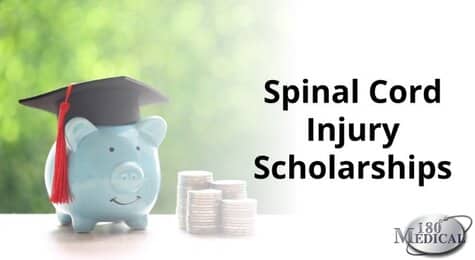 Spinal Cord Injury Scholarships
180 Medical offers annual scholarship opportunities for college students with spinal cord injuries and other specific medical conditions.
This scholarship is open to college students of all ages who plan to attend a 2 or 4-year college in the fall of each applicable year. Applying students must be under the care of a physician for one of the following medical conditions:
Spinal cord injury
Spina bifida
Neurogenic bladder
Transverse myelitis
Ostomy (urostomy, colostomy, or ileostomy)
This scholarship is our way to give back to the primary unpaid caregivers who support their loved ones with disabilities such as spinal cord injuries.
It has always been our mission at 180 Medical to connect our customers and their families with essential resources. You can find additional guides, educational information, product news, and more by signing up for our e-mail newsletter or reading more on the 180 Medical blog.