After a spinal cord injury (SCI), adaptive sports can be a great re-introduction to physical activity. Plus, you get the opportunity for friendly competition, challenging yourself, and belonging to a team of people who know what you've been through.
My name is Steve Kearley. After a car accident over 30 years ago, I sustained a severe spinal cord injury. As a quadriplegic, I know how devastating this kind of injury can be. However, as a Patient Advocate at 180 Medical, I now get to travel around the country to visit newly injured patients in rehabilitation hospitals and share my story. I love being able to help people know their life isn't over just because of their spinal cord injury.
Today, I'd like to share how you can get involved in adaptive sports after a spinal cord injury.

My First Introduction to Adaptive Sports
Before my accident, I was active all through school as well as high school football. After my spinal cord injury in 1988, I still wanted to remain active.
Luckily, I learned about the possibility of adaptive sports when I was in the rehabilitation hospital at Herman TIRR Memorial Hermann.
The first sport I tried was wheelchair basketball. My therapist would help me shoot baskets to start developing my balance and upper body strength. I had only just started getting some arm movement back though, so it was pretty frustrating since I came nowhere close to actually making a basket.
However, after my therapy sessions, I would keep working with visiting family and friends, trying to make a basket.
Later, I met a few other quadriplegic inpatients at rehab, and we started competitions to see who could push their chairs the fastest around the hallways. It was a fun way to push each other to get stronger while also keeping our chins up during this challenging, life-altering time.
Not long after, we learned about a sport that was developed specifically for quadriplegics called "murderball," which is also known as wheelchair rugby. After we were discharged from TIRR, we started practicing and named ourselves the Houston Hurricanes. We were horrible at first, but it felt great to get active and compete. Eventually, we won our first D2 National Championship in the year 2000!
I also played with Team USA, and you can see me appear in the 2005 wheelchair rugby documentary, "Murderball." This is a great movie, especially for quadriplegics who are interested in playing physical sports like wheelchair rugby.
Benefits of Participating in Adaptive Sports After a Spinal Cord Injury
For me, getting back into sports helped me feel normal again. Even with my spinal cord injury, I never felt fragile or broken playing an adaptive sport that allows you to slam into your opponent. It just felt awesome to compete.
Plus, I started building strength and endurance. Ultimately, this helped me better learn how to do my own wheelchair transfers as well as dressing.
The benefits of participating in adaptive sports are many, but one major factor is potentially better health and wellbeing. I personally feel better mentally and physically. Continuing to play wheelchair rugby for over 32 years has contributed greatly to my quality of life. I have the strength and energy to stay active with my wife and 4 kids.
In addition, participating in team sports can help you make new friendships, increase self-esteem, and develop life skills.
According to an article published by Burke Rehabilitation Hospital, some other benefits of staying active after a spinal cord injury may also include:
Reduced risk of secondary complications like respiratory illness and pressure sores
Improved abilities to accomplish daily tasks independently
Potentially better management of weight
Reduced feelings of anxiety and depression
Which Sports and Recreational Activities Are Available to People with Spinal Cord Injuries?
Competitive contact sports like wheelchair rugby may not be for everyone, but the nice thing is that you have plenty of options, regardless of your age or physical function.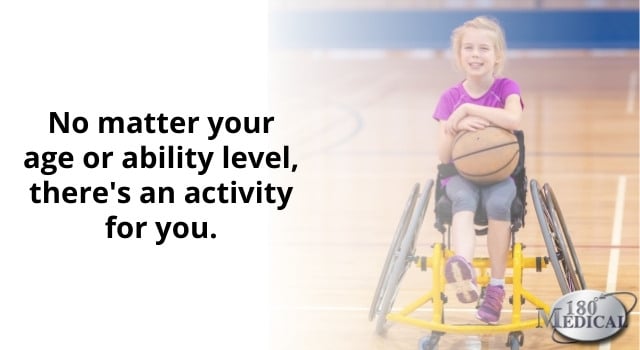 There are team sports, individual competitive sports, individual non-competitive activities, and even recreational activities outdoors.
Sports like power soccer can be great for individuals with very limited upper body/arm mobility. For quadriplegics with some arm function, you could participate in wheelchair rugby, adaptive kayaking, swimming, handcycling, water skiing, snow skiing, track and field events, air rifle shooting, and more.
For paraplegics, in addition to some of the sports I've already mentioned, you could get into wheelchair basketball, softball, lacrosse, adaptive CrossFit, wheelchair tennis, archery, and so much more.
Above all, the most important thing is just to find something you love and stay active. As with everyone, it is a key part of living a healthy life.
Are There Any Precautions To Know Before Starting?
First, you should definitely get your doctor's approval before engaging in any physical activity, especially if you're still relatively new to your spinal cord injury.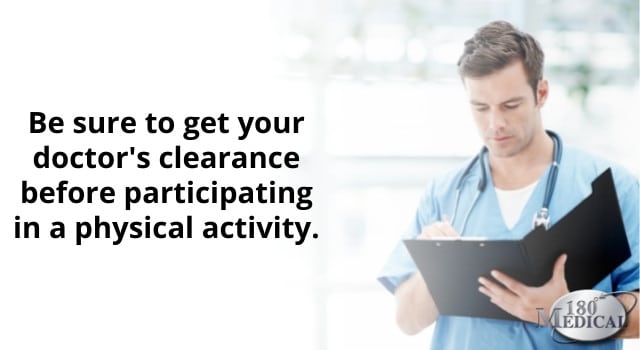 Also, keep in mind that some adaptive sports teams and facilities may require a note of proof of a healthcare professional's clearance before you can fully engage in the activity of your choice.
In addition, proper stretching and hydration are very important to maintaining your health when participating in physical activity.
Most importantly, listen to your body. If you feel hurt, stop and get proper treatment. If you feel you're starting to feel hot or strained, don't push it. I learned my lesson early on about how easy it can be to overheat with a spinal cord injury.
How Do I Start Getting Involved in Adaptive Sports?
Ready to get started? Most major cities usually have some sort of adaptive sports team or facility. The best way to find out quickly is by searching "adaptive sports near me" or "wheelchair sports near me."
Also, check with your rehabilitation facility. Many teams across the United States are affiliated with rehab hospitals in their community.
More Adaptive Sports Resources and Links
A few more resources to check out are:
Lastly, feel free to reach out to me, Steve Kearley, through 180 Medical to find out more. I'm always happy to help!
Contact 180 Medical