The recent COVID-19 pandemic has made something very clear to me: I miss sports! I miss watching my favorite sports on TV so much that my wife keeps checking on me to see if I'm okay – ha! I'm sure I'm not the only one going through this right now, but I just had to publicly admit it. Most importantly, I miss participating in sports. Whether playing or watching, it's one of the best ways for me to relax and recharge my battery. That's why I want to talk some more about the importance of adaptive sports and their role in improving the lives of people living with a disability.
The Role of Adaptive Sports in My Life
I was born with spina bifida. Despite my physical challenges, my parents always encouraged me to play and stay active. That's something for which I'm thankful to this day.
At the age of 12, I began playing wheelchair basketball through the Courage Kenny Rehabilitation Center in Golden Valley, Minnesota. I also played on the Team USA Under 19 team. After high school, I played for the University of Arizona on a full scholarship. Then I pursued my Master's degree while playing for the University of Missouri in Columbia. Also, most recently, I've been a member of the Dallas Mavericks wheelchair basketball team, which was the winner of the 2020 National Wheelchair Basketball Association (NWBA) National Championship.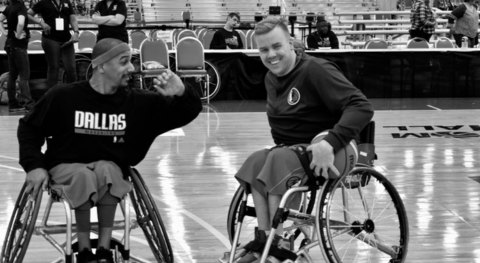 Additionally, I love to participate in wheelchair softball every season. I currently play for Team USA and the Minnesota Rollin' Twins, winner of the 2019 Wheelchair Softball World Series.
While wheelchair basketball and wheelchair softball are my two constants in life, I also love to handcycle in marathons and play wheelchair football. I even scuba dive, thanks to the amazing organization
Dive Pirates
.
Thanks to adaptive sports, I've made new friendships in different countries. I've played alongside some of the most talented teammates ever. Plus, I've traveled all over the world.
The Benefits of Adaptive Sports for People with a Disability
As you can tell, I have been very fortunate to stay active through adaptive sports for most of my life so far. Thanks to adaptive sports, I've been able to maintain my health as a 33-year-old adult with spina bifida. I'm a firm believer that everyone should maintain some sort of physical activity in their daily lives, whether they're living with a disability or not.
Taking part in adaptive sports can help maintain your physical health, but that's not all. It can offer you a lot of mental, emotional, and social benefits too.
Personally, being around others with similar conditions like spina bifida and spinal cord injuries from an early age helped me feel like I wasn't alone. Plus, it gave me an opportunity to watch and learn from others to develop better ways of accomplishing things. For example, I learned better ways to transfer to and from my wheelchair and load my wheelchair into my car by myself by watching my peers. Ultimately, I think this all contributed to my independence, which is something so many of us seek when living with a disability.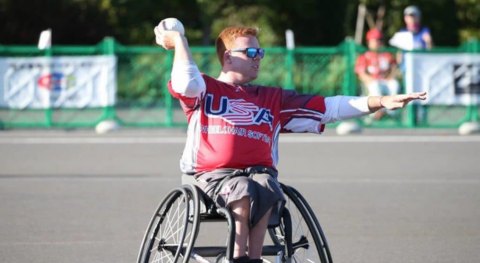 Benefits of Participating in Adaptive Sports
Here's a list of more benefits you may be able to experience from participating in adaptive sports with a disability.
Improved quality of life, including mood and well-being
Increased muscle strength and stamina
Reduced symptoms of depression and anxiety
Improved social life and family life
According to Disabled Sports USA, people who play adaptive sports also experience unexpected benefits like increased employment rates as well. These are just a few of the many potential upsides of playing adaptive sports that may await you.
How to Start Playing Adaptive Sports
So how do you get started? At first, joining teams can feel challenging or even intimidating. As a 180 Medical Patient Advocate who regularly speaks with and mentors kids and adults with disabilities, I can tell you one of the most common reasons people give for not participating is that they didn't know that a certain sport or activity was an option.
What sports can people with disabilities play? Just about anything able-bodied folks can! Based on my story alone, you can see wheelchair basketball, softball, football, hand-cycling in races, and scuba diving are options. My fellow Patient Advocates at 180 Medical, Steve and James, both participate in wheelchair rugby as well, which is a great option for disabled people who miss contact sports. Plus, depending on your location, you may have options to participate in wheelchair golf, sled hockey, fishing, adaptive Crossfit, horseback riding, surfing, volleyball, skiing, and more.
You may be surprised by how many resources are out there in your community to help make the activity you're interested in possible.
Worried you don't have the right equipment? That's another common reason for not getting involved. However, plenty of groups and teams have access to sports equipment they can loan or even give you. Some amazing non-profits, such as the Challenged Athletes Foundation, offer grants that can help you purchase your own equipment, get support, connect to teams, and get involved.
Also, take a look at our compiled list of resources and grants for people with disabilities, which may help you get started.
Don't Let Fear Hold You Back
John Wooden, the famous basketball coach, once said: "If you are afraid to fail, you will never do the things you are capable of doing."
In other words, don't be intimidated by trying something new. You really never know what amazing doors it will open up in your life. I met some of my very best friends through participation in adaptive sports. Find your passion and expand your community!
If you have any questions or would like help locating your local sports group, feel free to reach out to me through our website's contact options. Just ask to speak with me. I'll gladly help you out!