As the Tokyo 2020 Paralympic Games continue through the next week, I thought I'd talk about the significance of this major sporting event for people with physical disabilities.
My name is Steve Kearley, and I'm a 180 Medical Patient Advocate. I've lived with quadriplegia due to a car accident for over 30 years. Part of my role as a Patient Advocate for 180 Medical is to visit with and mentor newly injured patients in rehabilitation facilities across the country. Even when they may think their life is over because of their spinal cord injury, I love getting to show them how much they can still accomplish even when living with a disability.
Also, I love sharing about the important role that adaptive sports have played in my life since my spinal cord injury.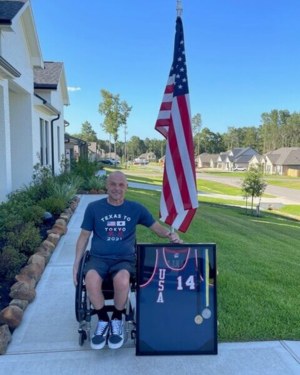 What are the Paralympic Games?
First, let's talk about what the Paralympic Games are all about. No doubt you already know what the Olympics are. The Olympic Games consist of a variety of summer and winter sporting events, which happen every four years.
Much like the Olympics, the Paralympics is an amazing spectacle that also occurs every four years. In fact, it's the second-largest sporting event in the whole world. Plus, athletes have to truly excel at their sport of choice in order to qualify, just as they must for the Olympic Games. However, there's something that sets the Paralympic Games apart. This event was specifically created just for athletes with physical disabilities, such as people with a spinal cord injury or an amputation.
It's awesome to watch individuals with physical disabilities get to represent their country while competing to win the gold. In other words, when you compete, you want to be the very best individual or team in the world in your given sport.
While the very first Paralympic Games, held in 1960 in Rome, were primarily for athletes in wheelchairs, today, people with a wide range of physical disabilities can participate.
What's the Purpose of the Paralympic Games?
Although many people consider the athletes competing in the Paralympics to be an "inspiration" because of their disability, that is not the sole purpose. If they happen to inspire, that is secondary and only due to their performance and unwavering athletic drive.
The Paralympic Games are primarily an opportunity for the world's top disabled athletes to compete alongside their peers and show their skills on an international platform. It's a reminder that people with disabilities have the right to participate in adaptive sports and recreational activities at all levels, whether competitively or not.
According to the International Paralympic Committee, these games focus on values of courage, determination, inspiration, and above all, equality.
My Experience with Team USA and the Paralympic Program
Originally, I discovered adaptive sports while I was still in rehabilitation therapy at TIRR Memorial Hermann in Houston, TX. Several other spinal cord injured patients and I found out about Murderball, a wheelchair rugby game specifically for quadriplegics. We were instantly drawn to this sport, which encourages hard hits and strategic teamwork.
Later, I, along with many other Houston-area quadriplegics, founded the Houston Hurricanes Quad Rugby Team in 1990. Eventually, we went on to win the D2 USQRA National Championship in 2000.
Additionally, I was in the Team USA Wheelchair Rugby Paralympic Program from 1998 to 2003. I participated in the 1999 Stoke Mandeville World Championships in Christchurch, New Zealand, where we won the Gold medal. Also, I received the Silver medal in the 2002 IWRF World Championships, held in Gothenburg, Sweden.
Although it was a huge honor to represent the USA in 1999 and 2002, I did not make the 2000 Paralympics USA Rugby Team, held in Sydney, Australia. I was heartbroken not to make the team after I had trained for countless hours and gave it my all at tryouts. However, I am proud to say that Team USA won the Gold versus Australia in front of a packed stadium with over 10,000 spectators. It was amazing to watch!
Where to Watch the Paralympic Games
Through my tenure with Team USA Wheelchair Rugby, I learned that in order to be the best, it takes commitment to training as well as teamwork at the highest level. This training becomes your sole focus leading up to the international competition. After all, when you carry the weight of the "red, white, and blue" on your shoulders, you feel that pressure to be the very best.
I hope you'll tune in with me and the rest of the world to watch these amazing sporting events through September 5, 2021.
Check out the 2020 Tokyo Paralympic Games TV schedule, and get ready to cheer on the best of America's athletes with disabilities!