My name is Steve Kearley, and I'm a Patient Advocate at 180 Medical. I've been quadriplegic as a result of my spinal cord injury for over 3 decades now. I understand firsthand how challenging it can be to learn to self-cath after a spinal cord injury, especially when living with limited hand dexterity. Previously, I shared some of my tips for learning to independently self-catheterize. Next, I'd like to talk about some of the best catheters for people living with a spinal cord injury.
Tips for Choosing the Right Catheters After a Spinal Cord Injury
After a spinal cord injury, using intermittent catheters often becomes another part of daily life. As you begin exploring your catheter options, keep in mind that no single type or brand of catheter works for everyone. In other words, what works for one person may not work for another.
Therefore, my first and most important tip is to try out a variety of different catheters to find what works best for you. Our specialists at 180 Medical can help you explore your product options, try free catheter samples, and figure out which catheter fits you best. Plus, we can verify your health insurance plan to determine your catheter insurance coverage.
Catheter Features Ideal for Those in Wheelchairs or With Limited Hand Dexterity
After over 30 years of living with my spinal cord injury, I've definitely tried my fair share of catheters. Today, I know which features work best for me personally. Plus, I have a good idea of which catheters work well for others in wheelchairs or living with minimal hand function.
When I think about a catheter I want to use, it should be comfortable, easy to open and hold, and ideal for limited hand dexterity. A discreet, travel-size catheter is also a bonus since I frequently travel as a 180 Medical Patient Advocate. Here are a few other features you might want to look for in a catheter.
Easy to Open and Grip
Do you have limited hand or limb function? If you're looking to try some of the best catheters for people with a spinal cord injury, you'll want to find a catheter with easy-to-open packaging. You might want a product that will include some simple tabs to pull, a feature that will help you grip it, or finger or thumb holes for holding and opening.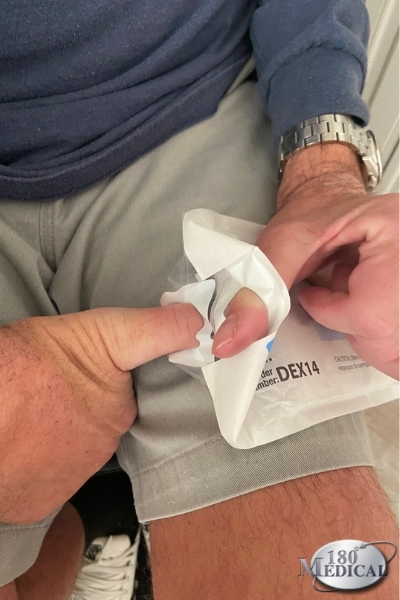 Catheter Handling Sleeve
I prefer catheters that have a gripper sleeve or handling sleeve, which allows me to advance the catheter without touching it directly. This reduces the risk of contamination and may help reduce the risk of urinary tract infections too.
Hydrophilic or Pre-lubricated Catheter Options
Depending on your catheter insurance coverage, you may want to try an advanced catheter, such as a hydrophilic catheter or a pre-lubricated closed system catheter. Personally, I find these easier to use so I'm not fumbling with trying to apply lubricant gel every time I have to cath.
If you're in a wheelchair, closed system catheters are a great option. This is because they're more sterile and may help limit the risk of urinary tract infections. Plus, these are all-in-one systems so you can directly cath from your wheelchair into a collection bag, which you can empty into the toilet.
Extra-Long Catheter Tube or Extension Tube
If closed system catheters aren't an option based on your insurance coverage, you might consider using an extra-long straight catheter, such as the Cure XL Catheter. These are long enough to cath from your chair and directly drain urine into the toilet.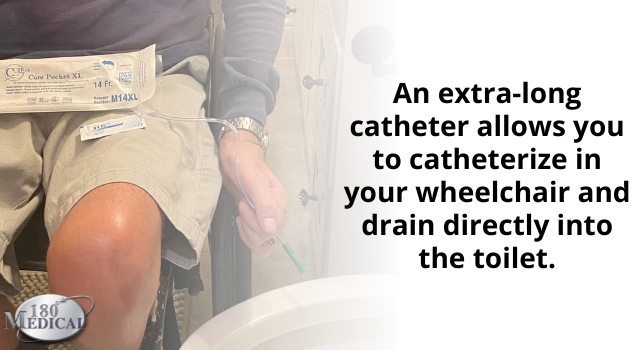 On the other hand, you may prefer using an uncoated straight catheter or a hydrophilic catheter with an added extension tube, which can basically do the same thing. You have several different options of catheter extension tubes out there, but I find Cure Medical Extension Tubes work great for me. This is because they're easier to secure the tube into the funnel end of the catheter, even with limited hand dexterity.
Travel-Sized or Compact Catheters
If you frequently travel like me, and you're in a wheelchair, you may want a catheter that's both functional and discreet. I cath from my wheelchair and use closed system catheters when I'm at public venues or sporting events because public bathrooms tend to be unclean.
Plus, believe it or not, I've cathed on an airplane before. Here's a helpful travel tip. Ask the gate agent at your airline to see if they can block the seats next to you if it's not a full flight. More often than not, they're willing to accommodate your request.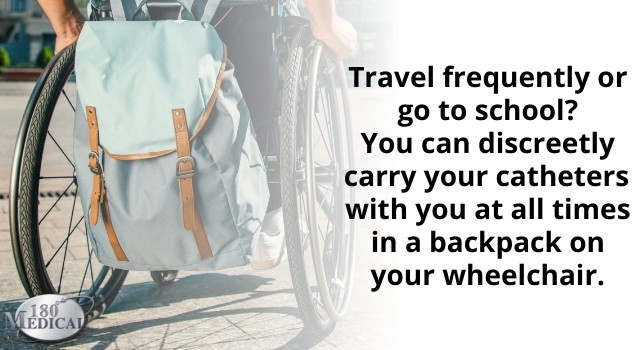 Best Catheters for Spinal Cord Injury / Limited Hand Dexterity
As I list some of my top choices of some of the best catheters for people with a spinal cord injury, please keep in mind that there's no single brand or type of catheter that's going to work for everyone across the board. What works for me may not work well for you. Again, that's why it's important to try out a few different options of catheter samples from various brands and types. A little trial and error should help you find what works best for you personally.
That being said, here are a few of my personal favorites as well as a few other catheters that are popular among people with spinal cord injuries.
Closed System Catheters
Hollister VaPro Plus Pocket™ Catheter
I've found that the Hollister VaPro Plus Pocket™ Catheter is a great option. It feels mostly easy to use even when you have limited hand dexterity. Plus, it's compact and discreet as a pocket catheter option.

Pros:
Easy to open
Easy and hygienic insertion
Features a protective sleeve and pre-lubricated introducer tip to minimize contamination
Compact, discreet design (easy to conceal)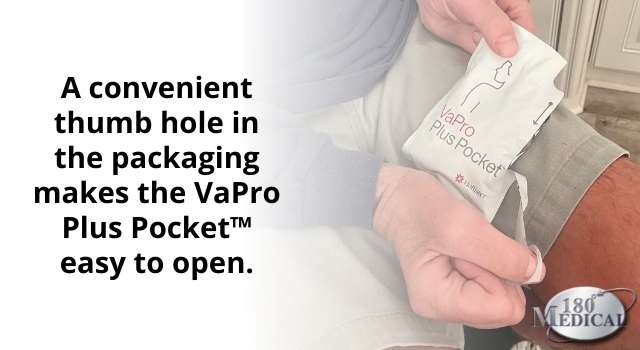 Cons:
Some people may find the sleeve over the bag difficult to remove
It may be challenging to unfold the collection bag independently, depending on your level of spinal cord injury
Cure Dextra™ Closed System Catheter
The new Cure Dextra™ Closed System Catheter was specifically made for catheter users with limited hand function. It features large finger holes in the packaging and collection bag, which makes it easier to handle and open. Plus, it features a Gripper Arrow on the package, which helps you advance the catheter without retraction. You can learn more about its unique features in our recent product news blog post.
Also, Cure manufactures their catheters without DEHP, natural rubber latex, or BPA.
Pros:
Easy to open and hold with large finger holes
Support Band gives you the ability to grip the catheter without using both hands
Designed with limited dexterity users in mind
New catheter advancement technology: simply move the arrow back and forth with a thumb or the palm of your hand to advance the catheter
The catheter tube does not retract like most closed systems
Has an easy tear-off loop for emptying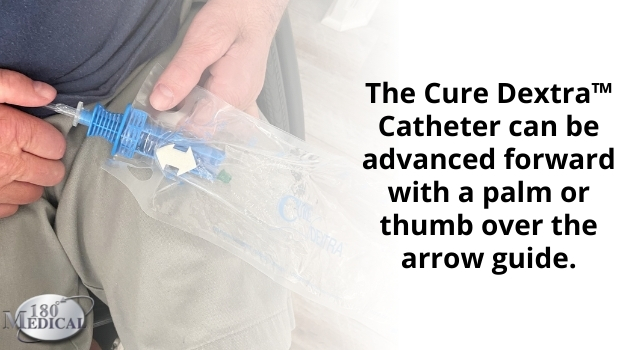 Cons:
Depending on how discreet you want your catheter package, the Cure Dextra is not a pocket-size option
Coloplast SpeediCath® Compact Set
The Coloplast SpeediCath® Compact Catheter Sets are all-in-one catheter and bag sets. They are available in male length as well as female length. Plus, the SpeediCath® Compact Set for men features a unique telescopic design that fits anywhere between 12 Fr to 18 Fr size needs.
Pros:
Cool-looking compact design that looks a bit like a travel toothbrush case
Easy and comfortable to insert
Ready to use, thanks to its pre-activated hydrophilic coating
Can insert by holding where the bag connects to the catheter (never have to directly touch the catheter tube itself)
Award-winning design
Cons:
It may be harder to open for some with limited dexterity
Rigid catheter tube
No protective introducer tip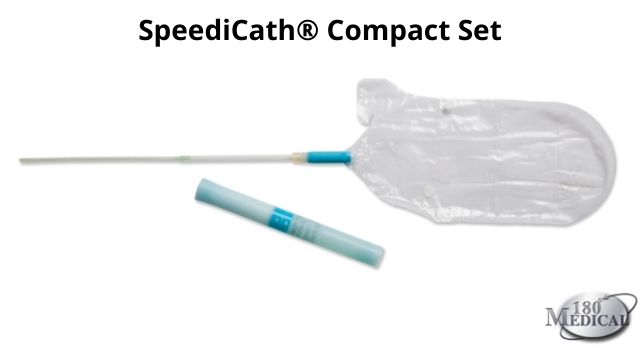 Straight and Hydrophilic Catheters
Cure Hydrophilic Catheter
If you'd like an easy-to-use hydrophilic catheter, you might consider trying Cure Medical hydrophilic catheters, which are available in both pediatric length and male length.
Plus, it's available with a tapered coudé catheter tip as well as an option with an included kit of insertion supplies.
Pros:
Easy to open
Quality packaging which opens from both ends
Evenly coated hydrophilic
Gripper sleeve
Easy to fold for discretion
Flexible funnel that's easy to attach to an extension tube
Cons:
Need to pop water packet to activate the hydrophilic coating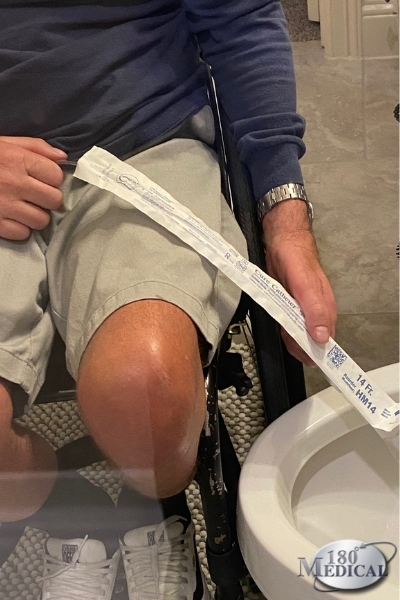 GentleCath™ Glide Catheters
Some hydrophilic catheters can leave behind residual mess or they can dry up and get sticky. ConvaTec GentleCath™ Glide catheters provide an answer to these common issues. Glide catheters feature FeelClean™ Technology, which provides a faster, cleaner, and more comfortable cathing experience.
Pros:
New hydrophilic FeelClean™ technology reduces mess and stays lubricated during catheterization
Can open the package from both ends
A flexible funnel makes it easy to attach an extension tube
Long, narrow drainage eyelets, which may help minimize urethral trauma
Instant activation after popping water packet; no waiting
Cons:
LoFric® Origo™ Hydrophilic Catheters
LoFric® Origo™ hydrophilic catheters come with either a straight insertion tip or a coudé catheter tip. The Origo™ catheter's package is easy to fold, which makes it a nice pocket catheter option. Plus, it has an adjustable insertion grip sleeve that's great for gripping and controlling the catheter without touching the tube.
Pros:
Easy to open
Easy to attach an extension tube to its funnel
Nice design with insertion grip sleeve to reduce hand contamination
Urotonic™ Surface Technology minimizes friction during catheterization
Package doubles as a discreet disposal pouch after you're done cathing
Cons: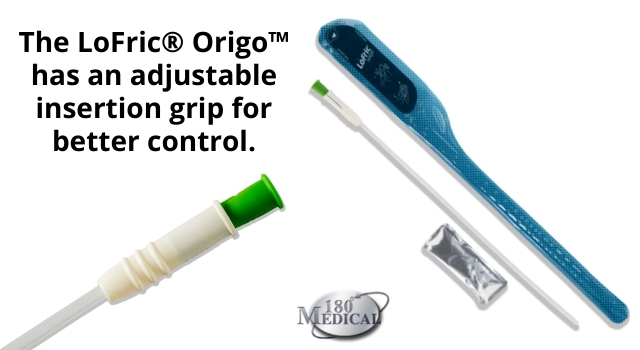 Cure Pocket XL Extra-Long Catheters
Lastly, the Cure Pocket XL Catheter is an extra-long catheter option. It may be ideal for people who want a straight, uncoated catheter and prefer to cath without transferring from their wheelchair.
Pros:
Compact pocket-size package
No extension tube required
Can open the package from both ends
Polished drainage eyelets
Cons:
Requires lubricating jelly, although Cure includes a sterile packet of lubricant in each Cure Pocket XL package
It may be more difficult to insert if you have very limited hand dexterity
Where to Get Catheter Supplies Through Insurance
Now that you know a few of the top catheter supplies for people with spinal cord injuries, you may be wondering where to get them. 180 Medical has specialized in catheter supplies since our very beginning when Todd Brown founded our company after he sustained a spinal cord injury in a motocross accident. That means our trained specialists have years of experience in helping our customers find the right catheter for their needs.
We carry all of the major manufacturers and catheter brands. Additionally, we emphasize the importance of customer choice because we believe you should have the freedom to find what works best for you, based on your prescription and insurance coverage.
We're ready to help you customize an order that works best for you. Contact our specialists today!