Have you heard about the newest catheter on the market? The new Cure Dextra Closed System Catheter offers innovative features for catheter users with limited hand dexterity. Plus, it has the same great quality as all Cure Medical catheters.
Request Free Samples
Let's dive into the details of the new Cure Dextra Catheter, which is now available at 180 Medical along with the full line of Cure catheters.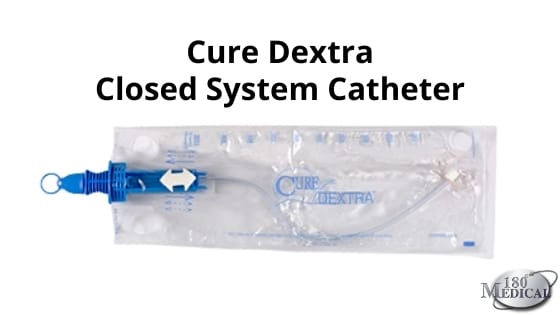 Cure Dextra Catheter Is Ideal for Users with Limited Hand Dexterity
Cure Medical was founded in 2007 by Bob Yant, who became a quadriplegic after he sustained a spinal cord injury in an accident in 1981. Since then, Cure has manufactured high-quality intermittent catheters for users of all ages from all journeys of life. Additionally, Cure Medical always donates 10% of its net income toward research for spinal cord injuries and central nervous system disorders.
The new Cure Dextra Closed System Catheter was created for any and all catheter users. However, it's especially ideal for those with limited hand dexterity as its unique features can help them self-catheterize on their own.
Whether you're fully able-bodied or if you have limited hand function due to a spinal cord injury, Multiple sclerosis, arthritis, spina bifida, or another condition, the Cure Dextra may be the catheter product solution you've been looking for.
Features of the Cure Dextra Closed System Catheter
This innovative closed system catheter from Cure Medical helps increase your independence while also helping to reduce the risk of urinary tract infections (UTIs).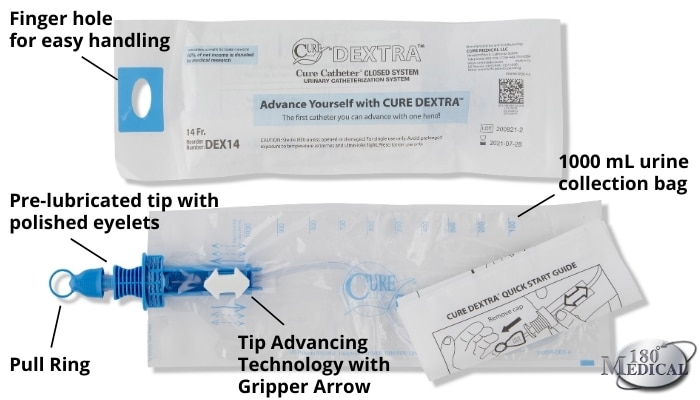 First, it reduces contamination from direct hand contact on the catheter tube due to being housed inside its own integrated urine collection bag. Also, having an integrated collection bag is ideal for people in wheelchairs who prefer to self-catheterize without having to transfer from their wheelchair to a toilet. You can self-catheterize anywhere you have privacy, thanks to its all-in-one design.
Another handy feature that helps prevent infection is its flexible, pre-lubricated introducer tip. This works by helping the catheter tube bypass the highest concentrations of bacteria in the outermost part of the urethra.
Both the catheter package and the catheter bag feature a finger hole, which makes handling and carrying easier for those with limited hand dexterity. Also, you can slip a hand or fingers through the Support Band on the back of the catheter bag. This gives you better control of the catheter bag without needing both hands.
Lastly, the Cure Dextra has a Gripper Arrow, which is the contact point for easy catheter insertion. The user can stroke the Gripper Arrow's chamber with their finger, thumb, or palm. Then the catheter advances for insertion.
The Cure Medical Dextra Closed System Catheter has all these great features:
Tip Advancing Technology
Gripper Arrow to make it easy to insert the catheter
Pre-lubricated with a unique hydrophilic coating
Polished drainage eyelets
Ready to use without additional preparation
Support Band for controlled use without using both hands
Not made with DEHP, DINP, BPA, or natural rubber latex
Integrated 1000 mL collection bag
Cure Dextra Product Numbers and Sizes
| | |
| --- | --- |
| French Size | Item Number |
| 12 Fr | DEX12 |
| 14 Fr | DEX14 |
| 16 Fr | DEX16 |
Request Free Samples
How to Use the Cure Dextra Closed System Catheter
Cure Medical offers some helpful step-by-step catheterization instructions with illustrations for how to use the Cure Dextra Closed System Catheter. Plus, here's a helpful how-to video for using the Cure Dextra catheter.
Here are the guides, including the
Instruction Guide for the Cure Dextra for Men
and the
Instruction Guide for the Cure Dextra for Women
.
Also, 180 Medical offers online instructions for learning how to cath. These are available for men, women, and children. We include options for learning how to self-catheterize with closed system catheters as well as straight catheters and hydrophilic catheters.
Where to Buy Cure Catheters
180 Medical proudly carries Cure Medical's entire line of catheters. As a leading provider of home-delivery catheters, incontinence supplies, and ostomy products, we carry catheter supplies from all the major brands today.
180 Medical's friendly Catheter Product Specialists are ready to help you find the right catheter for your unique needs. Just contact us to ask about trying a free Cure Dextra catheter sample among other great options.