Pocket catheters are one of the most popular types of intermittent urinary catheters these days! Many people love the convenience, size, and simple discretion of pocket catheter supplies. Plus, they can be so easy to handle and carry.
If you're ready to talk to one of 180 Medical's friendly specialists about your travel catheter options, reach out and request free pocket catheter samples now!
What Are Pocket Catheters?
A pocket catheter is a blanket term given to any intermittent catheter that's compact enough or foldable to fit in your pocket. Intermittent catheters come in a few different types, sizes, and lengths to suit men, women, children, and adolescents. Plus, 180 Medical carries all major brands, so you have a large variety from which to choose.
The most important feature is that the catheter packaging is small and discreet. Many people prefer a portable catheter to carry in their pocket, purse, briefcase, backpack, or makeup bag – or even the palm of your hand!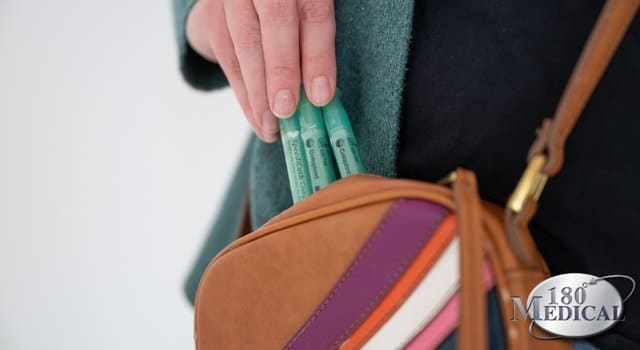 Portable Catheter Lengths
Intermittent catheters typically come in a straight, long package and vary in length depending on the user's needs. The unisex or male length catheter is typically around 16 inches long. On the other hand, female catheters average around 6 inches long to accommodate the female urethra's shorter length, while pediatric length catheters for children are around 10 inches.
Pocket catheter lengths and their packages are sometimes shorter than standard-size catheter lengths. Other pocket catheters may be full standard length but offer unique shorter, curved packaging. Some are also easily foldable without damaging the tube.

What Types of Pocket Catheters Are Available?
Many pocket catheters are available in the same intermittent catheter types as standard, including uncoated straight catheters, hydrophilic catheters, pre-lubricated catheters, and closed system catheter kits.
As a leading provider that specializes in intermittent catheters, 180 Medical carries one of the widest varieties of catheters on the market today. We want everyone to have the freedom of choice to sample from all brands to find the catheter that works best for their individual needs and preferences.
Also, 180 Medical regularly updates catheter product news on the blog when new products become available.
In the meantime, here are a few different pocket catheter options to consider.
Portable Catheter Options in Curved Packaging
Male length pocket catheter options don't have to mean sacrificing any length. In curved package portable catheters, the catheter is gently folded inside the catheter package, which halves the package length to make it more discreet.
Here are just a few curved pocket catheters available at 180 Medical:
Ready to try a free curved pocket catheter sample?
For example, the Cure U Pocket Catheter is available with a standard straight tip or a coudé tip. Cure also offers some travel-ready options, such as a pocket catheter with lubricant included for your convenience.
Plus, for people who need to catheterize from their wheelchair, Cure offers an extra-long pocket catheter (25 inches long), the Cure Medical® Pocket XL. This is the perfect length from still being able to sit in your wheelchair while directing the flow from the catheter into a toilet, urinal, or another receptacle.
Compact Catheters
Compact catheters are often shorter than standard catheters, although they're still long enough to reach and drain the bladder.
The Cure Ultra is a pre-lubricated travel catheter option that ensures an even, smooth distribution of the lubrication as you remove the catheter from its small, easy-to-open package. The design is environmentally friendly and simple to dispose of with minimal waste. The Ultra is available in a straight insertion tip for both men and women. There is also an option with a curved or coudé tip for those who have difficulty passing a straight tip, the Cure Ultra Coudé Male Catheter.
Another great choice for women who want a discreet portable catheter is the Cure Twist. The Cure Twist Female Catheter has a package design similar to a mascara tube or lipstick. It has an easy-open twist top, and it comes pre-lubricated and ready to use. As soon as you're ready, you can self-cath with no worries about mess or dripping.
One of the most popular compact catheter options today comes from Coloplast, a brand that has been around since 1957. Available for both men and women, the Coloplast SpeediCath Compact Catheter blends in by looking like a cosmetic product or a marker. The SpeediCath for Men is truly unique with a telescoping tube that works for men who need a French size of 12 to 18.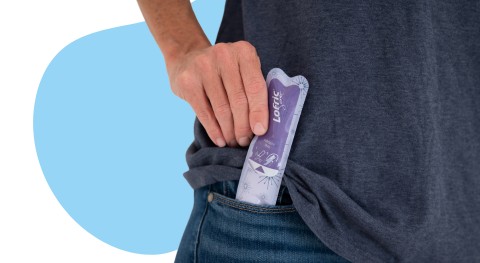 Pocket Closed System Catheters
Closed system catheters are a type of intermittent catheter with an all-in-one collection system. Often, they feature an introducer tip to bypass the highest concentrations of bacteria in the first few millimeters of the urethra, which may reduce the risk of infection.
Closed system catheters have attached collection bags, giving you the freedom to self-cath wherever you have privacy, making it an ideal choice for those in wheelchairs, children, and those who are frequent travelers.
Many closed system kits include insertion supplies to aid in providing you with a more sterile catheterization. Common catheter insertion supplies often include:
Gauze
Antiseptic wipes
Gloves
Underpad
Disposal bag
Ready to try a free pocket closed system catheter sample?
How Can I Find the Right Travel Catheter for Me?
Do you know if your pocket catheters or travel catheters are covered by insurance? 180 Medical gladly verifies your insurance plan for you. Then our friendly Catheter Specialists will fully explain your catheter coverage.
Contact us today to speak with one of our catheter experts. Together, we'll find the right pocket catheter for your needs!
Disclaimer: Please note this post's intent is to provide a general understanding of discreet catheter product options. Please do not use this information in place of the recommendations of your professional healthcare provider.