180 Medical, a leading provider of insurance-covered catheters and ostomy supplies, recently made the Top Three Best Places to Work in Oklahoma in the Large Companies category. This is the 12th year 180 Medical has been named one of the top employers in the state.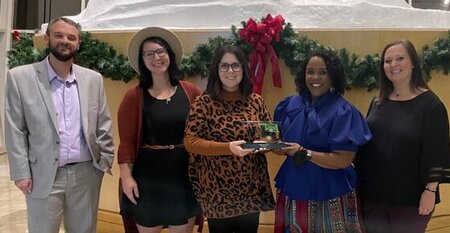 180 Medical is One of the Top Three Best Places to Work in Oklahoma
For the 12th year, 180 Medical is one of the Best Places to Work in Oklahoma in 2021. In addition, at the recent Best Places to Work in Oklahoma Awards ceremony on November 3, 2021, 180 Medical placed 3rd out in the entire Large Companies category.
During the determination process, the Best Places company researches Oklahoma-based employers while also getting anonymous feedback from employees regarding their feelings about their workplace.
Being a top employer named among the Best Places to Work in the state is both an honor and a testament to 180 Medical's continuing dedication to provide a supportive, positive work environment where our employees can thrive and grow. At 180 Medical, we live and work by our founding values of integrity, compassion, and service, and we extend this to our customers as well as our coworkers.
We are very excited about this award because it's based on our employees' opinions of our company. Our employees are truly one of our most valuable assets, and they help create our culture of high engagement and inclusion. This 3rd place ranking really helps solidify what we already know: that 180 Medical is truly one of the Best Places to Work!
What Makes Working at 180 Medical So Special?
From the start, 180 Medical's employee-focused goal has been to provide a diverse, inclusive work environment. We want every member of our team to feel welcome and able to succeed within their unique role.
As one of the top employers in the state, 180 Medical provides comprehensive benefits for our employees. Plus, we always have something fun going on, whether it's a celebration for holidays or rewards for meeting company goals.
Additionally, we extend our dedication to our values to our local communities. The company provides paid time off for our employees to take a day of their choosing to spend volunteering or participating in community service.
We also offer plenty of opportunities for our staff to engage in special interests with other colleagues or join a cause that makes a difference, such as Employee Resource Groups, Book Club, and Journal Club.
We are honored to be named a Best Place to Work in the state of Oklahoma for another year! This is a testament to the dedication shown not only by our company but by our employees every single day. Customer service is the heartbeat of our organization, and service to our employees is very much a part of that. It's our goal to create and maintain a safe and fun atmosphere for our employees. We couldn't be part of the 'Top 3' without the people who contribute in such a positive way to our culture every day.
Start Your Career at One of the Top Places to Work
180 Medical is one of the fastest-growing providers of home-delivered medical supplies, including intermittent catheters and ostomy products. As we continue to grow, more opportunities become available.
You can find out more about 180 Medical and some more of the awesome perks of working for this company at www.180medical.com/careers.