How to Reorder Supplies with 180 Medical
---
At 180 Medical, we make the process of restocking your catheters and/or ostomy supplies practically effortless.
Instead of calling in each time you're ready for a new order, start taking advantage of our automated shipping schedule with these three easy reordering options.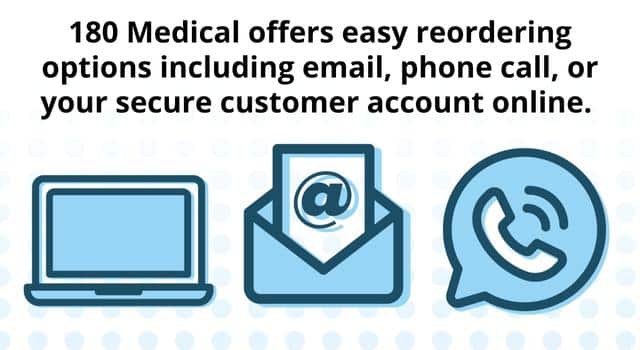 3 Easy Ways to Reorder Your Catheter or Ostomy Supplies
We offer three easy ways for our customers to reorder and confirm their upcoming shipments quickly and easily, so you're never without the medical supplies you depend on.
1. Reorder your supplies through your secure Customer Portal Account
Visit my.180medical.com to log into your secure customer portal account to view your order history, request changes, and confirm your upcoming orders.
You can track your shipments, pay bills, complete documentation, and so much more — securely, quickly, and easily!
Are you a new customer who hasn't yet registered to access your account online? Just go to the sign-in page and click "Create An Account."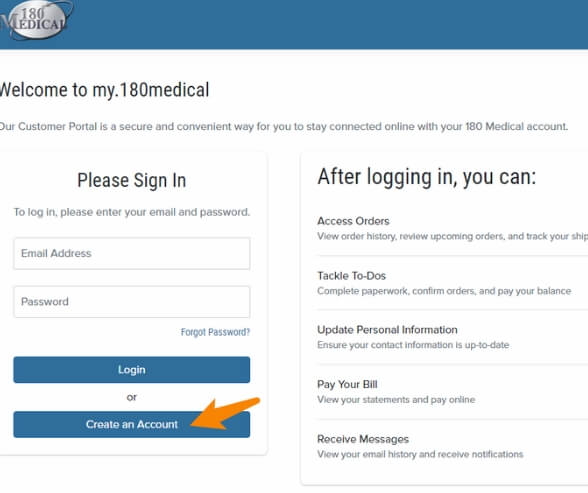 Get Started
2. Confirm your order by email
If you prefer to avoid a phone call, we understand. That's why we offer confirmation by email. Just provide 180 Medical with a working email address that you check regularly.
Then we'll send you an order confirmation email around ten days before your scheduled shipment. Just click the 'Refill Now' button, then follow the prompts to:
Enter the name and date of birth of the customer receiving supplies
Verify the shipping month
Let us know whether you are currently receiving home healthcare
Input the number of supplies you currently have on hand
Have more questions about the order confirmation process? Get answers to your FAQs about confirming orders.
3. Confirm your upcoming order by phone
Prefer to talk to someone on the phone to reorder your supplies? We love hearing from you! Just let us know how you'd like to be contacted.
Then our friendly Confirmation Specialists will start calling you when your order is due to ship soon (typically seven to ten days before your scheduled shipment). We'll check in with you on how you're doing on supplies, and at that time, we can go over whether you need to confirm, adjust, or push back your order.
Did you miss a call from 180 Medical's Confirmation department? Don't worry. You can bypass the main phone line and reach out to the Confirmation team directly by calling 405-603-8215.
Why Do I Need to Confirm My Order?
Some insurance companies, such as Medicare, Medicare replacement plans, and certain state Medicaid programs, require that any medical suppliers confirm the need for the insured customer's upcoming order before shipping it.
As a nationally-accredited company, 180 Medical follows those insurance regulations, because it's the right thing to do. That's why, in certain cases, we'll need to get in touch with you prior to your shipment to see if you're ready to reorder or if you need to make any changes to your account.
Contact 180 Medical for the Supplies You Need
Are you looking for the right catheter and ostomy supply company?
180 Medical provides an unbeatable combination of top-quality products with reliable shipping and personalized customer support.
Fill out this contact form to get started.