Last fall, we announced our 2015 College Scholarship recipients. As the 2016 application period is open now, we will continue to feature the last few of our individual scholarship recipients, so be sure to sign up for the newsletter to get notified when new blog posts are published. Today, meet 2015 scholarship recipient, Greg!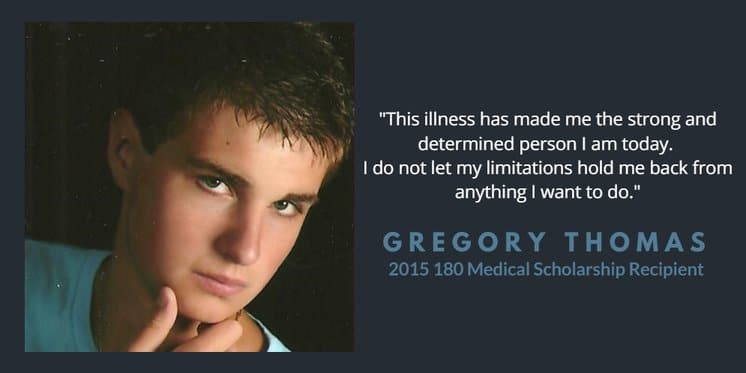 2015 Scholarship Recipient Greg Thomas's Story of Transverse Myelitis
When 2015 Scholarship Recipient Gregory Thomas was just 11 years old, he was diagnosed with Transverse Myelitis.
"Every day was a constant battle," Greg says of his battle with paralysis in the ICU.
After nearly a month, he was finally able to breathe on his own again. However, he still had to face months of physical, occupational, and speech therapy. On top of all that, he had to catch up to his classmates with schoolwork.
Over time, little by little, he began to gain some sensation back in his legs. After much hard work, he now is able to walk with forearm crutches.
Despite a large coursework load and the obstacles in his path, Greg has maintained an impressive work and internship record as well as staying active in the Quinnipiac Investment Club as Vice President. He continues to help others as a part of the Christopher Reeve Peer Mentorship Program as well.
Today, Greg continues to maintain his grades on the Dean's List at Quinnipiac University. He's in his senior year, and he expects to earn his degree in Finance this spring.
There's no question that Greg is working hard on a steady path to success, and we're happy to be able to contribute in part to his future.
More About the 2016 180 Medical Scholarship Program
We are honored to offer an annual scholarship program to help those with spinal cord injuries, spina bifida, transverse myelitis, ostomies (ileostomy, urostomy, and/or colostomy), and/or neurogenic bladder. We know paying for college isn't easy these days, and we also understand that there can often be extra financial difficulties for aspiring students who live with these conditions.
The 2016 Scholarship application period began as of January 1st and will run until June 1st of this year. Applications are now available to download. To learn more about 180 Medical's annual scholarship, visit www.180medical.com/scholarships.