Has your doctor recommended you begin using coudé catheters? If so, you probably have some questions. For example, what is a coudé cath (sometimes known as a coudette catheter)? What types of catheters have a coudé insertion tip? Are coudé catheters covered by insurance? Also, why do you need to use a coudé catheter?
Let's go over some of the basics of coudé catheters.
What is a Coudé Catheter?
Many different types and brands of catheters are available today, but there are typically only two insertion tip options (with the exception of some variations of the two): straight tip and coudé tip.
A coudé tip is basically a slightly angled or curved tip on a catheter. This catheter tip type is best for those with difficulty passing a regular straight catheter.

This situation is most common in men, so a coude tip is almost always an option on male length catheters. The reasons for needing coudé tips may include urethral strictures, urethral blockages, an enlarged prostate (BPH), or false passages.
Coudé Tip Catheter Options
Your prescribing healthcare professional can determine what will work best for you based on your anatomy and the underlying issue causing the need for a coudé.
Coudé catheters come in various options for your individual needs and preferences, such as closed system kits, hydrophilic catheters, and uncoated straight intermittent catheters.
Tapered Tip Coudé Catheters
This catheter tip features a short, strong curve that is smaller at the insertion point. This is especially good for navigating through strictures or bypassing enlarged prostates.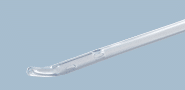 Olive Tip Coudé Catheters
This tip features a slightly ball-shaped, rounded insertion tip. It may aid a smoother passage around obstructions to the bladder, and olive tip catheters may also be good for getting past false passages.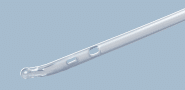 Tiemann Tip Coudé Catheters
The Tiemann tip is elongated and tapered, and it's also typically more pliable than others. This type of catheter insertion tip may be good for navigating narrow passages and bypassing strictures. The pliability of the tip may also provide better comfort during catheterization.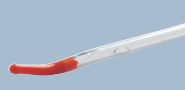 Are Coudé Catheters Covered By Insurance?
Most health insurance plans do cover intermittent urinary catheter products, including male coudé catheters. For example, Medicare and most Medicaid plans cover catheter supplies, and so do most private insurance plans, such as United Healthcare, Blue Cross Blue Shield, and Cigna.
However, keep in mind that in order to receive catheter supplies, you must have a valid prescription. Some insurance plans may also require additional documentation like doctor's progress notes, for example. Others, such as certain state Medicaid plans, may require prior authorization before approval of coudé catheter coverage.
Have more questions about catheters and insurance coverage? Get answers here.
Wondering if your insurance plan covers coudé catheters?
 180 Medical's friendly insurance experts can verify your insurance plan's benefits and walk you through your catheter options.
Verify Your Coverage
How to Insert a Coudé Catheter
Everyone's anatomy is different, so the way to insert the curved tip of your coudé catheter will depend on your doctor's medical opinion and instructions.
Your urologist or urology nurse will likely spend some time with you during your appointment to go over the process of learning how to insert a catheter, including the correct angle to lift your penis for catheter insertion, as well as which direction to turn the angle of the insertion tip.
Many coudé tip catheters will offer a reference point on the funnel, such as a notch or a bump to indicate the angle. Others have a guiding line down the catheter tube as well.
After you leave your doctor's office, you might still have some questions. 180 Medical can help! Our trained specialists will be glad to help make the process of learning to use catheters on your own as easy and stress-free as possible. Just reach out and contact us or fill out a form to request free samples and get started!
For help learning how to use coude catheters, check out the helpful instructions at
www.howtocath.com
.
Finding the Right Coudé Catheter For You
180 Medical offers a variety of quality coudé catheter options, including uncoated coudé catheters with separate lubrication, hydrophilic or pre-lubricated catheters, and closed system catheters.
At 180 Medical, you can choose from the widest selection of catheters available from the best manufacturers on the market today, including Convatec GentleCath, Bard, Coloplast, Cure, Hollister, Rusch, LoFric, and more!


Contact us today! Our friendly specialists are ready to help you find the best catheter for you!