We love introducing the annual recipients of 180 Medical's college scholarship program. This week, we'd love for you to meet William, a 2015 180 Medical Scholarship Recipient.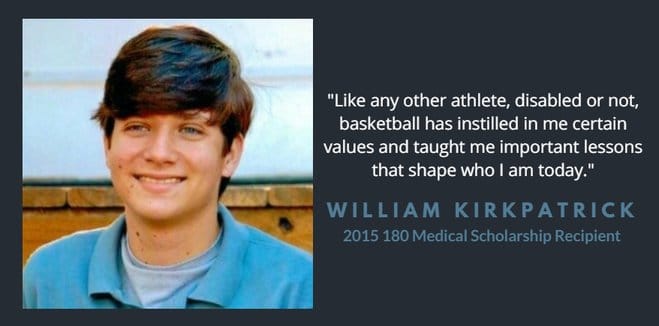 Meet William, 2015 180 Medical Scholarship Recipient
Will is heading to the University of Alabama this fall to begin his undergraduate studies. Plus, he's now on the University of Alabama's prestige wheelchair basketball team.
Although Will was born with spina bifida, he always loved physical activity and sports. He believes exercise is key for life, especially when you're living in a wheelchair. In addition, wheelchair basketball has taught him many lessons, such as perseverance and strength of character. Plus, he's formed close bonds and new friendships through the power of adaptive team sports.
Outside of school and wheelchair basketball, Will loves going to church. Also, he belongs to multiple student organizations, including the Future Business Leaders of America (FBLA). He is a 3-time National Wheelchair Basketball Association (NWBA) Academic All-American.
We're sure that he will have a successful time at the University of Alabama both on and off the court, and we're happy to be able to contribute in part to his first year of college.
About the 180 Medical Scholarship Program
180 Medical offers an annual scholarship program to help those with spinal cord injuries, spina bifida, transverse myelitis, ostomies (ileostomy, urostomy, and/or colostomy), and/or neurogenic bladder.
We know paying for college isn't easy these days, and we also understand that there can often be extra financial difficulties for aspiring students who live with these conditions. To learn more about 180 Medical's annual scholarship, visit www.180medical.com/scholarships.