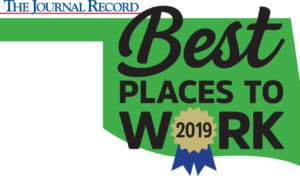 We're thrilled to be able to announce that we have once again been named one of the Best Places to Work in Oklahoma by the Journal Record in 2019. Because this award is based in large part on employee feedback, we feel honored to know that our employees truly feel fulfilled and happy here.
The Journal Record holds the annual Best Places to Work awards as a way to recognize the top employers in Oklahoma. The process includes analyzing anonymous employee surveys, as well as taking into account each employers' business practices, company culture, and work environment.
What Makes 180 Medical a Great Place to Work?
So what makes our employees continuously give feedback that we're one of the Best Places to Work in Oklahoma? Take a look at just a few of the many great aspects of working here.
We're really excited to hit the 10th year of being one of the Best Places to Work in Oklahoma. As a company that provides medical supplies to people across the nation, we really have a focus on values like integrity and compassion. That really affects how we all treat our customers as well as one another here at 180 Medical. It's a positive, fun culture where our employees truly enjoy coming to work every day.
Fantastic Benefits
When it comes to benefits, 180 Medical has our employees covered. Benefits include vision, disability, life, and dental insurance with 100% of medical and dental insurance premiums paid. We want our employees to maintain a healthy work/life balance, so they also get paid time off, paid holidays, and sick leave. In addition, we offer a 401(k) retirement plan with a generous 6% company match.
180 Medical employees enjoy goal-driven incentives including treat days, gift cards, and more. Plus, they get to use an equipped on-site gym to work out. Our break rooms stay fully stocked with continental breakfast options in addition to healthy prepared meals from a local vendor for purchase.
As an added bonus, our Oklahoma City headquarters features a lovely outdoor patio area next to a pond where employees can take their lunch breaks outside when the weather is nice.
Fun Workplace Perks
No matter what time of year it is, something fun is always going on at 180 Medical. Our employees love our regular traditions, such as our annual Red River Rivalry Chili Cook-Off and Bowling Night as well as newer traditions like 180 Medical OKC Games.
Of course, we love holidays here too, so employees go all out on dressing up for holidays like July 4th and our annual Halloween costume contests.
Regular Opportunities to Give Back
At 180 Medical, we regularly have company events and opportunities in which employees can participate. For example, each year, we love getting a big group together to cheer and participate in the local annual OKASA Wheelchair Basketball Tournament. We love holding bake sales and finding fun ways to raise funds for charitable organizations. Plus, we always have a great turnout at events like the National MS Society's Walk MS event in Oklahoma City each year.

Positive Work Atmosphere
When we ask our employees what they love about working at 180 Medical, they always have a lot of answers. Great new t-shirts to wear every quarter, delicious treat days, awesome benefits. But one thing stands out from the rest, and that's how often people say they love the culture at 180 Medical. Coworkers here often become our close friends. When you're a part of a team here, you know you're never alone. We always help each other out here with a smile.
All in all, when you're a part of 180 Medical, you feel like you're part of a second family.


Start Your Career at One of the Best Places to Work
We're proud that our employees feel that 180 Medical is truly one of the Best Places to Work. To be selected for this great award for 10 years is a true honor.
Are you ready to have a job where you can be truly appreciated while making a difference? Apply today to become a part of our family at www.180medical.com/careers.