We love featuring the winners of our annual scholarship program individually on our blog. Today, meet 2014 180 Medical Scholarship Recipient Ian!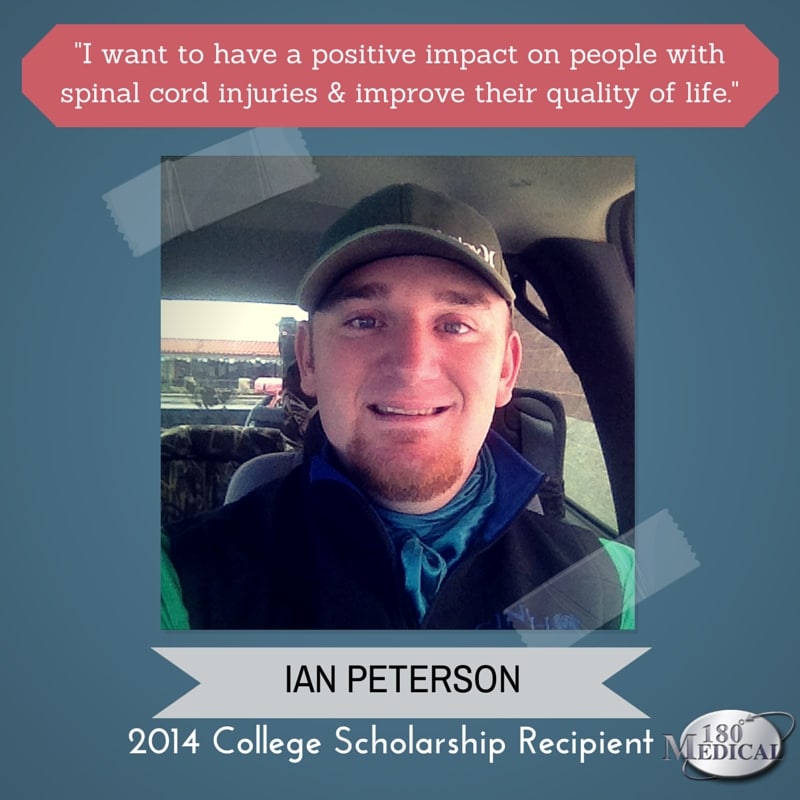 Meet Ian, 2014 180 Medical Scholarship Recipient
Let's start with Ian's story. Seven years ago, just one month after his high school graduation, he went on a fun summer outing at a local lake with friends. Ian took a dive into the water that tragically injured his spinal cord at C6-7. In the blink of an eye, Ian became a quadriplegic.
Ian could've chosen to view this experience as the end of his life. However, he looked at it as an opportunity. During rehabilitation therapy, he learned much more about himself. In addition, he was able to regain the use of his arms and hands as well as some sensation in his core.
What's Next for Ian
Prior to his accident, Ian wanted to pursue a career in medicine, having already obtained his EMT certification. After his spinal cord injury, Ian decided he could still have a positive impact on others in a different career.
He spoke with friends and mentors about his strengths, his weaknesses, and what career path he should take. After much careful thought, Ian is now pursuing a college education to become an administrator at a healthcare facility, such as a rehabilitation hospital. He hopes to "care for those who could not otherwise care for themselves without assistance."
While Ian has continued his therapy, he has also stayed active with hand cycling. He is also on the North Texas Cowboys Quad Rugby team.
Then, he recently married the love of his life in 2013, which was an exciting milestone. During this time, he has also maintained good scholarly standing on the Dean's List, along with maintaining membership with the American College of Health Executives, Upcoming Student Professionals, and president of the UNTHSC MHA Association.
As of January 2014, he has been working as an Administrator in Training at Green Valley Rehabilitation. Ian is attending graduate school at the University of North Texas Health Science Center this fall and plans to graduate in December of 2014.
To learn more about 180 Medical's College Scholarship program, visit https://www.180medical.com/Scholarships.