Interested in keeping up with the latest catheters available on the market? 180 Medical is always ready to share the scoop on the newest products with you, and today, we'd like to introduce you to the recently released line from Hollister.
All About Hollister
Hollister, the manufacturer of Essentials catheters, is a global manufacturing company. Their goal is to improve lives with their top-quality products. Currently, they manufacture catheter products for over 90 countries.
Features of Hollister Essentials Catheters
Essentials intermittent catheters are 100% latex-free medical-grade PVC and come in an easy-open package. Each catheter features fire-polished eyelets to create a smoother insertion and help minimize any trauma or irritation during catheterization. Also, these offset eyelets help maximize the flow of urine.
In addition, these Hollister catheters also feature an enhanced grip on the flexible color-coded funnel for easy handling. The Essentials line products are available in straight tip with lengths of 6 inches (female length) and 16 inches (male length) and in coudé tip (available in male length only).
Take a look at the side by side comparison of the catheters here:
You can see an immediate difference in the funnel shape and size between the two. While the traditional line's funnel is smooth, the Essentials catheter funnel is more flexible and features an enhanced grip for easier handling.
The Essentials coudé catheter's funnel also features a guide notch to indicate the coudé tip's position during insertion.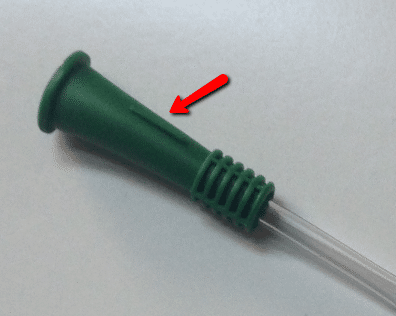 Does 180 Medical Carry Hollister Essentials Catheters?
Yes! We proudly carry the entire line of Hollister Essentials intermittent catheters as well as many other high-quality Hollister catheters, such as the Hollister Infyna Chic catheter for women and the Hollister VaPro Pocket Catheter.
Essentials coudé catheters are available in sizes from 8 Fr to 18 Fr. Essentials straight tip intermittent catheters are available in multiple sizes and lengths.
If you're interested in trying out one of these Essentials catheters, contact 180 Medical by filling out our online inquiry or give us a call at 1-877-688-2729 to speak to one of our highly trained, friendly specialists.