At 180 Medical, we feel incredibly lucky not only to be the trusted supplier of catheters and ostomy products for our customers but also to be a company that truly touches their lives.
From our beginnings as a company founded by Todd Brown, a man with a spinal cord injury, we've been guided by values of compassion for others. Our purpose, our passion, and our mission are to help all those who need us.
One such person in the 180 Medical Community, Kelly, has generously shared her moving story as a mother of an infant with special needs. We're honored to be able to share her tale as well as her positive experience with 180 Medical as her daughter's ostomy supplies provider.
Trigger Warning: Content in this article relates to child loss and traumatic health issues.
180 Medical Touches Lives: A Mother's Story
How does a person begin a story, in fact, the story that has completely defined who they are as a person? I guess just like this.
My life is now divided into three parts: life before my daughter, life with my daughter, and life after my daughter. I'm currently trying to navigate through the hardship of life after my daughter.
Breanna passed away on May 8, 2017, from pneumonia. This tiny hero went from one pound to almost 20 pounds in 17 short months. She is forever the best part of me, and a true example of resilience and overcoming extraordinary obstacles.
My 180 Medical Community Story is the story of my most beautiful micro miracle, Breanna Star Swanson.
Becoming a Mother
I have always wanted to be a mother. In elementary school, when other kids were saying "I want to be an astronaut" or "I want to be a teacher," my response was always, "I want to be a momma!"
I have been pregnant twice in my life. The first ended in miscarriage, and the second was Breanna.
I had a perfect first trimester with her. However, early in the second trimester, I developed pre-eclampsia, which meant I had to be hospitalized. Then, Breanna arrived.
She came very early on the morning of December 16th, 2015, weighing a whole pound at birth. That's right: ONE POUND. And then I received the news. Her survival chance was around 13%.
The first 24 hours of Breanna's life were the scariest. She was transported by helicopter from Mercy Hospital to the Children's Hospital in Oklahoma City. This is where she would live for six and a half months.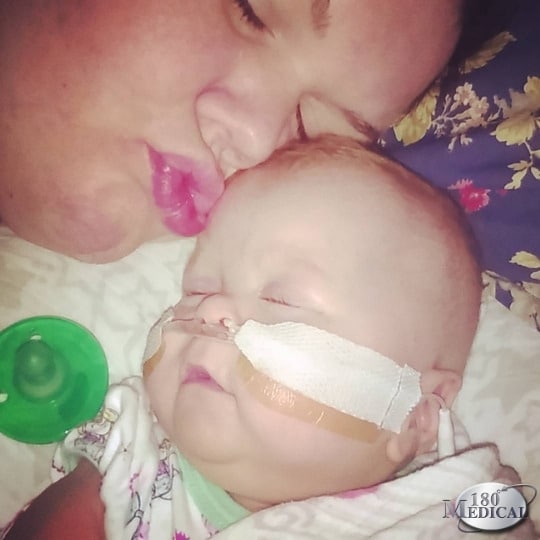 Breanna's Special Needs
Breanna had many unique traits at birth. For instance, she was born with four layers of skin rather than five. She had no nipples, her eyes were fused shut, and she had transparent quarter-sized feet. In addition, she didn't have an anus.
These traits led to genetic testing, which revealed that she had a small deletion of DNA. This meant she had Williams Syndrome. Plus, she would need colostomy surgery.
She had this surgery at only three months old when she weighed only four pounds. Amazingly, she survived, although she almost left us twice post-surgery.
I went to the hospital twice a day for six months every single day. I learned how to drop her feeding tube, change her colostomy bag, handle her oxygen adjustments and cannula care, give her sponge baths, and more. Everything the nurses did for her, I learned to do, and I felt I had to do it even better. After all, I was her mom. I just wanted her with me forever.
It took over three months before I could hold her in the palm of my hand. I finally heard her cry at four months. Then, at seven months, I finally had her with me at home.
Our Unfortunate Experience With Another Ostomy Supply Company
On the day of Breanna's discharge, we were referred to a medical supply company that was, unfortunately, NOT 180 Medical.
Just a few months later, we stopped receiving Breanna's pediatric ostomy supplies without any notice. They didn't attempt to contact us. My infant daughter was left with nothing! This is a child whose ostomy pouch had to be changed daily.
Naturally, I melted down. However, luckily, I had our ostomy and wound care nurse at Oklahoma Children's Hospital on speed dial. She said she would meet us personally at the hospital and load us up with some samples. I knew she'd get me where I needed to be.
That was the day I was introduced to Convatec ostomy supplies and 180 Medical. To this day, I'm thankful for Nikki's help and her superb recommendation.
180 Medical Changed Our Lives
Today, without a doubt, I can honestly say that 180 Medical changed our lives for the better.
The ostomy supplies products for infants and children are well-designed, easy to use, gentle on their sensitive skin, and far superior in quality to any other brand.
Most importantly, 180 Medical's customer service was spot on. Each contact we had provided me with comfort in knowing they truly cared about my daughter and her quality of life.
Because we were living in quarantine up until Breanna passed, I began looking forward to our monthly order confirmation phone calls so I could talk with the friendly folks at 180 Medical. These phone calls were my only friend for many, many months.
180 Medical helped me hold onto my sanity all the way to the end.
These days, people have no idea how much what they say and do can impact someone's life. After my experience, I fully understand, which is what led me to apply for a job with 180 Medical.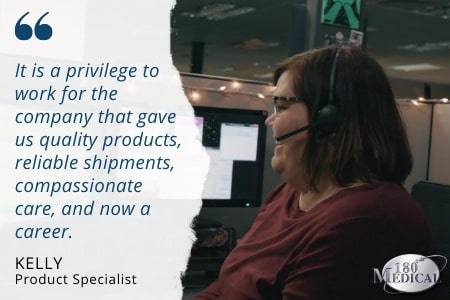 It is a privilege to work for the company that gave us quality products, reliable shipments, compassionate care, and now a career. Through my job at 180 Medical, I am able to pay it forward while also being able to talk about the best part of who I am: Breanna.
Thank you, 180 Medical, for all that you do!
Contact 180 Medical
180 Medical Is Here For You
At 180 Medical, we're not just a medical supply company. We know that the work we do at 180 Medical touches lives and makes a positive impact in every interaction.
Because we understand that each one of the people who reach out to us for catheter supplies or ostomy supplies is a unique individual with a unique background, we take the time to listen to each person to truly understand what they need and how we can best help them.
Whether you need your supplies temporarily or long-term, 180 Medical is here for you. We encourage you to reach out to us if you're ready to receive the products you need with friendly, world-class service.