We love featuring the inspiring stories of each of our 2016 College Scholarship recipients. They've overcome many challenges to triumph. Plus, many of them want to use their future careers to help others. Today, meet Jared Grier, one of our seven 180 Medical scholarship winners.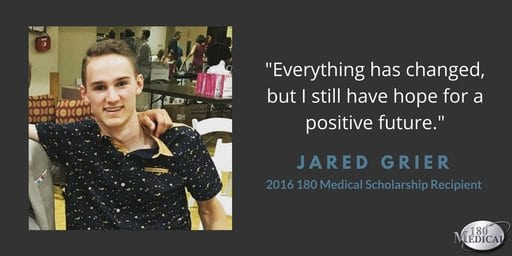 Meet Jared Grier
Jared always knew that life would bring lots of changes when he went off to his first year of college. However, he never expected the truly life-altering change that occurred right after his Freshman year.
During a fun outing with friends at a local park, he climbed a tree, just as he had many times before. Unfortunately, when he tried to get down, he fell from the tree, landing on his neck. The fall fractured his C6 vertebrae, leaving him quadriplegic with a spinal cord injury.
This was a devastating injury, which led to multiple surgeries along with a long period of rehabilitation therapy. Plus, he continues with physical therapy regularly.
Despite the tragic circumstances, Jared kept his head high. Once he was home from the hospital, he says it made it his goal to return to college as soon as possible.
Grierstrong
His fraternity, Lambda Chi Alpha, has been a huge part of his life since entering college. After his injury, his fraternity brothers banded together to help support Jared. They created a fundraising campaign, the Grierstrong Movement, originally made to garner support for Jared while he was in the hospital. Now, Grierstrong continues to grow. They hope to use Grierstrong to bring awareness to the community about spinal cord injuries and the impact they can have on people's lives.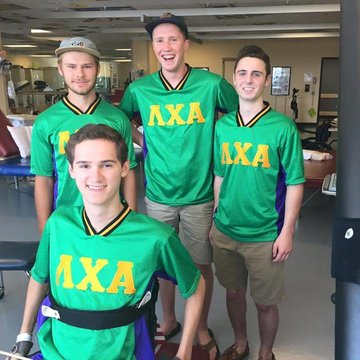 As of the beginning of the fall semester, Jared is continuing with his education at Worcester Polytechnic Institute. He's eagerly looking forward to graduating with a degree in mechanical engineering.
Jared and his legacy are truly impressive. He took what was a potentially devastating injury and turned it into something to help others. We wish him all the best in his future career.
Lastly, if you'd like to find out more about 180 Medical's annual scholarship program, visit our Scholarship page.