At 180 Medical, we truly love being able to help seven college students each year achieve their goals through our annual scholarship program. We feature each one of our recipients on our blog to share their challenges and triumphs. So far, we've introduced Macy, Jared, Tiffany, Spencer, Maria, and Nicole. Today, meet Marina Grujc, the last 2016 180 Medical College Scholarship Recipient.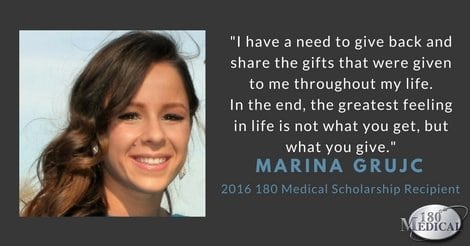 Marina Grujc is No Stranger to a Challenge
Marina was born with a host of medical issues, including a neurogenic bladder and a chronic illness. Additionally, because of her condition, she faced some discrimination at school. However, through all her challenges, she has maintained her optimism and inner strength, which is truly inspiring.
I decided at a very early age that I would not let this setback define who I was, but rather who I will become.
In addition to working hard to keep a high GPA and maintaining her status on the Honor Roll, she participates in extreme snowboarding, kickboxing, running, and volunteering where she can in her community. Also, Marina frequently volunteers to help mentor and support her peers before and after surgeries.
A Career as a Nurse is Marina's Future
Thanks to her experience, Marina discovered her core characteristics, which led her to her true ambition. She is attending college this fall to become a nurse.
"In addition to a solid education, experience goes a long way towards creating our best and most compassionate nurses," Marina says. We're sure that her experiences will lead her to be a truly great nurse!
180 Medical offers an annual scholarship program to help college students living with certain medical conditions. To learn more about our annual College Scholarship, visit our Scholarship page.