We're happy to feature Crystal from our Billing Department in this month's employee spotlight.
Crystal is a Billing Team Lead here at 180 Medical. Also, we're celebrating her 8 year anniversary with us this month in 2017! Read our interview with Crystal to find out more about her role at 180 Medical and her life outside of work.
Billing Department Employee Spotlight – Meet Crystal
Crystal, we're excited to feature you on the blog this month! How do you feel your time here has helped you in your professional development?
All of my supervisors have always been very helpful, and they have offered training and proper career development needed to perform my job well and prepare for advancement within the company. Management here is very encouraging about taking on new tasks and stepping out of your comfort zone to accomplish success.
If you knew someone who was considering applying for a job at 180 Medical, what advice would you give them?
I would tell them this will be the best job they have ever had! 180 Medical has a fun and friendly environment, and I feel like they really care about their employees. You get to work alongside great people, and there are great benefits too!
What's a fact about you that people might be surprised to know?
Most people are surprised at a couple of jobs I had when I was younger. I was probably one of the youngest lunch ladies ever! When I was 21, I worked in the OKC Public Schools Cafeteria, and I was also a mail carrier for a couple of years in my early 20s.
What's an average day like in your position? What are some of your main responsibilities?
As a Billing Team Lead, I am responsible for helping answer questions that employees in my department may have, and I also help to resolve any issues with claims processing, I keep our billing manual up-to-date so that we always have the most current insurance requirements and guidelines in place to follow.
In addition, I provide training sessions to help the billing specialists keep up with changes with various insurance plans and department processes. My specialty is more on the various state Medicaid plans, and this sometimes requires a lot of research since Medicaid plans are sometimes very complex and detailed, but that's great because I really enjoy doing research!
What's something you really enjoy about working at 180 Medical?
Among all the great perks, I really love going to our quarterly meetings. They are always entertaining and full of laughs. Also, I love to see people get rewarded for their hard work throughout each quarter.
180 Medical encourages employees to take the time to focus on our customers and give extra effort, and I appreciate that. To me, having the freedom to go above and beyond to help people who need us is a great feeling!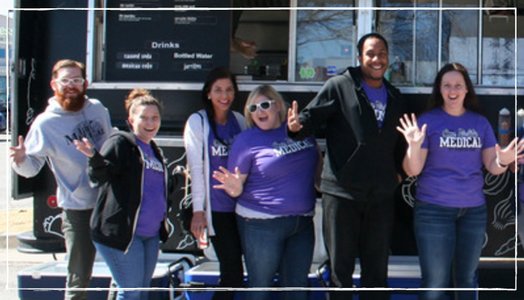 How do you like to spend your time outside of work?
I am pretty laid-back and simple, so the thing I enjoy most is just spending time with my wonderful family. I have 8 great-nieces and nephews and 1 grand-baby that I love getting to spoil.
Do you have a favorite quote that keeps you inspired?
"The quality of strength lined with tenderness is an unbeatable combination" – Maya Angelou
Thanks to Crystal and all of our awesome employees in the Billing Department. We appreciate all of the work and care you put in every day at work, and your contributions are so important to 180 Medical.
Jobs at 180 Medical
Are you interested in becoming a part of the 180 Medical family? We're hiring! Check out our available positions and apply today.