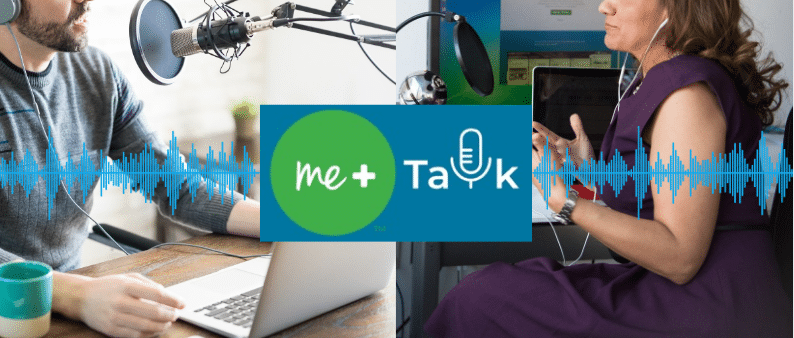 Part of what we do here at 180 Medical is connecting our customers to the resources, support, and education they need to learn more about their condition and the ostomy supplies they use. One helpful new ostomy resource we'd love to introduce is the new Convatec Me+ Talk Ostomy Podcast. This podcast tackles a lot of aspects of living with an ostomy, including physical recovery, emotional impacts, dating and intimacy, diet after ostomy surgery, and ostomy products in general.
Take a look below at our episode breakdown and links to subscribe to the podcast today.
About the Convatec Me+ Talk Ostomy Podcast
The Convatec Me+ Talk Ostomy Podcast enlists two experts who, together with their guests, address a variety of questions and concerns for people living with a colostomy, urostomy, or ileostomy. Hosts Matt, a Convatec Product Specialist, and Renee, a Certified Wound Ostomy and Continence Nurse (WOCN), delve into issues as well as day-to-day habits to improve post-surgery outcomes.
Through inspiring stories and advice from the ostomy community, this podcast discusses adapting to life after ostomy surgery.
Episodes of the Me+ Talk Podcast to Check Out
Physical Recovery After Ostomy Surgery
In this episode, Matt and Renee discuss the process of recovery after ostomy surgery, including how and when to start working on improving abdominal strength. You'll also hear some helpful tips from the Convatec Me+ Recovery Series, which was created by Sarah Russell, a Clinical Exercise Therapist, in partnership with Convatec. Additionally, Convatec offers this handy post-surgery recovery guide for new ostomates.
Be sure to listen to find out about the easy steps you can take for a healthy and speedy recovery after ostomy surgery.
In this episode, you'll learn:
How to safely begin a gentle recovery program after ostomy surgery
When you can start moving again (hint: the seven days after surgery are crucial)
How to communicate more openly with your doctor and other medical professionals
Mental Recovery After Ostomy Surgery
The next episode in this series reminds us that our mental state is also pivotal for recovery. No one's reactions to this change will be the same. However, seeking help for depression or anxiety after surgery is a fundamental part of recuperating. Special guest Ellen, a Convatec Product Specialist, speaks on her years of hands-on experience in helping customers through this stage.
In this episode, you'll learn:
How to let your nurses and doctors be a resource for you
To not compare your situation to others
Experimentation is key in finding the process and ostomy products that work for you
Relationships: How to Tell People You Have an Ostomy
This time, Matt and Renee talk about support systems and how to manage living with an ostomy while balancing professional and personal relationships. Renee and special guest Tekele, an Ostomy Support Specialist, explain personal experiences with both working professionals and close relationships. Plus, they tackle the topic of when and how to bring up your ostomy in conversation with someone.
In this episode, you'll find out:
When and how to discuss your ostomy with others (Hint: there is no perfect time)
Best practices for discussing your ostomy needs with loved ones
Tips to lead this important conversation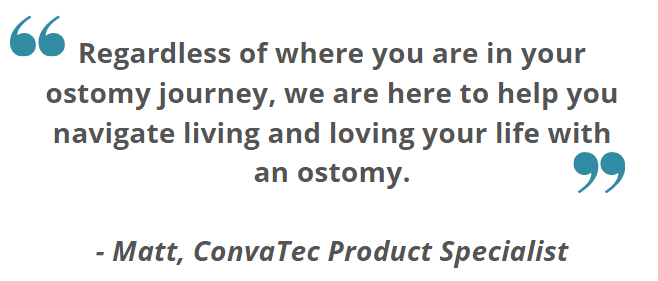 Relationships: Dating and Intimacy with an Ostomy
In this second relationship-centered podcast episode, the Convatec Me+ hosts and their guest Sarah discuss intimate relationships after ostomy surgery. Sarah is a manager at Convatec's Ostomysecrets, an online store that specializes in ostomy clothing and accessories to help ostomates in daily situations.
In this episode, you'll learn:
When to broach the subject of intimacy
How to find the right ostomy supplies for different moments in your recovery
Sarah's story of living with an ileostomy
Communication and listening is crucial with your partner
To remain positive when describing your situation
The importance of accepting the process and changes in private matters
Relationships: Loving Yourself
In this episode, you'll meet fashion model Jearlean Taylor. Discover what her double ostomy has meant for her life beginning in early childhood. Plus, you'll hear how she and others have learned to love themselves and grow comfortable in their own skin. The three also discuss tools for younger ostomates, such as Youth Rally.
In this episode, you can find out:
How ostomy surgery can change your life
New ways to enjoy your favorite pastimes and hobbies
Your ostomy doesn't have to be an obstacle in the way of new experiences
Ostomy Product Basics
If you're living with an ostomy, you should know about the many ostomy product options available to you. Hosts Matt and Renee discuss new products and old favorites, leaning on their combined experiences working with customers on their ostomy needs. Learn more about mixing and matching ostomy supplies to suit your individual needs. Plus, you'll find out about the different ostomy pouching systems available. This episode is also on YouTube in a new video format of the ostomy podcast.
In this episode, you'll learn:
How to request samples and experiment with the many ostomy products available
To talk with your provider and discuss your options for ostomy supplies
How to reach out to ostomy supply experts on the Convatec Me+ team at 1-800-422-8811
Diet and Nutrition with an Ostomy
This episode, also available on YouTube, focuses on dietary and nutritional care for ostomates with the help of Wendie Taylor, a dietician and Ostomy Product Specialist. Together, Wendie, Matt, and Renee discuss the food types necessary to promote healthy recovery following ostomy surgery. For those with a colostomy or ileostomy, the gut will change a lot after surgery. Therefore, it's important to adjust to small meals and small changes, which the hosts describe in detail.
In this episode, you'll find out:
No single diet out there works for everyone
You may still be able to eat the foods you love
How to take time to eat and plan your meals
Why it's important to make small changes as you learn what works best for you
Support and Resources You Can Count On
This episode, also available on YouTube, features special guest, Allison Rosen, a patient advocate at MD Anderson who has lived with an ostomy since 2012. Alison and the team talk about support and resources for ostomates, including ostomy nurses, local support groups, and more.
In this episode, you'll learn about:
Helpful ostomy resources
How to engage safely online
And more about Allison's incredible story
Where to Buy Ostomy Supplies
At 180 Medical, we are committed to your satisfaction. We hope to provide the ostomy supplies and resources you require on your ostomy journey. Our Ostomy Specialists are ready to help you find the right ostomy products for your needs, so contact us today!
Disclaimer: This content is not intended to be a substitute for professional medical advice, diagnosis, or treatment. For medical advice, please see your physician or another qualified healthcare provider.