If you're new to living with a colostomy, urostomy, or ileostomy, the good news is that your ostomy does not have to keep you from taking vacations or visiting family and friends. In fact, lots of ostomates are successfully traveling with ostomy supplies every day!
Whether you're hitting the road or taking to the skies, our ostomy travel guide can be the help you need for your vacation.t
Top 5 Tips for Traveling with Ostomy Supplies
The key to a successful trip is planning ahead for traveling with ostomy supplies so you can freely enjoy your time away from home.
1. Calculate How Many Supplies to Take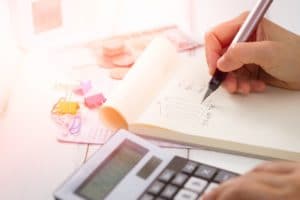 The first thing you'll want to do is to add up the number of ostomy pouches, skin barriers, and other ostomy accessories that you typically use per day.
Multiply that by the number of days you plan to be away from home. That number would be the bare minimum to pack, so you may want to double the amount to be on the safe side. The last thing you want is to be caught without any backup supplies.
So if you typically change your pouch out once a day, and you will be away from home for 3 days, pack 6 pouches, along with your other typical ostomy accessories.
This way, you can be sure to have all of your needed supplies on hand in case of any unexpected travel delays due to bad weather or any above-average stomal output.
If you're traveling by plane, keep supplies with you or pack them in both your carry-on and your checked luggage. If your checked bags get lost or delayed, you'll still have the supplies you need.
2. If flying, follow TSA Guidelines.
The 3-1-1 Liquid Rule
Per the 3-1-1 Liquid Rule in the TSA (Transportation Security Administration) Guidelines, you can bring a quart-sized clear bag with liquid items, aerosols, gels, cream, and/or paste through the security checkpoints in carry-on luggage as long as each item is 3.4 ounces or less. Only one bag per passenger is allowed.
Make sure to pack your lubricating drops, pouch deodorizers, stoma paste, barrier ointment or sprays, and any other liquids like your shampoo or skin cleansers in compliance with the 3-1-1 guideline. This may help you avoid any potential hold-ups at TSA security checkpoints.
Ostomy Scissors in Carry-On
If you use ostomy scissors for your cut-to-fit skin barriers, scissors are allowed in your carry-on baggage as long as the cutting edge is no longer than 4 inches.
Many people prefer more convenient products featuring Convatec Moldable Technology, which provides the user with a personalized fit around their stoma. No need for cutting or trimming!
If you're ready to step away from the scissors, give our Ostomy Specialists at 180 Medical a call.
Pack documentation communicating your medical condition.
Be ready for any potential delays or hold-ups by printing and filling out a Travel Communication Card (courtesy of the United Ostomy Associations of America).
You might also get a signed doctor's note stating the medical necessity of your ostomy and accompanying supplies. While it may not be necessary, it could prove helpful if you need to communicate your medical needs to any TSA agents or flight attendants. Just keep it with your other flight documents.
Contact TSA Cares before your flight.
The Transportation Security Administration offers passengers with medical conditions, special needs, or disabilities a special support line called TSA Cares. You can get help and find out more about what to expect at the security checkpoints.
You can also ask for a passenger support specialist at the airport.
Contact TSA Cares at least 72 hours before your flight at (855) 787-2227.
3. Double-check your list and start packing.
Now that you know how many ostomy pouches and skin barriers you need to pack, and you have an idea of the TSA's baggage regulations (if traveling by air), it's time to double-check your packing list. Be sure to include all the accompanying ostomy accessories that you commonly use.
Common ostomy products that you may use and want to pack include:
Ostomy scissors
Ostomy pouches
Skin barriers, wafers, or flanges
Additional seals or paste
Ostomy paste
Barrier film wipes or spray
Adhesive remover wipes or spray
Ostomy pouch cleaner or deodorizer
Gelling sachets
Clamps for drainable ostomy pouches
Ostomy belt or wrap
Small pocket mirror
Any prescribed medications
Gauze or sterile dry wipes
Disposal bags
Refer to Tip 1 and make sure to pack enough supplies to keep you more than covered throughout your trip.
When packing your car, consider keeping your supplies with you inside the cabin rather than in the trunk. You don't want your ostomy products to get too hot or too cold.
If you're planning an extended trip, consider calling 180 Medical to have your regular order shipped to your destination instead of packing your luggage full. This frees up space in your suitcase for clothes and presents. Plus, you'll be sure to have your supplies when and where you need them without worrying about your luggage getting lost or delayed.
4. Avoid irritating food and drinks.
If you know some certain foods or drinks cause you to have an upset stomach, excessive gas, or above-average stomal output that could fill up your pouch fast, it's best to skip those the day before you leave and during your time away from home.
You might also want to empty or change your pouch right before leaving home.
5. Maintain proper ostomy hygiene throughout your trip.
Public restrooms aren't always the cleanest environments. So when it's time to change or empty your pouch, be sure to wash your hands with warm soapy water before and after.
You might also want to carry antiseptic wipes and/or alcohol-based hand sanitizers for additional protection from potential contamination or infection.
Do you still have more questions about traveling with your ostomy? Contact 180 Medical's friendly, trained Ostomy Specialists. We'll be happy to help with any questions or concerns about your approaching trip or ostomy products and samples.