Hoping to go on a vacation or travel to see family? Or just trying to figure out a way to discreetly carry your catheters to work, school, or on day trips? If so, you probably want to hear ideas from people who actually know firsthand what it's like to use and carry catheter supplies. In our latest article, real members of the 180 Medical Community are sharing their top travel tips for other people who use catheters.
Travel Tips for People Who Use Catheters
Here are a few of the top tips direct from 180 Medical Community members.
Tip 1. Don't give up on traveling just because you cath.
First, let's address a common misconception. A lot of people who need to use catheters think they have to stay close to home all the time. That's not the case.
Intermittent catheterization can free you from attached leg bags and bulky drainage bags associated with Foley catheters and external catheters. You can leave home, drain your bladder, and keep it private like so many of our customers do every day.
One member of the 180 Medical Community, Duane, stays very active. He regularly travels via car and airplane with his wife for various conventions and outings across the country.
We have had contact with others who are self-cathing and have heard their stories. Sadly, many of these individuals have greatly reduced their activities or decided to stay at home (given up on life).
Duane wants others who self-cath to know that they can travel too.
If you are concerned about discretion, you can choose from plenty of discreet catheters from a wide variety of brands and types at 180 Medical. Plus, there are a lot of ways to privately carry your catheter supplies.
Tip 2. Plan ahead and calculate how many supplies you need to take for outings.
If you're ready to start traveling or even try out shorter day trips, take some time beforehand to plan. You just need to make sure you have enough catheters on hand so you don't run out and miss one of your prescribed catheterization times.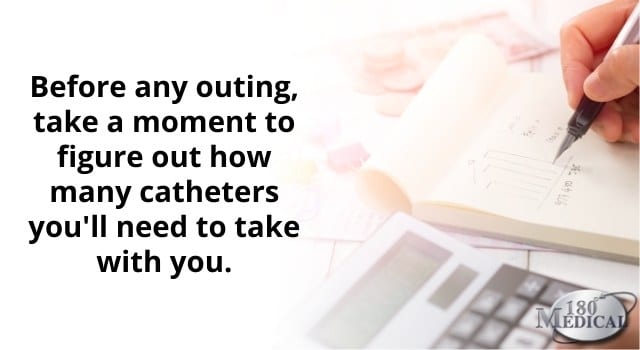 Calculate how many supplies to take based on your prescription.
180 Medical customer Anthony says his top tip for other people who use catheters is to figure out how many catheters you'll need for any outing.
Even if you are just going to get your car serviced and you don't know how long that process may take, cath just before leaving.
Anthony says he always calculates how many catheters he'll need based on how many hours or days he will be away from home.
To do this for yourself, take note of how many supplies you use per day based on your prescription, including catheter insertion supplies like gloves, antiseptic wipes, or additional lubricating jelly. Next, multiply that amount by the number of hours or days you'll be away from home.
For example, if you self-cath four times per day and you'll be away for about a week, you'd need to take along a minimum of 28 catheters. However, you should always carry a few more just in case.
Always carry extras on hand.
Planning ahead also means considering possibilities like needing to use more catheters than expected, dealing with flight delays, or other emergencies. Never forget to bring along some spares.
180 Medical Community member Michele, who recently shared her story of surviving bladder cancer, says she carries a separate bag of catheters in her carry-on luggage or purse at all times. Also, she never leaves home without extras.
I have backups in coat pockets, my suitcase, the glove compartment of my car, etc. I'm always prepared with a backup as there are no vending machines or others to ask.
Duane purchased a small (7.5″ x 12″ x 16″) wheeled suitcase with a synthetic washable lining specifically to hold all his cathing supplies. "This size is great for using as personal luggage that you can stow under the seat during flights. Plus, it's easy to carry and clean. I keep it with me all the time."
Tom, another member of the 180 Medical community, says it's easy to discreetly carry a few extras on hand in addition to his luggage. "A catheter or two will fit in a large jacket pocket."
Tip 3. Use a discreet compact catheter or pocket catheter.
One of the top tips from many of our customers is to use a discreet catheter. The good news is you're never limited to just one brand or type of catheter when you get your supplies at 180 Medical.
In addition to being smaller and discreet, pocket catheters are often lighter than standard-size catheter options so they take up less space. This makes carrying them in luggage much easier.
We know privacy is important, which is why 180 Medical offers plenty of discreet, travel-ready catheter options, including straight catheters, coudé catheters, hydrophilic and pre-lubricated catheters, and closed system catheters. Our highly knowledgeable Product Specialists can help you try out samples to figure out what feels and works best for you.
Straight, Uncoated Catheters
With uncoated catheters, you can choose from a variety of materials, including vinyl, silicone, and red rubber. The only thing you need to think about in addition to your catheter is making sure you at least have some additional catheter lubricant. You can get lubricant in sterile packets, which are small and super discreet.
180 Medical Community member Donald, who shared his experience of living with BPH this year, prefers Rusch Robinson-Nelaton Red Rubber Catheters for use at home and on the road.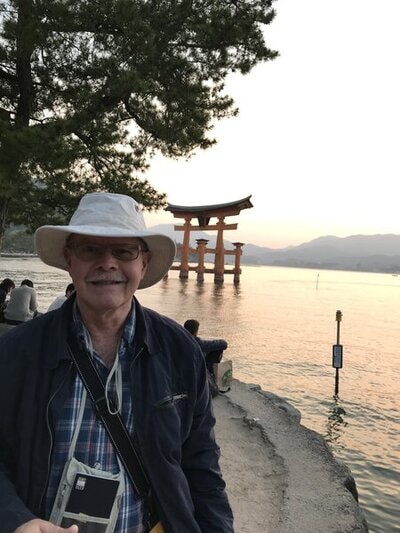 Red rubber latex catheters are very flexible so you can easily roll them up inside their packaging for quick concealment in pants or coat pockets. Plus, they don't take up much room in luggage along with packets of sterile lubricating jelly.
Here are a few more straight catheter options that can be discreet.

Hydrophilic and Pre-lubricated Catheters
Hydrophilic catheters activate with the application of water to become well-lubricated. This lubrication alternative is typically bonded directly to the catheter tube, so the lubricant won't be messy or slough off during insertion.
Pre-lubricated catheters are ready to use with no need for additional lubricant. Both of these options are often considered no-touch catheters since they often include a handling sleeve or gripper to keep your hands from touching the tube. This helps minimize the risk of contamination and consequent urinary tract infections.
Michele tried out multiple options and settled on the CompactCath LITE catheter. True to its name, it's a very compact palm-sized catheter for men and women that's pre-lubricated and ready to use. Michele says, "I can walk down the hall with it in my hand and still be discreet."
You have a wide variety of choices of pocket catheters that are either hydrophilic or pre-lubricated, and here are just some of those options.

Closed System Catheters and Catheter Kits
Closed system catheters are all-in-one catheter systems. They typically come with a collection bag and some even include catheter insertion supplies. These are great for people who regularly travel, especially people in wheelchairs. Because the collection bag is already attached, you can self-cath anywhere you have privacy.
Some pre-lubricated and hydrophilic catheter options also come in a set or kit. You can choose what you want to use out of the set, which often includes insertion supplies like gloves and antiseptic wipes along with an attached collection bag.
180 Medical Community member Jen Goodwin says she tried out a few different catheter samples at 180 Medical to find what worked best. Because of her spinal cord injury and limited hand dexterity, she had to use a gripping catheter clamp to hold most catheters. However, when she tried the Coloplast SpeediCath Compact Set, she decided it was just right for her.
I love that the Speedicath Compact Sets fit right in my purse. They're super discreet and ready to go, and I can actually grip them with my hands.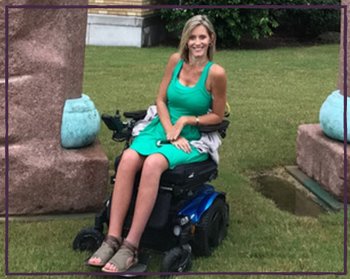 Here are a few discreet closed system catheters among our many options.

View More Catheter Options
Tip 4. Have your order shipped to where you're staying.
Are you planning on an extended vacation or a long stay somewhere within the United States? Would you rather not deal with packing a large number of catheter supplies in your luggage?
If so, John G. shares a top tip that you may not have thought of. Reach out to 180 Medical to see if we can ship your order to your vacation destination within the states.
180 Medical is great. Just let them know where and when you're traveling, and they can send partial shipments of your catheters to that location so you don't run out.
Our specialists are happy to help you get the supplies you need wherever you are so you never run out.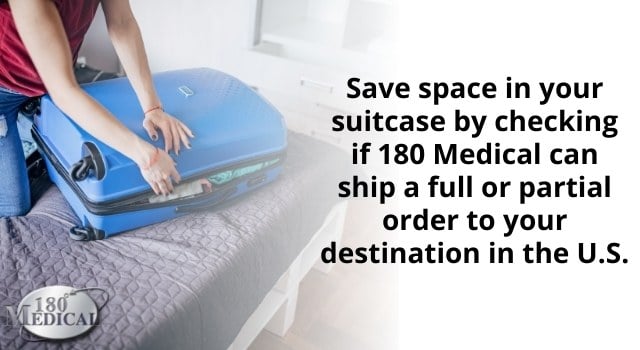 Tip 5. Concerned about emergencies? Carry a medical ID.
Many people with allergies or certain medical conditions often carry or wear a medical ID, such as Medic Alert. Some people who use catheters or ostomy supplies also like to keep a medical ID on hand.
Anthony, who caths through a stoma due to an Indiana pouch, says he keeps a Medic Alert tag around his neck. His ID shares:
Name and date of birth
Medical procedure (in Anthony's case, he lists urinary diversion and Indiana pouch along with the location of his stoma
Any allergies
Emergency contacts and phone numbers, including physician
Because we travel quite a bit, I've opted for the Medic Alert necklace. EMS personnel are trained to check arms and necks for any Medical IDs prior to performing medical maneuvers on a patient. Thus, in my case, were I to be found unconscious, my Medic Alert's information could be used to determine where a possible Foley catheter might need to be placed.
If you're concerned about any possibilities like that, you may get some peace of mind by carrying a medical ID too.
Tip 6. If you're flying, get familiar with TSA guidelines before leaving.
If you're planning on a flight for your travels, it's actually much easier than you might think to travel by air with catheters.
Donald is a frequent traveler both inside and outside of the country. He never encounters issues with taking along his catheters everywhere he travels. "I just keep a pouch in my briefcase or carry-on that holds a bunch when I travel," he says.
Still, you may want to take a few precautions before your trip. First, familiarize yourself with the TSA guidelines for packing liquids, such as sterile water for bladder irrigation or hand sanitizer.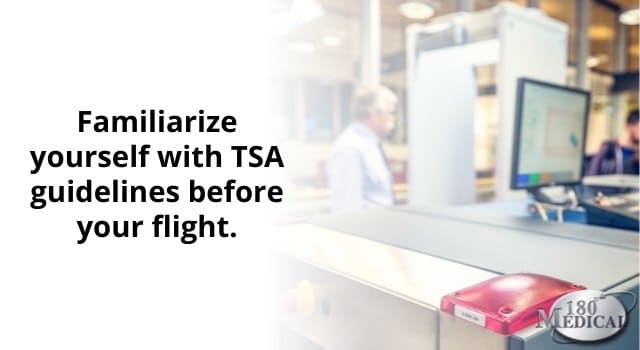 Also, if you're concerned about any holdups at the TSA checkpoints, you can bring signed documentation from your doctor's office to prove the medical necessity of your supplies. You can present this to the TSA agent if there's any question about your catheter supplies.
However, most people find no issue with carrying their catheterization supplies on a flight.
Tip 7. Try an attachable urine collection bag.
One thing that can make traveling much easier for some people is having an attached urine drain bag for intermittent catheterization. This is especially helpful for people in wheelchairs who don't use closed system catheters but also don't want to have to transfer from their chair to a toilet every time they cath. Plus, parents and caregivers find them much easier for cathing children.
180 Medical Community member Leanne tells us that a urine collection bag really makes traveling and going to public restrooms much easier for when she caths her child Cooper through his stoma. This way, she can catheterize him anywhere, including a changing table.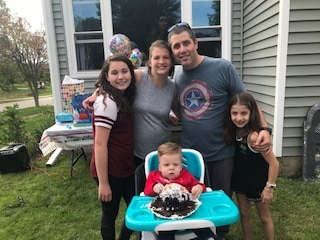 Not sure if your insurance covers additional supplies like attachable drain bags for intermittent catheters? Contact 180 Medical. We can verify your insurance coverage for catheters and walk you through your options.
Tip 8. Stay clean and hygienic no matter where you cath.
Whether you're at home, in a public restroom, or elsewhere, it's incredibly important to your health to keep the process of cathing as hygienic as possible. Many 180 Medical customers have shared their personal hygiene hacks for self-cathing on the go.
If you use straight catheters, you already know that it can be a process of learning how to apply lubricant without directly touching the catheter tube to reduce contamination.
Anthony also uses uncoated catheters, and he has a special hack to do just that.
When lubing up the catheter, I typically cut both ends of the packet. Then I push the catheter through and pull it back. This helps provide an even coating of lube on the catheter.
As mentioned in another tip above, Duane keeps his small wheeled suitcase on hand at all times when he's away from home. He keeps all his catheters and insertion supplies in separate plastic bags to minimize the risk of any cross-contamination. "It also helps keep all my individual supplies dry and clean." He also regularly empties and cleans the inside and outside of his suitcase with disinfectant spray to keep it as hygienic as possible for regular use.
180 Medical Community Member Richard also loves to go on horseback rides, which can stir up dust on the trails and get his hands dirty. He keeps some catheter insertion supplies in his car to clean up.
I keep clean water, soap, sanitizer, and exam gloves in a small basin in my SUV so I can get as clean as possible for catheterization after a long ride.
180 Medical offers helpful catheterization instructions online, which provide step-by-step tips for hygienic catheterization. Practicing good hygiene may help minimize the risk of urinary tract infections (UTIs).
Tip 9. Keep trash bags on hand for discreet disposal of supplies on the go.
If you're concerned about discretion, carry discreet disposal bags with you. You can pack these with your catheter supplies in your carry-on or checked luggage or in a separate backpack or bag.
Duane separately purchases some small kitchen trash bags to keep in his suitcase with his insertion supplies, including BZK antiseptic towelettes, a container of antibacterial soap, toilet paper, underpads, and nitrile exam gloves.
Some people like to use gallon-size zippered plastic bags. Others prefer brown paper bags since they're opaque. This way, no one will be able to see your used catheter supplies when you toss them in the trash or carry them in a public area.
Also, some catheters, such as the Rusch MMG H20 Hydrophilic Closed System Catheter, include a refuse bag for easy and discreet disposal in its kit of insertion supplies.
Other newer catheter options have convenient packaging that doubles as a disposal bag. For example, the SpeediCath Flex Coudé Pro Pocket Catheter comes in a pocket-sized package that's easy to open and close. After you're done cathing, you can pop the catheter back into the package and close it. Then you can toss it discreetly for quick and tidy disposal.

Tip 10. Focus on the positives of traveling.
Mishaps, accidents, and even leaks can happen every now and then. That's just part of life. But many of our customers over the years have told us the main thing that helped them through the hard times has been optimism.
"You gotta have a positive attitude," Anthony says. "Okay, so you pee a bit differently. But you're alive and you're able to do virtually anything you want." That includes traveling.
Also, you can rest easy knowing 180 Medical has your back if you need anything whether you're at home or on vacation.
If you're not already part of our community, we invite you to contact us and experience our caring service for yourself. We're ready to help you find the catheter supplies that are just right for you.