Are you nervous about catheterizing in public restrooms? Naturally, people new to cathing can sometimes be concerned about using their catheter supplies away from home. You may wonder about how to be discreet when carrying your catheter supplies in public or how to maintain proper catheter hygiene. This is all very normal.
My name is Bill. Over 30 years ago, I became a quadriplegic due to a motocross accident. Since then, I find I'm happiest when I can support and mentor others who are new to cathing and living after a spinal cord injury.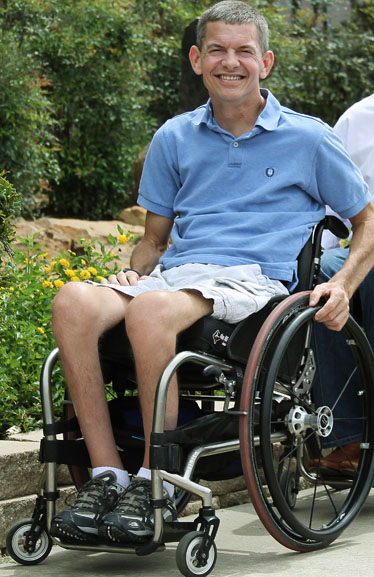 I'd like to offer some tips to help you get through this time.
My Tips for Catheterizing in Public Restrooms
As a catheter user with decades of experience, I hope my tips can help you learn some of the best ways to prepare for catheterizing in public restrooms away from home. Learning how to cath safely and hygienically in public places is a necessity because there's no guarantee you'll always be at home in the comfort of your own bathroom when it's time to self-cath.
Tip 1. Always follow your prescribed cathing schedule.
Over the years, some people have told me they try to skip cathing when they're away from home just to avoid public restrooms. However, this is definitely not advisable. You might damage your bladder or even your kidneys by holding in urine for too long.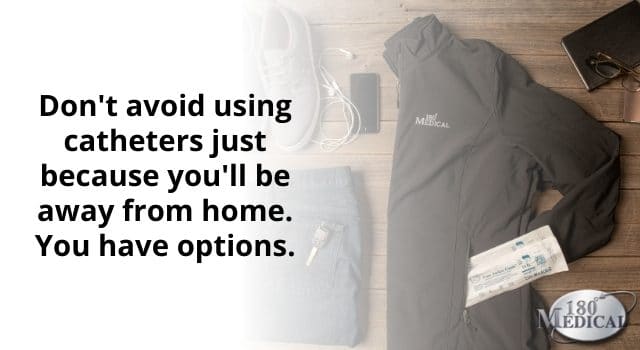 It's important to always follow your doctor's prescribed orders for catheterization.
In other words, no matter where you are, when it's time to self-cath, you need to find a restroom or a private place and make it happen. Talk to your prescribing doctor if you're not sure how many times per day you're supposed to catheterize.
Tip 2. Make a plan for carrying your catheter supplies.
When planning to cath away from home, whether you're traveling or going to school or work, you have some different ways of transporting your catheters discreetly and easily.
First, here are a few ideas.
If using a straight catheter, you may be able to fold the catheter package into a soft U-shape or even wrap it around your hand. Just make sure the catheter doesn't kink.
Discreet travel catheters, such as pocket catheters, compact catheters, and closed systems, can make using catheters in public restrooms much more discreet and convenient.
Use some hacks to make carrying your catheters more discreet. For example, many wheelchair users carry their supplies in a backpack and hang it on the back of their chair. Some people are able to carry their supplies in a pocket. I have heard of people using anything from eyeglasses cases to zippered money belts. With time, you can find what will work best for you.
Tip 3. Learn sterile, clean catheterization practices.
When you are in your own home, you may not encounter as many germs as when cathing in a public restroom facility. Typically, you can just wash your hands at the sink, go to your toilet or the area designated for your routine, and prepare your catheter supplies accordingly.
However, in a public restroom, you can't control how clean the environment is. That's why it's important to keep the process as sterile as possible. This may help lower your risk of contamination and therefore infections, such as urinary tract infections or bladder infections.
180 Medical offers step-by-step tips for catheterization at howtocath.com. Plus, here are a few suggestions of my own that may help.
1. First, wash your hands.
Before you even enter the restroom stall, be sure to wash your hands with soap and water. If you can use a clean towel or paper towel, this is probably a better option than a hand dryer, which can blow more germs back onto your hands.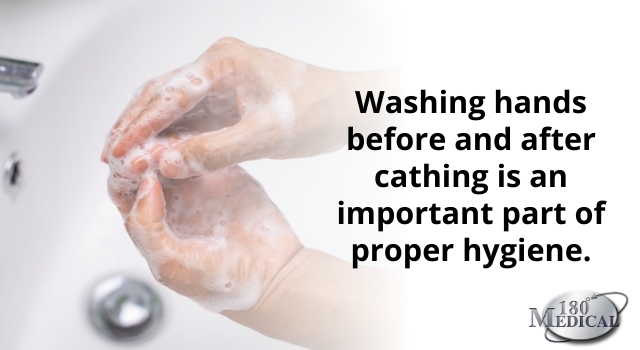 2. Use a paper towel or underpad to set your supplies on.
Once you're in the restroom stall, you likely won't find a clean surface on which to set your catheter supplies. Therefore, I suggest bringing a paper towel or clean towel from home for your supplies. Some people just use their bag or whatever they typically carry their catheters in to set their supplies on. Also, you can sit on the toilet or in your wheelchair while preparing your supplies in your lap.
3. Use a wipe to clean the area before catheterization.
Make sure your hands are clean as possible before handling or inserting a catheter. Additionally, you may want to use an antibacterial wipe to clean the outer urethral area of insertion.
If you use a closed system catheter with a kit of catheter insertion supplies, you'll likely have some included disinfecting wipes or swabs, such as PVP swabs or BZK wipes. Some people like to apply some antibacterial gel or hand sanitizer before handling their catheter as an extra precautionary measure. Many people also use gloves, which you can find in many catheter kits.
4. Using an uncoated catheter? Learn how to sterilely lubricate your catheter.
If you are using an uncoated catheter, you still need to lubricate it before use. This means you might face a few more challenges than you would with an advanced catheter product, such as pre-lubricated catheters, hydrophilic catheters, or closed system catheters with insertion supplies.
However, it's not difficult to do after a little practice. With time, you will figure out your own preferred method of applying lubricant to your catheter when catheterizing in public restrooms.
Here are a few quick hacks. Some people tear their lubrication packet open at both ends. Then they simply hold the catheter by its funnel while running it through the center of the packet to lubricate it.
Others prefer to open the catheter packaging about a third of the way down. Then you can squeeze the lubricating jelly into the packaging. Next, while pulling the catheter out, just drag it through the lubricating jelly.
5. Try an advanced no-touch catheter.
Depending on what your insurance covers, you may be eligible to try out an advanced no-touch catheter, such as a pre-lubricated catheter or hydrophilic catheter. Some of these are ready to use right out of the catheter package, such as the Cure Twist Female Catheter.
Many hydrophilic catheters require the application of water, which is often in a breakable sachet along with the catheter, in order for the lubrication coating to activate after waiting anywhere from 15 to 60 seconds. Other hydrophilic catheters instantly activate, like the GentleCath Glide Hydrophilic Catheter, which can be helpful when you don't want to wait.
No-touch catheters come with an insertion sleeve or handling gripper of some kind, which helps you handle and insert the catheter without touching the tube. This can help reduce the risk of infection and contamination from hands, which is great for cathing in public places.
6. Dispose of your supplies hygienically.
After you've finished cathing, you can throw away the used catheter and contents of your used packaging in the nearest trash receptacle. Some catheter options, such as the Coloplast SpeediCath Flex Coudé Pro Pocket Catheter, offer a way to just reclose the package when you're done for tidy disposal without the mess. You can carry this used pack in your bag or backpack until you're ready to discreetly throw it away in private.
Lastly, remember never to flush your used catheter supplies down a toilet.
Where to Find Discreet Catheters for Catheterizing in Public Restrooms
Whether you're ready to find a reliable catheter supplier with a wide selection of brands and options or you want to know more about using your catheters, 180 Medical is here for you.
As a leading catheter company in America, 180 Medical specializes in catheter supplies. We know the catheter industry inside and out, so we can help you throughout the entire process of getting your catheters. Not only do we help you understand your insurance coverage for catheters and fully explain your benefits, but we can also help you find the right type of catheter that will work best for you.
In addition, we want to make sure you fully understand how to safely and comfortably use your catheters. We can even send you full-color brochures and helpful step-by-step instructions for learning how to catheterize with your order or free samples.
Our Catheter Specialists are ready to answer any questions you have about catheter products. We can also help walk you through the cathing process.
Start by contacting 180 Medical today!
Disclaimer: Please note that this is intended to provide a general understanding of sterile catheterization. It should not be used in place of a visit, call, or consultation with a physician or other healthcare provider.