People who are new to catheters may go through a lot of feelings when their doctors prescribe self catheterization. However, learning how to catheterize yourself doesn't have to be difficult, especially with some helpful tips for self-catheterization.
Many thousands of people catheterize every day due to conditions such as urinary bladder retention, benign prostatic hyperplasia (BPH), spinal cord injury, multiple sclerosis, spina bifida, cauda equina syndrome, and many more. Intermittent urinary catheters can often restore independence and improve quality of life.
Request Samples
In this post, we'll go over some of the top tips that may help you as you begin your journey of learning to self-catheterize.
Top 5 Self Catheterization Tips
Ready to learn how to self-catheterize? Here are a few helpful self-catheterization tips for you to get started.
Tip 1. Don't force the catheter.
Encountering a little resistance when you try to insert your catheter? If you are too tense, the sphincter muscle of your bladder may be tight, which may lead to difficulty inserting your catheter.
Don't force the catheter tube if you encounter some resistance.
Instead, take some deep calming breaths. This may help you relax enough that you can try again after a few minutes. Sometimes coughing may also help loosen the bladder sphincter as well, which may make it easier to insert your catheter.
Tip 2. Make sure to fully lubricate your catheter before insertion.
The next of our top tips for self-catheterization is all about the importance of using catheter lubricant. Lubrication can help reduce friction inside the urethra when you catheterize. If you're using a straight uncoated intermittent catheter, be sure to use plenty of lubrication to make the process smooth and comfortable as you insert the catheter.
Most people prefer smaller and easy-to-carry individual packets of sterile lubrication, as pictured below. However, 180 Medical also carries sterile tubes of catheter lubricant to suit those who prefer a tube.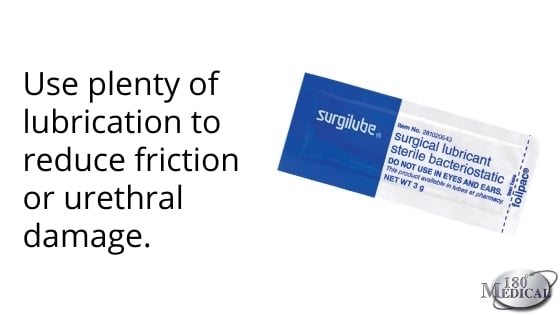 On the other hand, some people prefer using pre-lubricated catheters to cut out the extra steps. For example, a pre-lubricated closed system catheter or a hydrophilic catheter (which is coated with a hydrophilic polymer that becomes slippery when activated by water) may provide a more hygienic, comfortable, and convenient catheterization experience.
At 180 Medical, we gladly do the legwork for you to check with your health insurance provider to see if these advanced catheter products are covered by your insurance. Plus, we'll also work to get any necessary documentation from your prescribing doctor, such as a prescription.
Request Free Samples
Tip 3. If a straight catheter isn't working, ask your doctor if a coudé tip catheter would be right for you.
Some people have difficulty inserting straight tip catheters, whether due to urethral stricture, blockage, enlarged prostate, or BPH. In cases like this, a urinary catheter with a curved insertion tip, which is known as a coudé catheter, may work better.
Coudé insertion tips are available in straight catheters as well as hydrophilic coudé catheter and coudé closed system catheter options.
As this issue is most common among males, coudé catheters are primarily available in unisex length or male length catheters (16 inches or longer).
A coudé tip can bypass some of the obstacles that a standard straight tip catheter can't. If you're having difficulty inserting a straight catheter, address the issue with your prescribing doctor to determine if a coudé catheter is right for you.
Learn more about coudé catheters here.
Tip 4. Don't reuse your catheters.
The FDA considers intermittent catheters as single-use devices. That's why most people choose to use a new sterile disposable catheter each time they need to self-catheterize. This practice can help reduce the risks of urinary tract infections (UTIs) and catheter-associated urinary tract infections (CAUTIs).

These single-use guidelines are stamped on every intermittent catheter's package by law, alongside some of the other important symbols on your catheter package.
The sterile-use symbol looks like a 2 with a slash across it, which means to use it one time.
Find out more about the risks of washing and reusing catheters.
Tip 5. Contact your doctor if you notice any red flags.
Occasionally, self-cathing may be painful, which is abnormal. The catheterization should not cause bleeding or feel very painful.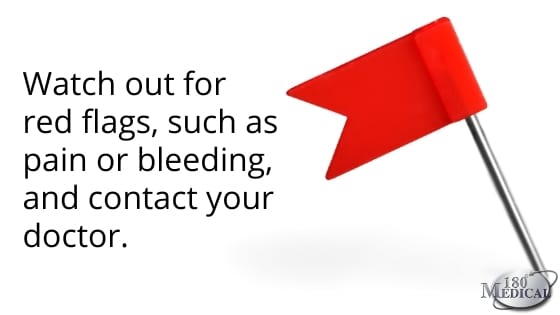 Please contact your healthcare professional if you start to experience any of the following problems:
Painful insertion
Frequent urination
Blood in urine
An absence of urine for 6-8 hours while on a catheterization schedule
Signs of a UTI (urinary tract infection)
How to Catheterize Yourself
Find convenient online instructions for quick access to show you how to catheterize yourself at howtocath.com, including hygienic preparation, catheter insertion, withdrawal, and disposal.
If you have any other questions about how to self cath or if you want to know more about certain catheter products, feel free to contact 180 Medical for all of your catheter supply needs! Our Catheter Specialists are ready to help find the right product solution to fit your needs.
Get Started