How to Self-Catheterize for Women
Home   |   Closed System   |   Hydrophilic   |   Straight

Using a Straight Catheter for Females
Important Note:
As get ready to use a straight catheter, remember that these are uncoated catheters. It will require an application of sterile lubricating jelly before you insert the catheter.
Try applying your female catheter lubricant jelly by tearing or trimming off both ends of your lubricant packet. Next, slide the catheter back and forth through the packet to fully coat it (as shown below).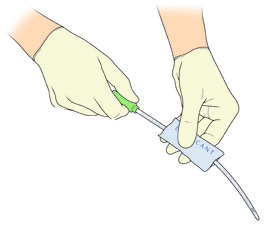 Another option is to tear or trim off the top of the packet (or use a tube of lubricating jelly) and squeeze the jelly all along the length of your catheter tube. Make sure to use a water-soluble lubricant.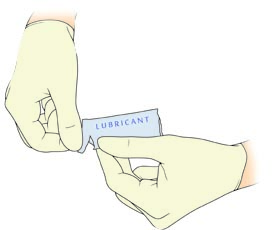 Catheter Instructional Videos:
How to Use a Straight Catheter for Female Self-Catheterization
Intermittent Catheters
A message about intermittent catheters from 180 Medical Founder, Todd Brown.
How to Use a Female Straight Catheter
GentleCath's website allows you to completely personalize your video guide for learning how to straight cath a woman using female catheters. Personalization options include how to cath while:
sitting
standing
cathing from a wheelchair
lying down
Self-Catheterization for Females
The National Association for Continence (NAFC) provides this helpful intermittent self-catheterization video.
How to Use MTG EZ-Gripper® Urinary Catheters for Tetraplegic Self-Catheterization
See how to use MTG EZ-Gripper Urinary Catheter, designed for people with limited hand dexterity.
How to Use MTG EZ-Advancer® Urinary Catheters
This educational video demonstrates how to use the MTG EZ-Advancer® urinary catheter.
How To Use a Urinary Intermittent Female Catheter
This video shows how to use a Female Intermittent Urinary Catheter.
Tips for How to Use a Straight Catheter for Women
We offer step-by-step instructions and instructional videos, which demonstrate how to straight cath a woman (female).
One helpful tip for women who are learning how to self cath is to start by propping up a mirror on a stool or chair in front of you while on the toilet or in your wheelchair. This will allow you to better view the area and find the urethra more easily.
Here are a few more tips as you get started:
Wash your hands before doing anything else.
Use a mirror to better visualize the area.
Try to start self-cathing in a room with good lighting or use a flashlight as you begin to practice insertion. This will help you see more clearly.
Don't insert your catheter into your vagina.
Remember, making mistakes at first may happen. If you drop your catheter or contaminate it by inserting it into the wrong hole, just try again with a fresh, sterile catheter.
How to Find the Female Urethra
Not sure how to find your urethra? It's easier if you can use a mirror to better visualize the area as you prepare to self-cath.
The urethra is a small opening above the vagina opening.
Printable Literature for How to Use a Straight Catheter for Women
Mature content disclaimer: certain content may contain graphic depictions and descriptions of catheterization for informational and educational purposes, which may be offensive to some viewers. 180 Medical disclaims all responsibility for such materials.
Please note that this is intended to provide a general understanding of self-catheterization. It should not be used in place of a visit, call, or consultation with a physician or other healthcare provider.