Has your doctor recommended female intermittent catheters as part of your treatment plan for bladder retention, urinary incontinence, or another medical condition? If so, you may be wondering where to start with buying the right female catheter for you.
Feelings of fear or just being overwhelmed at first is perfectly normal. However, with the right information and the best catheter supplies for your individual needs, self-cathing can become second nature after a bit of practice!
Take a look at our helpful guide about the three main types of intermittent urinary catheters for women to get started!
Female Intermittent Catheters
Intermittent catheters are small tubes inserted through a urethra or a stoma to drain urine from the bladder. These single-use devices are usually made of vinyl or PVC, silicone, or red rubber latex.
Catheters have come a long way since they were first invented, and innovations in technology continue to roll out with new products that may offer a smoother female catheterization experience as well as better discretion and ease of use.
Female Catheter Lengths
Because the female urethra is only a few inches in length compared to the male urethra, female length catheters are typically around 6 inches long, although there are smaller pocket catheter product options.
Some women prefer to use male length catheters, which are around 16 inches long.
Female Catheter French Sizes
Concerned about the catheter's diameter? No need to worry. Your doctor will be able to test French sizes with you and determine what will work and feel best for you to perform female catheterization.
The right French size will help with overall comfort as well as efficiency in drainage.
For example, if you use a smaller female catheter French size than what fits your body best, you may notice urine seeping around the sides of the catheter., This can literally leave a mess on your hands.
If you use a larger catheter French size than necessary, catheter insertion may feel difficult. You might even feel some pain or discomfort.
That's why making sure to get the right size catheter products prescribed before placing your first order will be a big component in finding the right female catheter for you.
After you and your doctor have discussed size options, you'll want to start thinking about the three main intermittent catheter types available for women.
Types of Catheters for Women
The three main types of intermittent catheters for women and girls are:
Straight Female Length Catheters
Considered the original technology, female length straight intermittent catheters are uncoated and must be manually lubricated prior to insertion. Most women prefer using easy-open individual packets of sterile lubricating jelly, but we also offer tubes of lubricant. At 180 Medical, we take into account what may be the best product option for you, including factors like limited hand dexterity or particular brand preferences.
Straight female catheters are easy to conceal in your pocket, makeup bag, or purse. This catheter type is lighter than catheters with insertion supplies, so these are easy to carry.

Hydrophilic Female Length Catheters
Hydrophilic catheters are similar to straight catheters in many ways, but there's one key feature that makes hydrophilic catheters stand apart from other types. A simple application of water activates female hydrophilic catheters to become slippery, smooth, and ready to use. This coating acts in place of lubricant, so you don't have to worry about carrying additional lubricating jelly.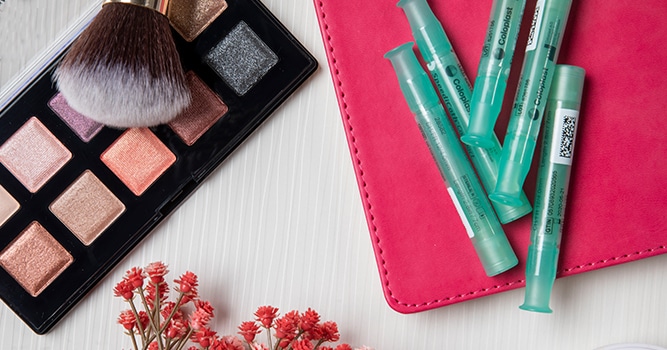 Depending on the brand, some hydrophilic catheters come with their own sterile water packet. Just burst the packet and let the catheter soak inside the package according to directions, then it's ready to use. Others, like the popular female length SpeediCath Compact, are pre-packaged in their own sterile saline solution. As soon as you open up this discreet package (designed to look similar to a makeup item like a tube of mascara or lipstick), your catheter is ready to use. Then you can dispose of it easily once you've drained your bladder.
Most hydrophilic catheter manufacturers feature a handy guiding sleeve to allow you to insert the catheter without touching the tube itself. These are fantastic for minimizing the risk of contamination from your hands.

Closed System Catheters for Women
Female closed system catheters are convenient since they are all-in-one packages. The pre-lubricated sterile catheter connects to a self-contained collection bag, eliminating the need to carry additional lubricant.
Many brands also include insertion supplies, such as gloves and antiseptic wipes in their closed system kits. Most closed systems include a handy feature called a pre-lubricated introducer tip. These tips bypass the highest concentrations of bacteria in your urethra to minimize the risk of urinary tract infections.
Some people in wheelchairs prefer closed system catheters because they can self-catheterize right from their chairs. Thanks to the attached collection bag, you can catheterize anywhere you have privacy.
180 Medical is Here for You
Since we specialize in catheters, we carry all the major catheter brands and types. You have the option to sample different types of catheters, based on what your insurance covers. When you choose 180 Medical, you also get total freedom of choice when it comes to your brand preference.
When you're ready to order, 180 Medical is here for you! We'll be glad to help you find the female catheter that's easiest and most comfortable for you to use.
Our highly trained catheter specialists have helped thousands of women, men, and children learn self-catheterization and find the right catheter supplies. Our goal is to help turn your life around with high-quality products that can restore your confidence and independence.
We also offer educational materials like full-color brochures and DVDs offering step-by-step instructions on how to perform self-catheterization.
Give us a call at 1-877-688-2729. We'd love the opportunity to discuss your female catheter options with you!