If you use intermittent catheters, chances are, you've heard of catheter insertion supplies. But do you know what they're used for? Also, you might wonder what comes in a catheter insertion tray or how to cath using insertion supplies.
As one of the leading catheter suppliers in America for nearly 2 decades, 180 Medical and our Catheter Product Specialists have the expertise to be able to provide the support and helpful answers you need about catheter products.
With one of the widest ranges of intermittent catheters available on the market today, 180 Medical has catheter options from all major brands. Plus, we can provide catheterization aids like insertion supply kits, depending on prescription and insurance plan benefits.
If you're curious about your options, contact our friendly specialists now to get started!
Request Free Samples
What Are Catheter Insertion Supplies For?
So, first, what are catheter insertion supplies? These are any catheterization supplies that can sometimes accompany an order of intermittent catheters.
Most items in a catheter insertion tray, such as gloves or antiseptic wipes, may help keep the cathing process more hygienic.
So if you're looking for a way to potentially help reduce the risk of common catheter-related issues like urinary tract infection, using catheter insertion supplies may help.
Talk to your doctor to see what they recommend for you.
Does Insurance Cover Catheter Insertion Supplies?
Now, if you're interested in getting catheter insertion supplies with your intermittent catheter, you probably want to know if your insurance plan will cover this type of product.
The short answer is that some insurance plans will cover insertion supplies while others may only pay for straight catheters and lubricating jelly.
If you're curious about your insurance plan's catheter coverage, 180 Medical's insurance experts can quickly verify your benefits. We'll find out what types of catheter supplies you may be eligible to receive. Then we can go over your coverage together so you fully understand which products you can get in your order based on your doctor's prescription.
Contact us to get started!
Verify My Insurance Coverage
What's Included in a Catheter Insertion Kit?
So what's included in insertion supply kits? It varies from brand to brand. Also, some closed system catheters have insertion supplies in the all-in-one package.
Here are a few of the most common items in insertion kits.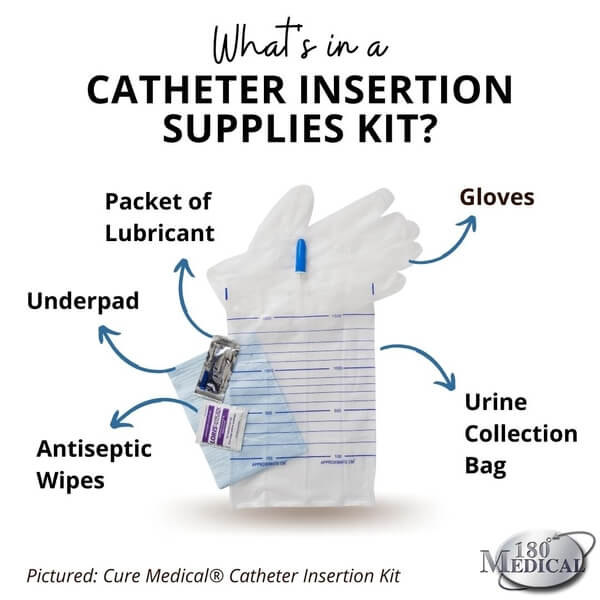 Antiseptic Catheter Wipes or Swabsticks
Most insertion supplies trays will have some type of antiseptic wipes, such as povidone-iodine swabs or BZK (benzalkonium chloride) towelettes.
Antiseptic wipes can be used to clean the urethral opening before inserting the catheter. This may help reduce the risk of urinary tract infections due to external bacterial contamination. It also generally helps keep the cathing process more hygienic.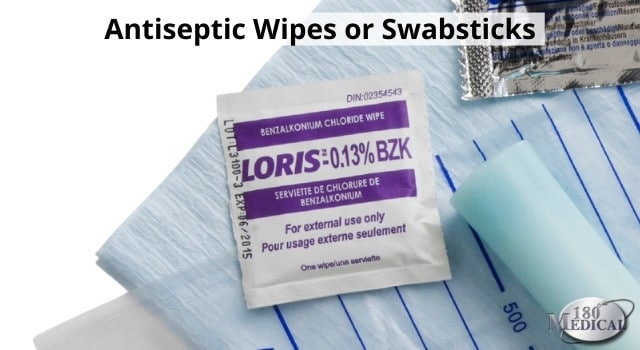 Catheter Lubricating Jelly Packet
It's important to fully lubricate a catheter before inserting it. Lubricating your catheter helps minimize friction in the urethra during insertion and withdrawal.
Friction from a catheter that's uncoated or not fully lubricated can make using a catheter feel painful or uncomfortable.
Sometimes, advanced catheters like closed system catheters already include insertion supplies and a packet of lubricant too. However, many catheter options like this are already pre-lubricated. Also, some are hydrophilic, which means they activate with water to create an ultra-smooth catheter surface. This acts as lubrication, which doesn't slough off during catheterization.
If you use a pre-lubricated or hydrophilic catheter, you may not need to use the included packet of catheter lubricant, but it's nice to have on hand just in case.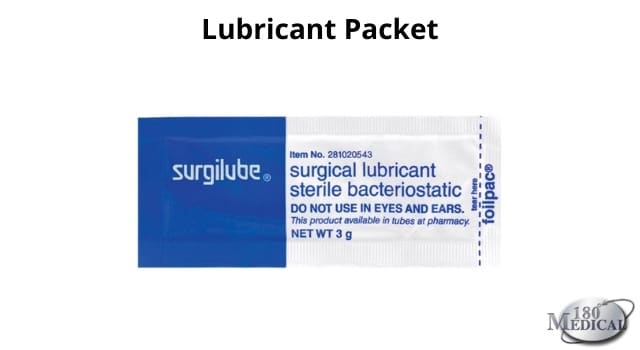 Drape or Underpad
Insertion trays often include a drape or underpad. You might wonder, "what is a catheter underpad for?"
Some people lay out their catheter supplies on the underpad while preparing to self-cath. This is especially helpful when cathing in public restrooms. Also, some parents who cath their children can use the underpad by placing it underneath their child. This helps not only protect the child in public restrooms but it can also help shield furniture or reduce clean-ups when cathing at home.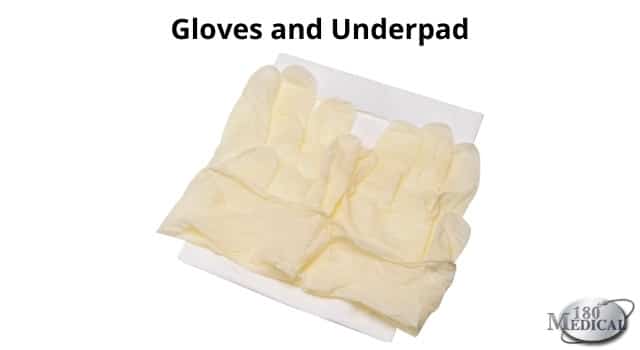 Pair of Gloves
One essential part of any catheter insertion supply kit is a pair of gloves. These keep your hands from directly touching the catheter tube or any other part of your sterile insertion supplies. This may help reduce the risk of urinary tract infections due to contamination.
This is especially helpful when you're away from home or unable to easily wash your hands in a public restroom. Some insertion kits have sterile gloves, which means the gloves have been sterilized during the manufacturing process.
Urine Collection Bag (Catheter Bag)
Most insertion supply kits also include a urine collection device, such as a measured catheter bag. Urine drain bags connect to the funnel of the catheter so you can drain urine directly into the bag without having to be near a toilet.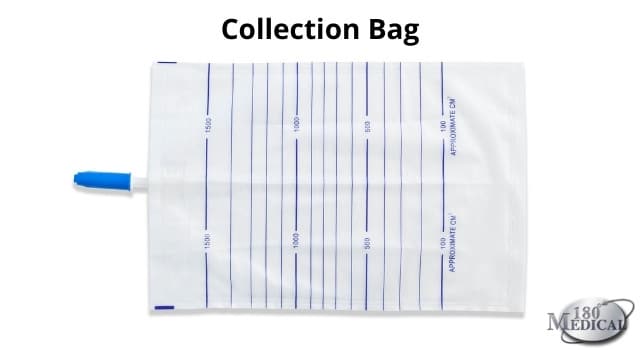 Urine collection bags can hold about 1000 to 1500 ccs on average, although some options may offer a larger or smaller capacity.
If using a closed system catheter, the catheter tube is usually pre-connected and housed inside its own sterile collection bag.
How to Perform Self-Catheterization
Now that you know what insertion supplies are for, you may also have some additional questions about how to self-cath or how to use catheter insertion supplies. 180 Medical is happy to provide helpful tips and instructions for learning to catheterize.
We can include catheter instructional materials with your order. Plus, we have online catheterization instructions that you can access right now at www.howtocath.com. These instructions are customizable for your needs based on gender, age (adult or pediatric), and catheter type (straight/uncoated, hydrophilic, and closed system catheters).
Also, here are some basic instructions for using an uncoated straight catheter with insertion supplies to start.
How to Cath Using Insertion Supplies
First, get your catheter and insertion supply kit ready and have them nearby.
Wash your hands or put on a pair of gloves from your insertion tray.
Next, use your antiseptic wipes or swabs to clean the area around the urethra.
Take your catheter out of its package and lubricate it with your included sterile lubricant. You can either tear off the top of the packet and squeeze the lubricating jelly along the length of the catheter, or you can tear or cut off both ends of the packet, then slide the catheter tube through the packet to lubricate it.
Sit or stand over the toilet. You can also sit in your wheelchair or on a chair (if you have a ready collection device such as a catheter bag or urinal jug). If using a catheter mirror, you can situate that in front of yourself to get a better view and find the urinary opening.
Now, you can begin insertion. Slowly and gently insert the catheter. If you encounter some resistance when the catheter reaches the sphincter muscle of the bladder, take a deep breath and gently apply more pressure. However, it's important that you do not force the catheter. If it causes bleeding or sudden sharp pain or if you cannot insert your catheter, contact your doctor.
As urine begins to flow, you can typically insert the catheter another inch or so to optimize urine flow.
Once the urine flow stops, you can begin to withdraw the catheter tube to remove it.
Lastly, throw the catheter and used insertion supplies away.
Where to Buy Intermittent Catheter Supplies
No matter what size or type of intermittent catheter you want, 180 Medical carries it.
If you're feeling stressed by the news you're going to have to start using catheters, you can rely on 180 Medical. We know you've got plenty on your mind already. That's why we make the process of getting your catheter supplies as pleasant and stress-free as possible.
We'll take the time to listen to your concerns and answer your questions. Plus, our Product Specialists have the expertise to guide you through your options, based on your insurance plan's catheter coverage as well as your prescription. We'll gladly provide samples so you can try and choose the catheter that works best for you.
Contact us today!