Did you know that there are all-in-one catheter product options that make it easier to catheterize hygienically and efficiently? Get answers to frequently asked questions about self-catheterization kits and find out what to look for in a perfect catheter kit.
What Is a Catheter Kit?
A urinary catheter kit is an accompanying all-in-one tray or package of catheter insertion supplies. These kits are designed to contain everything you need for a clean, hygienic cathing process in addition to your intermittent catheter of choice.
Self catheter kits typically contain antiseptic wipes or swabs, which are used to disinfect the outer urethral area prior to insertion. They usually also include a pair of gloves to help reduce contamination from hands and a urine collection bag that can be attached to the funnel end of your catheter.
For example, the Cure Medical Catheter Insertion Kit includes a nonstaining BZK wipe, a packet of lubricating jelly, one pair of gloves, an underpad, and a urine collection bag that can attach to the catheter funnel.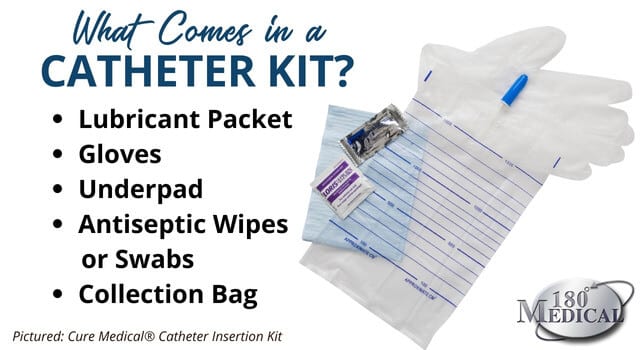 Request Free Samples
Why Should I Use a Catheter Kit?
Wondering if there are any benefits of adding a catheter insertion kit to your in-and-out catheterization routine? Whether you cath at home or on the go, a urinary catheter kit can make cathing a cleaner, easier process.
Includes Everything You Need in One Package
When using a catheter kit that includes every catheterization accessory you need, you don't have to worry about finding and buying a bunch of different products.
With fewer items to worry about, an all-in-one urethral catheter kit can take some steps off your plate.
More Hygienic
Home catheter kits can help aid with making catheter insertion more hygienic and comfortable.
For example, by using the included sterilization wipes or swabs, you can clean the outer area of the urethra before you insert your catheter. This may help reduce the risk of UTIs (urinary tract infections), which can sometimes occur when bacteria from outside the body get pushed into the urethra during catheter insertion.
Gloves may also help make catheterization more hygienic. Many people wash their hands or use hand sanitizer prior to handling their catheter supplies. However, a packaged pair of disposable gloves for catheterization can further reduce the risk of contamination.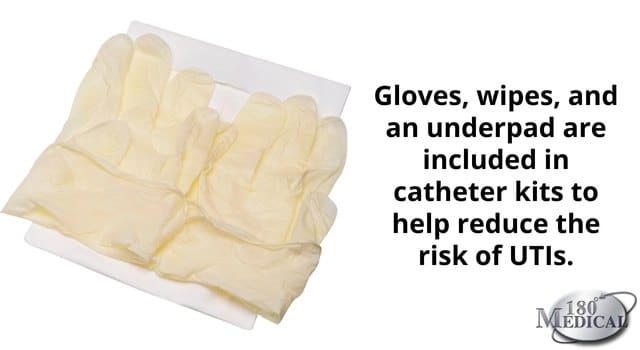 Great for Travel
Because an intermittent catheter kit has everything you need for in-and-out catheterization, you'll have fewer supplies to count, pack, carry, and handle.
This is ideal not only for people who need to use catheters while at work or at school but especially for frequent travelers.
Ideal for Privacy
In addition to having fewer separate supplies to carry around with you, a catheter kit includes an attachable urinary collection bag. With this attached to your catheter, you can self-cath anywhere you have privacy.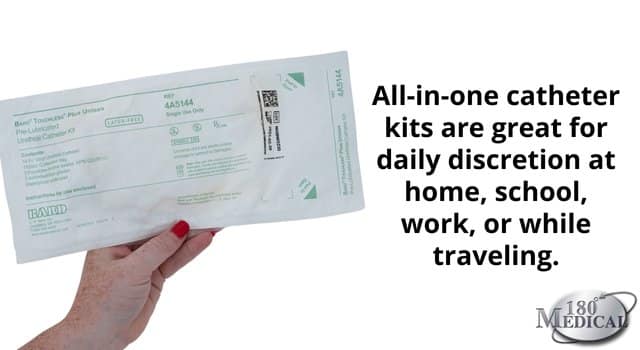 Plus, some catheter supply kits also include a refuse bag or disposal bag. These are usually opaque so you can dispose of your used catheter supplies in any trash can without having to worry if people will know you use catheters.
With an all-in-one package, a closed system catheter kit is easier to transport and use privately and quickly. You can self-cath just about anywhere – whether at home, in a public restroom stall, or in any other private space.
Find out what your insurance covers and try free samples by contacting 180 Medical to get started.
Are There Different Types of Urinary Catheter Kits?
Yes, different types of catheter kits and insertion trays are available on the market. Not all catheters are for intermittent (in-and-out) use.
Foley Catheter Kit
For example, foley catheter kits and trays accompany indwelling foley catheters. These will include standard insertion supplies such as gloves and wipes, but they also typically include a pre-filled syringe of sterile water to inflate a foley catheter's balloon. This helps anchor the catheter inside the bladder for long-term use.
Condom Catheter Kit
Also, condom catheter kits are helpful for men who wear external catheters for urinary incontinence. A condom catheter kit usually has a collection bag and tube, a sheath holder or straps to keep the tube in place during the day, and sometimes adhesive to help attach the external condom catheter.
Closed System Catheter Kit
Lastly, you should know about closed system catheter kits, which are for intermittent catheter users.
Closed system catheters are self-contained in a sterile collection bag that's already attached. The catheter is often already pre-lubricated and ready to use too.
Closed system catheter kits also have unique beneficial features like introducer tips, which helps the catheter tube bypass bacteria on its way into the urethra. They allow for a smooth, touchless insertion that may help reduce the risk of infection.
Here are a few of the many closed system catheter kits available at 180 Medical. You can choose from coudé or straight tip, male or female or pediatric length, and many other options.

Get Free Samples
Will My Health Insurance Cover Catheter Kits?
Curious about trying out a catheter insertion supply kit with your catheter order? You'll want to make sure your insurance will cover this product.
The good news is that many health insurance plans do cover insertion supplies as well as advanced products like hydrophilic catheters and closed system catheters.
However, the only way to truly know the answer is to verify your insurance coverage.
180 Medical is contracted with a wide and constantly growing network of insurance plans, including Medicare, state Medicaids, and many more private insurance plans. Our insurance experts will quickly verify your benefits as soon as we have your information. Then we'll help you understand your plan's catheter coverage, such as which products and how many you can receive.
Verify My Insurance
Where to Buy Home Catheter Kits
Whether you're looking for an easier travel catheter option or a way to help reduce recurring CAUTIs (catheter-associated urinary tract infections), an intermittent catheterization kit might fit your needs.
Finding the right catheter doesn't have to be costly or time-consuming. 180 Medical makes it easy!
Our Catheter Specialists can help you navigate through the many catheter product options available. Contact our friendly specialists now to get started!