When it comes to choosing the right catheter for your needs, you have more to consider than just picking a male length catheter for men, a female length catheter for women, or a pediatric length catheter for children. Did you know there other alternatives to standard uncoated catheters? Advanced products like closed system catheters can be more convenient and provide everything you need for a quick, comfortable catheterization.
But you probably have some questions first. For example, what is a closed system catheter? Are closed system catheters covered by my insurance? What are the benefits of using closed system catheter kits?
Get the answers in this comprehensive article! Plus, you can find out how closed system catheters could make your self-cathing routine more hygienic and convenient.
What is a Closed System Catheter?
A closed system catheter is a self-contained pre-lubricated catheter housed within its own collection bag. The sterile collection bag eliminates the need to void the urine into a receptacle or toilet.
As with all intermittent catheters, a closed system catheter's main function is to drain the bladder in a comfortable, smooth process.
However, it has some advanced special features that truly set this catheter type apart. For example, these catheters are sometimes called "touchless" or "no-touch" catheters because your fingers will never have to directly touch the catheter tube. Because it's an all-in-one system, it minimizes the risk of contamination and bacterial infection of your urinary tract and bladder.
Request Free Samples Now
Most closed system catheters are perfect for travel or carrying. It's also convenient for most people because it comes ready to use.
Some closed system catheters also offer gripping aids or easy-to-open packaging for those who have limited hand dexterity, such as people with spinal cord injuries or severe arthritis.
What are the Features of Closed System Catheters?
While each manufacturer's catheters may vary, you'll find that the majority of closed system catheter kits have similar features.
180 Medical offers a wide variety of options from all major brands, so you can try and choose what works best for your needs.
See the below infographic for more details.
Some Additional Closed System Catheter Kit Features
Many catheter brands offer insertion supplies to help assist in the catheterization routine.
Some brands may include such items as an opaque disposal bag to hide or store the used catheter, antiseptic wipes (typically povidone-iodine or BZK) to disinfect hands and the area of insertion, and gloves to reduce the risk of contamination and infection.
Additionally, some catheter manufacturers include an extra packet of lubricating jelly and a sterile underpad.
Request Free Samples of the Cure Closed System
Some closed system catheters also offer gripping aids or easy-to-open packaging for those who have limited hand dexterity, such as people with spinal cord injuries or severe arthritis.
What are the Benefits of Using Closed System Catheters?
Using a closed system catheter has plenty of helpful advantages.
For example, the self-contained collection bag eliminates the need to try to find another receptacle, such as a separate bag, toilet/urinal, or another container for such purpose. You can self-cath right from your wheelchair or any other place where you have privacy.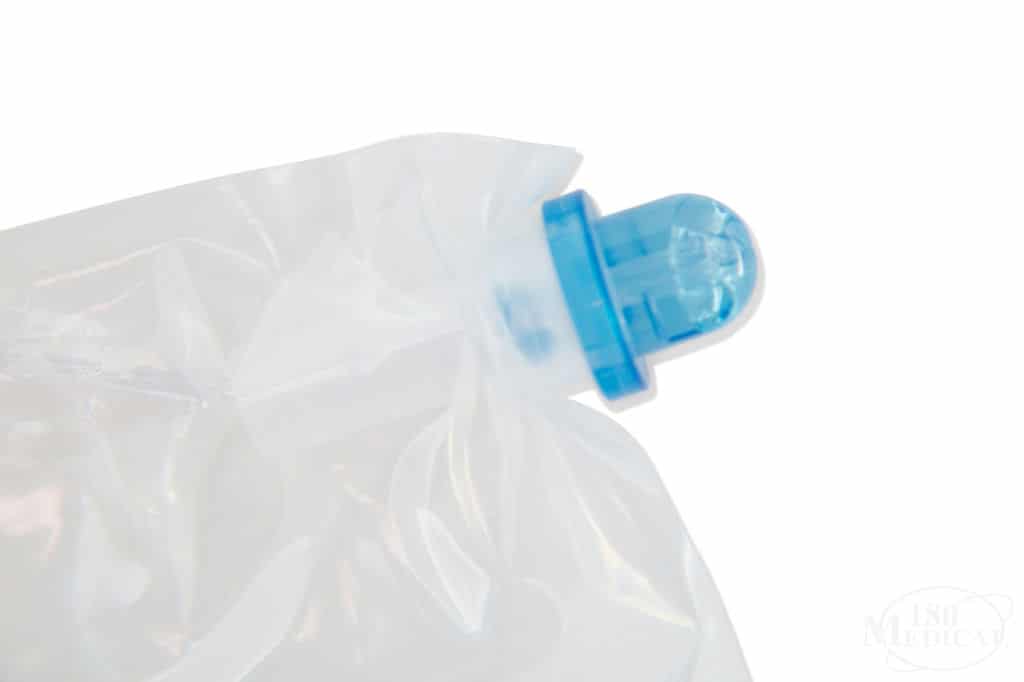 Request Free Samples of the MTG Cath-Lean
The introducer tip is also a helpful feature because it allows the catheter to smoothly bypass the first few millimeters of the urethra where the majority of bacteria collect. It is pre-lubricated, soft, and flexible.
It's a much more sterile process because the catheter can be inserted without ever touching the actual tube, which can also lessen the possibility of bacterial contamination.
How Do I Use a Closed System Catheter?
180 Medical offers detailed online instructions and catheterization videos for how to catheterize using a closed system for men, women, and children. We even offer catheter instructions in Spanish (en Espanol).
180 Medical also has one-of-a-kind catheterization instruction materials we can send to you with your order, including a DVD and detailed colorful brochures.
Are Closed System Catheters Available in My French Size?
It's very likely! Many brands of closed system catheters offer straight or coudé tip, pediatric sizes, male or female length, various materials such as vinyl and red rubber, and a range of the common French sizes.
Check out the below links to see some of the available options in your needed French size.
Which Closed System Catheters Does 180 Medical Carry?
180 Medical proudly carries catheters from all of the leading manufacturers and brands available today.
How Can I Find a Catheter That's Right for Me?
You need a reliable supplier that can give you the best selection of high-quality catheters and unbeatable customer service. Our catheter specialists are ready to help you!
It's easy to contact 180 Medical. You can fill out our online inquiry form, and we'll contact you back via your preferred method (email or phone). In addition, you can call us or connect to us on our website's Live Chat during business hours.
Get Started
We'll happily help you try and choose the right catheter for you.