Determining the right size of an intermittent catheter to use can greatly increase the efficiency and comfort of your self-catheterization routine. But how do you know what size catheter to use? Take a look at our guide to figuring out French sizes for urinary catheters.
Catheter Sizes: French Catheter Sizing
All internal urinary catheters, including Foley catheters and intermittent catheters, are sized by a universal gauge system. This gauge system is known as a French size, which is based upon a measurement of the external diameter of the catheter tube.
The French size of a catheter is determined by a simple multiplication of 3 (diameters in millimeters multiplied by 3 = the French size). For example, if a catheter has a diameter of 4.7 millimeters, then the French (Fr) size is 14.
What is Bigger – 14 Fr or 16 Fr?
A 16 Fr size catheter will be slightly bigger than a 14 Fr catheter. Since catheters are sized by a universal system that measures the diameter of the tube, larger sizes will be a higher number. Smaller sizes will be a lower number.
Your doctor is the best source to figure out which catheter size will best fit your anatomy.
How Do I Know What French Size My Catheter Is?
First, your doctor will prescribe the correct size for your anatomy. But if you're unsure how to tell what French size your intermittent catheter is, there are a few easy ways to do it.
First, take a look at your catheter package. It should show the size marked clearly with an FR next to the size/gauge number (typically somewhere between 6 FR and 24 FR).
Also, you can tell your catheter's French size by the universal color-coding system.
Catheter Size Funnel Colors
Most vinyl and silicone intermittent catheters with funnels use a universal color-coding system to help you determine what French size a catheter is. See the below chart for the most common French sizes along with their corresponding funnel color codes.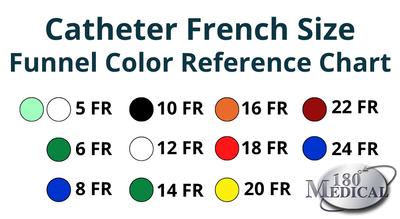 Getting the Right Catheter French Size
Why is determining the French size such an important part of selecting the right catheter for your needs?
Efficiency and comfort are both important elements in the self-catheterization process.
For instance, if you use a urinary catheter that's too big for your urethra, insertion can feel difficult or cause friction. Catheterization may even feel painful if you're using a catheter that's too big. Also, if it's far too large, you may not be able to insert it.
On the other hand, if you use a French size that is too small, you may find the pace of urine drainage is very slow. Also, urine may escape around the catheter tube. This can be messy, and it'll be harder to control the flow.
Luckily, catheters are made in a vast range of French sizes to suit all kinds of bodies. Urinary catheters come in a wide range of sizes, from pediatric French sizes for children to large French sizes for adults.
Finding the Right Catheter Length
In addition to French sizes, catheters come in different lengths. This feature accommodates the different urethral lengths between genders and ages.
Pediatric Length Catheters
Pediatric length catheters are typically around 10 inches long.
The smallest pediatric catheter French sizes (5 or 6 French) are typically for babies and infants. Children and adolescents typically use pediatric catheters between 8 to 12 French.
Female Length Catheters
Because the female urethra is much shorter than the average male urethra, Because of this, female length catheters are much more compact than standard unisex or male length catheters. Female catheter lengths can range anywhere from as short as 3.5 inches up to 8 inches. However, female catheters are typically around 6 inches on average.
While every anatomy is different, most adult women use female catheters with French sizes that range from around 12 to 16 Fr.
Male Length or Unisex Length Catheters
Male length catheters, which are also known as unisex length catheters for any gender, offer an average catheter length of around 16 inches.
Keep in mind that every person is different, and no one size or length will suit everyone across the board. However, many adult men use male catheters with French sizes that range as small as 12 French and as large as 24 French. The average or most common French size tends to be around 14 to 18 French for most male catheter users.
We have male catheters available in all types and sizes from all the available brands on the market, including male pocket catheters.
Get Free Samples
Urinary Catheters by French Sizes
Click on the links below to see all of the various catheters available in each catheter size:
How to Find the Right Catheter Size for You
To determine the right French size of the catheter for your unique anatomy, you'll need to consult your prescribing healthcare professional. They can accurately determine the right French size for your body to get a hassle-free, comfortable experience when using intermittent catheters.
Next, you'll be ready to get your catheter supplies from 180 Medical!
Did you know that many health insurance plans, including Medicare, will cover sterile use catheters? We can verify your insurance coverage to let you know how your policy will cover your catheter needs. Plus, 180 Medical provides discreet, free delivery of your orders, and we always follow up to ensure you're fully satisfied with your order.
Ready to get started? Contact 180 Medical today! Our friendly Catheter Specialists will be happy to find the right catheter for your needs.