When you're considering which kind of catheter to use, you may not think of the catheter drainage eyelets as an important feature. However, the quality, size, and placement of catheter drainage eyelets can add or detract from your overall catheterization experience.
Let's go over some of the features of catheter eyelets. With the right information, you and your doctor can make the right decision on which intermittent catheter may work best for you.
What Are Catheter Drainage Eyelets?
First, what are catheter drainage eyelets? Also known as drain holes or catheter eyes, the drainage eyelets of a catheter are found on or around the insertion tip of a catheter.
Catheter eyelets are positioned so that when the catheter enters through the urethra or stoma into the bladder, urine enters the catheter tube's passage through those holes. Then, urine drains out accordingly.
Most catheters have at least 2 drainage eyelets. However, some catheter brands or types may have only one drainage eye or more than two.
Punched Vs. Polished Catheter Eyelets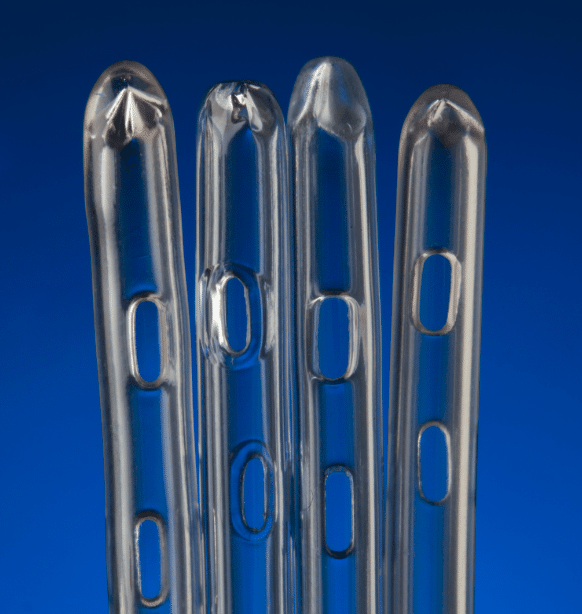 Did you know that catheter drainage eyes can impact the comfort level of your catheterization? In fact, they can even make using a catheter painful if they're not smooth.
One major difference between various catheter eyelets is in their creation during the manufacturing process.
One way to create a catheter eyelet is by literally punching a hole in the material. This process is known as "cold-punching." While this will create eyelets that do their intended job, some catheter-users find that punched eyelets are rougher. If the edges are not soft, the catheter may create friction or discomfort as it inserts or withdraws.
Many catheter products today have polished drainage eyelets. Polishing the drain holes makes the edges much smoother, which may feel more comfortable.
Size and Shape of Catheter Eyelets
The catheter eyelets can vary from brand to brand in terms of shape and size. Larger eyelets may allow urine to drain a little faster, as will having two or more eyelets versus just one. Smaller or fewer eyelets will allow the urine to flow a little more slowly from one's bladder. However, this also depends upon the brand itself, as some catheter types may also have more narrow interior passages due to their unique layering, which could also account for slower drainage.
Another point to take into consideration is that the shape of the catheter eyelets may also play a role in how comfortable a catheter may feel. In an in vitro study in 2014, researchers looked at how eyelet shape affects the surface tissue of the urethra. Wider drainage eyelets allow more tissue to dip into the hole, which may create a feeling of discomfort, irritation, or friction. This might be another aspect to consider when looking at your catheter options.
Finding a Catheter That's Right For You
The wide selection of catheter supplies can feel overwhelming, especially for first-time catheter users. However, at 180 Medical, we specialize in intermittent catheters, so we truly know our business and the products we carry from top to bottom. We carry one of the widest selections of catheter products for men, women, and children from all the top brands. This is because we fully understand that no single catheter type or brand will work for everyone across the board.
You should have the freedom to choose which catheter works best for you, based on your doctor's prescription and your insurance coverage. Contact us to get started. Our friendly product experts are ready to help you find the right catheter supplies for you.
References: Walker M, Lambrethsen J, Winther T (2014). In vitro testing of tissue deformation by catheter eyelets