When it comes to catheters, a lot of parts come together to make it work just right. For instance, catheter funnel ends have a few different functions that can ultimately aid you in self-catheterization experience. Find out more with our answers to the most frequently asked questions about catheter drainage funnel ends.
What are the main parts of a catheter?
Most intermittent catheters consist of three main parts:
Insertion tip with drainage eyelets, which is the end that you insert into the urethra or stoma
Catheter tube
Funnel end

Intermittent catheter insertion tips are usually straight, although some options exist with a curved tip, which is known as a coudé tip. You can learn more about catheter insertion tips and the main components of intermittent catheters here.
What is a catheter funnel end?
The funnel end of your catheter is the end opposite of the insertion tip. The drainage funnel is where your urine comes out. First, urine drains from the bladder into the drainage eyelets on the insertion tip. Next, it flows through the catheter tube. Finally, it will leave the catheter and exit through the funnel end.
You can see an example of a basic straight intermittent catheter below in both male length (16 inches)and female length (typically 6 inches on average). The funnel ends in this example are green, which would indicate a French size of 14.

What are catheter funnel ends used for?
Catheter funnels are primarily used as an outlet to direct urine flow toward a receptacle like a toilet or a urinal.
In some catheter brands, the catheter funnel end is shaped more ergonomically for easy gripping, which some people prefer to use as a sort of "no-touch" catheter grip to avoid touching the tube.
Coudé catheters' funnel ends sometimes feature a helpful guide like a colored or raised bump or notch on the funnel to indicate the angle of the curved insertion tip.
In addition, catheter funnel ends can sometimes be used as a universal catheter connector to connect the catheter tube to an external receptacle such as a urine drain bag.
One particularly popular catheter type has a catheter housed inside its own collection bag. This is called a closed system catheter. Cathing with an attached collection bag can make emptying the bladder easier for some people, especially for people with limited mobility or in wheelchairs. This way, they can self-catheterize without having to transfer to a toilet every time.
Finally, most catheters, particularly clear catheters made of materials like vinyl and silicone, have color-coded catheter drainage funnels. These help the user identify the French size of their catheter and make sure they're using the right size for their anatomy every time.

How do I tell what size my catheter is by the catheter funnel end?
It's actually quite easy, thanks to the universal color-coding system for catheters. Take a look at 180 Medical's handy catheter funnel color and French size chart below.
Catheters are sized by a universal gauge system known as French sizes. You may see this on your catheter package abbreviated as "fr."
French sizes of catheters can be incredibly small to fit infants and young children who need to use catheters. They can also go up a wide range in sizes to suit larger anatomies and urethras. The most common French sizes range between 5 fr and 24 fr.
Larger options than 24 French are rare but available. Simply ask 180 Medical's Catheter Specialists about your options if your doctor determines that your anatomy requires a larger size.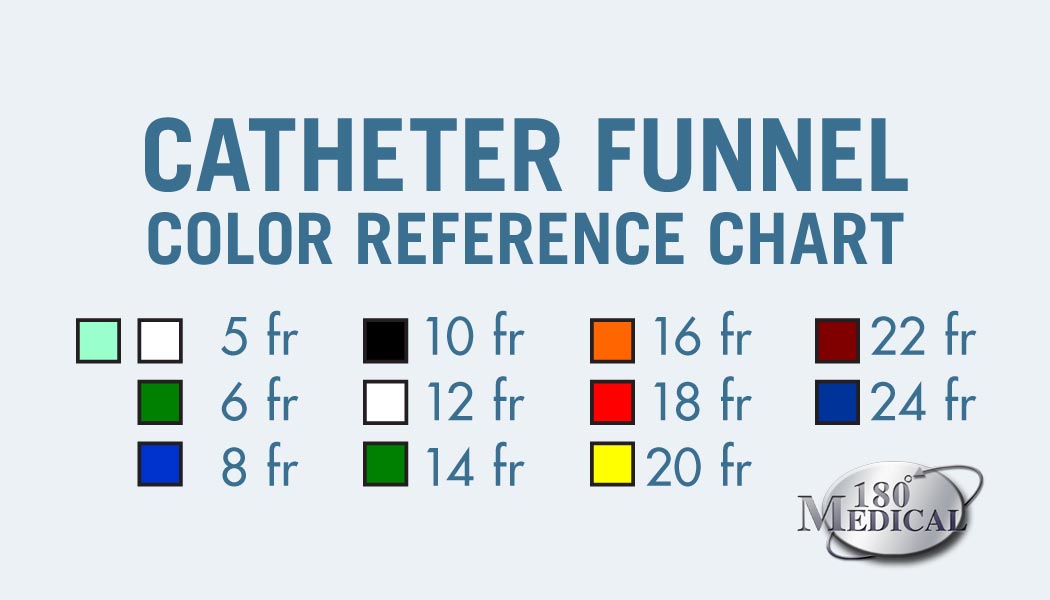 Please note that not all catheter types feature a color-coded funnel. For example, red rubber latex catheters are typically all one color. If you need help clarifying what size your catheter is, please consult your catheter's packaging.
What French size of catheter do I need?
When it comes to finding the right French size for you, please consult with your prescribing healthcare professional. They are the best source for determining a size that works best for your body. For more information about French sizes, take a look at our post: Figuring Out French Sizes.
Why do some catheters come without drainage funnel ends?
While the majority of intermittent catheter products feature drainage funnel ends, some people prefer what is called a luer end catheter. This catheter type, also known as a whistle-tip catheter, is like any other intermittent catheter except for one key difference. Instead of a funnel, the end of the catheter is an open tube.

When it comes down to what works best for you, the choice comes down to your personal preference. Some people prefer luer end catheters because they may seem more discreet due to flatter packaging. However, intermittent catheter technology continues to advance as manufacturers listen to catheter-users' needs. So today, many discreet catheter products are available.
Ask 180 Medical's Catheter Specialists about possible discreet catheter options for you, such as pocket catheters.
Where can I buy catheters?
180 Medical is a trusted catheter supplier with years of experience in helping people find the right catheter products for their needs. Because intermittent catheters are a prescription-only item, we do recommend you see your doctor or another prescribing healthcare professional. They can determine your symptoms, such as bladder retention or urinary incontinence, properly diagnose you, and prescribe a treatment plan, which may or may not include intermittent catheterization.
180 Medical makes the whole process of ordering catheter supplies easy on you. From the moment you call, we'll quickly verify your insurance plan's catheter coverage for you. We also handle obtaining the written prescription and any other documentation or authorization your insurance may require. Plus, we can bill your insurance for free with no upfront costs to you too!
Most importantly, our highly-trained Specialists will offer you compassion, understanding, and a listening ear. We want to make sure we fully understand your needs and preferences, and we offer free samples to help you determine what catheter brand or type works best for you.
If you need a reliable catheter supply provider, contact 180 Medical. We're ready to help turn your life around!