Are you new to the world of self-catheterization? The first and best place to start is with the basics, including the parts of catheters.
What is a Catheter?
A catheter is a flexible, hollow tube inserted into the urethra or a surgically-created stoma to drain the bladder of urine.

Not all catheters are created the same. They come in a variety of types, sizes, and lengths. Also, they come in different types of catheter materials.
Why are there so many different catheter options?
Because each catheter user is an individual with their own needs, preferences, anatomy, medical condition, activity level, and lifestyle. What works or feels most comfortable for one person may not work for another.
180 Medical cares about getting the right catheter for you as an individual. That's why we offer one of the widest varieties of types of urethral catheters on the market, including all the top catheter brands such as GentleCath, Coloplast, Hollister, Bard, LoFric, and more! We offer free catheter samples so you can try and figure out which catheter works best for you.
Try Free Samples
What Are the Parts of Catheters?
From tip to funnel end, let's go over what makes a catheter work and what each feature does for you.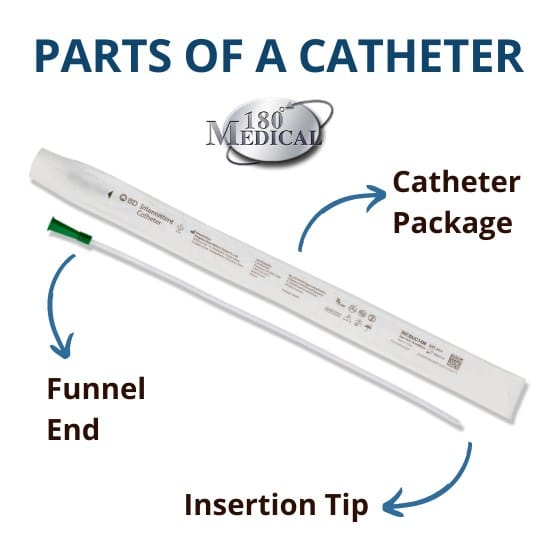 Catheter Insertion Tips
The insertion tip is the narrow end of your catheter that inserts into the urethra to reach the bladder. The insertion tip is where the eyelets (drainage holes) of the catheter are typically located.
All catheters, whether a Foley catheter, straight intermittent catheter, or a closed system catheter kit, have either a straight tip or a coudé tip. The most common insertion tip is the straight tip, which works for most people.
However, some people are not able to comfortably or easily insert a straight tip catheter. Sometimes, switching to a curved insertion tip, known as a coudé tip catheter, is a good solution. Reasons people need coudé catheters may include urethral strictures, enlarged prostate, blockages, false passages, or atrophic vaginas.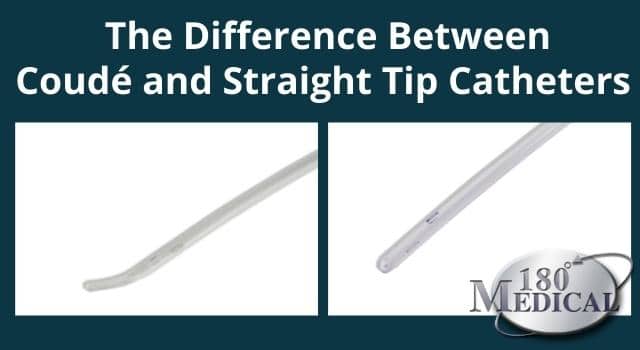 The decision to use a coudé tip or a straight tip catheter should be between you and your doctor. If you're experiencing pain when cathing, please see your doctor as soon as possible.
Drainage Eyelets (Eyes, Holes)
Drainage eyelets are small holes in the catheter tube, which are always positioned on or very near the insertion tip to make draining your urine easier. Catheter drainage eyelets are sometimes referred to as drainage holes or catheter eyes.
Many catheter manufacturers today are working to make catheters more comfortable. Efforts include polishing and recessing these drainage eyelets, which can reduce friction and irritation in the delicate urethral tissues.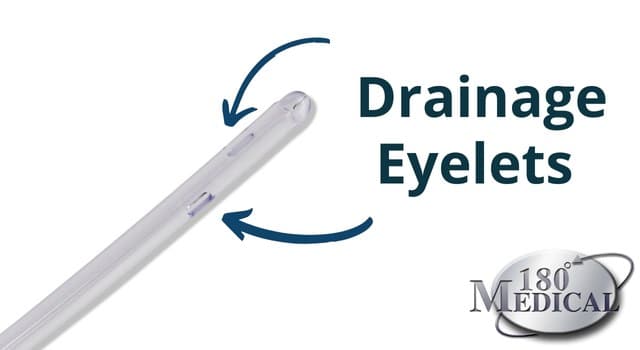 Catheter Funnels (Funnel Ends)
On the opposite end of your catheter, you'll find a funnel. Funnels are also known as connectors because they can potentially connect with receptacles like drain bags or portable urinals.
Depending on the type of catheter you're using, most of the time, you'll find a specific color of the funnel. This is based on the universal color-coding system, which makes identifying your catheter's French size much easier.
However, catheters don't always come with funnel ends. Luer end catheters, also sometimes known as whistle tip catheters, do not feature a funnel or connector. Instead, it's an open tube.
Also, some catheters are pre-connected to a urine collection bag.
The choice between a catheter with a funnel or luer end is typically a matter of personal preference. Some people prefer having a funnel for easier gripping without touching the tube itself. The luer end catheters are sometimes preferred because the packaging may be flatter and more discreet.

What Are Intermittent Catheters' French Sizes?
Because everyone has a unique body and needs, we always like to remind our customers that no single catheter out there will work for everyone. The same goes for the size, catheter type, and length of your catheter product.
Catheters are sized by "French sizes," which refers to the diameter of the catheter tube. These range from pediatric sizes as small as newborn to larger adult sizes. Most typically, common catheter sizes can be anywhere from 5 Fr – 24 Fr, although for adults, the most common sizes range between 12 to 18 Fr.
Thanks to a universal color-coding system, you can look at the funnel end to ensure you're using the prescribed French size.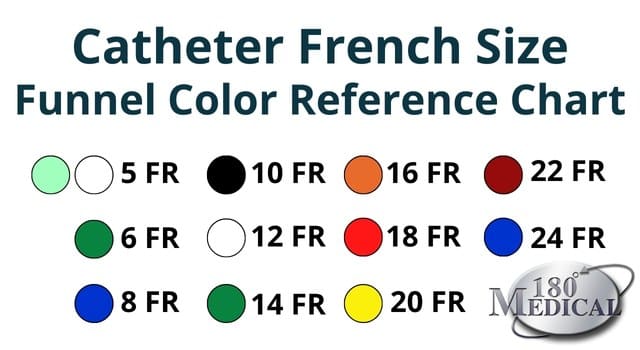 With the right French size, urine should flow from your bladder at a timely pace while keeping you comfortable.
A catheter that is too small will let urine flow around the sides of the tube, which can make quite a mess. On the other hand, you don't want a catheter that is too big for your urethra, which could cause discomfort or pain.
Your doctor will select and prescribe the proper French size with you, taking into consideration your preferences as well as your particular anatomy.
Do all catheters use the universal color system?
No. Exceptions to this rule are luer end catheters or red rubber catheters, which do not use the color-coding system.
Luer end catheters do not have a funnel end at all. Red rubber catheters are typically the same red rubber color from tip to end. Also, some catheters are clear from end to end, depending on the brand.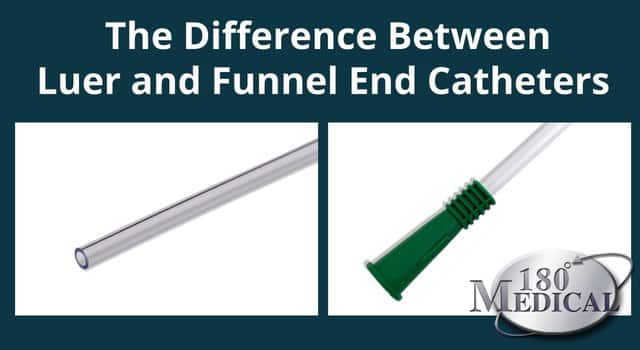 What Are the Catheter Length Options?
You can typically choose from three different catheter length options.
Women and children generally use shorter lengths because of their shorter urethras, although some prefer male catheters. If you're looking for a shorter catheter or something more discreet, 180 Medical carries plenty of pocket catheter options.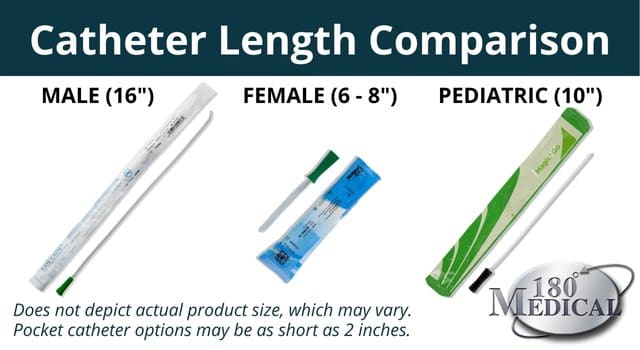 Curious if your insurance covers catheters? We can verify your insurance plan to see if and how your catheter products may be covered.
Verify Insurance
What Are the Catheter Material Options?
Intermittent catheter supplies come in different materials, such as PVC (vinyl or plastic), rubber latex, silicone, POBE, and more.
This is because some people may prefer different levels of flexibility and rigidity in their catheter. Also, some people may have latex allergies, so they require catheters made without natural rubber latex.
In addition, more and more people are interested in DEHP-free catheters. Learn more about DEHP.
Why Do People Use Catheters?
Most people have to use urinary catheters because their bladders stop working like normal.
Doctors may prescribe intermittent catheterization for many reasons. Here are a few but not all of the different reasons why people use catheters:
Urinary retention (bladder retains urine involuntarily)
Urinary incontinence (bladder leaks urine involuntarily)
Nerve damage after a surgery
Neurogenic bladder
Spinal cord injury
Spina bifida
Multiple sclerosis, etc.
Whatever your reason for needing to start learning how to self-catheterize, please know that you're not alone. Using catheters doesn't have to feel embarrassing. Many thousands of people use catheters every single day.
Contact the Catheter Experts
At 180 Medical, we've specialized in urethral catheter products for over 20 years.
When you contact us, you know you're speaking with a well-trained Catheter Specialist who can help you find the intermittent catheter that's right for you. Plus, we're here for any and all product questions.
Ready to find a catheter supplier that offers compassionate service and discreet shipping? Reach out to us to get started.

Disclaimer: Please note that this is intended to provide a general understanding of the basics of intermittent catheters. It should not be used in place of any recommendations or instructions from your prescribing physician or other professional healthcare professional. With your doctor's office, 180 Medical can help you find a catheter that works for you.