Have you heard about some of the potential safety concerns about the use of phthalates like DEHP? Then you may be wondering about catheters without DEHP.
180 Medical cares about the wellbeing of our patients. Not only are we constantly working to ensure we offer you the best and safest selection of urinary catheter supplies, but we also like to provide helpful resources and educational articles so you can make informed decisions regarding your health.
So let's talk about what DEHP is exactly and why there may be potential safety concerns about its use in medical supplies, such as urinary catheters. Plus, we'll go over the catheters without DEHP that are currently available at 180 Medical.
What is DEHP?
DEHP, which is an abbreviation of di-(2-ethylhexyl)phthalate, is a common chemical plasticizer. It's a colorless, odorless liquid that is often in certain types of plastics, such as PVC (polyvinyl chloride).
As a phthalate, its job is to soften products made of vinyl and other kinds of plastics to make them more flexible.
What is DEHP Used In?
DEHP is common in many plastic and vinyl products today. For instance, you can find DEHP in shower curtains, upholstery in vehicles, plastic packaging, garden hoses, and more.
Also, it can be found in some plastic medical supplies and devices.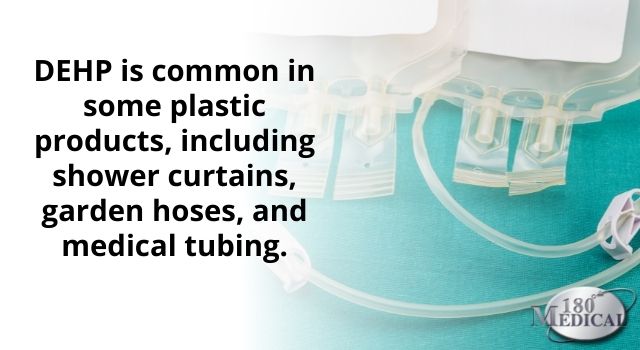 Some medical supplies that may contain DEHP are:
Intermittent catheters
Foley urinary catheters
Medical tubing, such as blood tubing or catheter extension tubes
Enteral nutrition supplies, such as feeding bags and tubes
Collection bags, such as urine drain bags and blood bags
Is DEHP Harmful?
Some sources indicate that repeated exposure to DEHP may be harmful.
According to the Agency for Toxic Substances and Disease Registry (ATSDR), prolonged exposure to DEHP could impact the male reproductive system and fertility levels. However, this may be primarily due to oral exposure.
Also, based on some specific studies, the Environmental Protection Agency (EPA) has determined that DEHP may be a potential human carcinogen, which means it might cause certain types of cancer.
To date, the exact health impacts of using medical devices with DEHP remain unclear.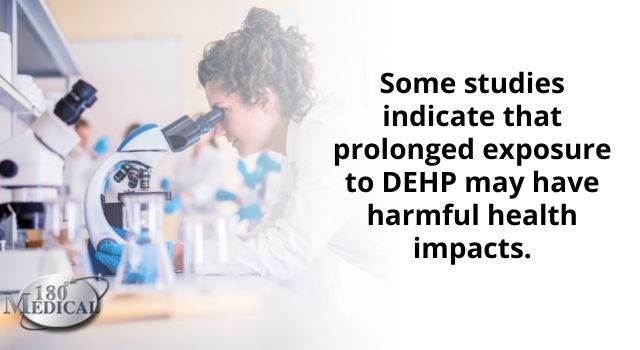 Is DEHP in Catheters?
Now, you might be wondering if DEHP is in all vinyl or PVC catheters. The short answer is no, it's not in every vinyl catheter on the market today.
Some catheters contain DEHP while others do not. It ultimately depends on the catheter brand as well as the catheter type.
How do I know if the catheters I use contain DEHP?
If you're using a catheter with DEHP, you will likely see a warning label on your catheter packaging.

This is required labeling by law through the California Office of Environmental Health Hazard Assessment. You can learn more about Proposition 65 warnings at the Proposition 65 website.
Why is DEHP in my catheter?
If you've noticed that DEHP is in the current catheter type you're using, you may wonder why. As mentioned above, DEHP is a plasticizer that helps soften certain plastics.
There are a few different types of catheter materials, including red rubber latex, silicone, and PVC (vinyl). DEHP is most common in PVC catheters, although it isn't in all of them.
So why is DEHP in some PVC catheters? Because PVC can be fairly rigid at room temperature, DEHP is used by some manufacturers to soften the material. This makes vinyl catheters a bit more flexible to aid with insertion during catheterization.
However, now that more information is being discovered about DEHP, some catheter manufacturers are choosing other components to soften their PVC catheters instead of DEHP.
Am I At Risk If I Use a Catheter with DEHP?
Because intermittent catheters are in the body only for short increments of time, exposure to DEHP would likely be minimal.
However, it's important to understand that there may still be health risks of DEHP in catheters. Researchers still don't know enough about the long-term health effects of phthalates on the human body.
That's why we're providing this information so you can make an informed decision about whether or not you want to use catheters with DEHP. The good news is that you have plenty of DEHP-free catheter options through 180 Medical.
Does 180 Medical Have Catheters Without DEHP?
Yes, we proudly offer one of the widest varieties of brands and types of urinary catheter supplies on the market today, including catheters without DEHP. Also, we carry options made without BPA or DINP, which are other common plasticizers. For instance, Cure catheters are always made without DEHP, DINP, BPA, or natural rubber latex.
At 180 Medical, we like to emphasize the importance of customer choice. We believe you should be able to try out and decide which catheter works and feels best for your needs and preferences, based on your doctor's prescription and your insurance's catheter coverage.
Which Catheters Without DEHP Are Available?
You can choose from a wide variety of types and brands of catheters without DEHP at 180 Medical. We'll list a few popular catheter types made without DEHP below, although you can also check out our online catheter catalog for a complete listing.
Straight Catheters Without DEHP
Straight intermittent catheters come uncoated and ready for the sterile, water-based lubrication of your choice. If you'd like to try out a DEHP-free straight catheter, here are just a few of the many options available at 180 Medical.

DEHP-Free Hydrophilic and Pre-lubricated Catheters
If you prefer a more ready-to-use catheter, such as a pre-lubricated catheter or a hydrophilic catheter that activates with water, you also have some great options.
For example, the GentleCath Glide Catheter provides a clean, smooth catheterization with less mess and no DEHP, thanks to its unique FeelClean™ Technology.

Closed System Catheters Without DEHP
Closed system catheters are often pre-lubricated and come in an integrated urine collection bag, offering a truly touch-free catheterization. These catheters may also come with additional insertion supplies such as gloves and antiseptic wipes, depending on the specific product.
If you prefer a DEHP-free closed system catheter, here are some of the many options available at 180 Medical.

Where Can I Get DEHP-Free Catheters?
Are you ready to get safe catheters that are just right for you? 180 Medical is ready to help you get the best possible supplies paired with our world-class personalized service and reliable, discreet shipping. We'll work with your doctor to get any documentation that may be required by your insurance, such as a prescription or progress notes. We'll also help you navigate your insurance benefits to determine how catheter supplies are covered on your policy.
Reach out to us today!
Disclaimer: The information in this article is not medical advice. It is not intended as a substitute for consultations with qualified healthcare professionals. For questions requiring medical advice regarding the potential health effects of DEHP, please talk to your doctor or another qualified medical professional.