Nearly a decade ago, Jen Goodwin was on top of the world. She'd graduated from the University of Arkansas, bought her first house, and adopted her first dog. Then she got her dream job as a pharmaceutical sales rep, which came naturally to her with her friendly personality, big smile, and real talent for sales. It seemed like life couldn't be better. Then everything changed in the blink of an eye.
The Day Everything Changed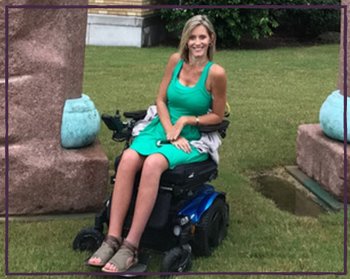 A fun day at the lake with friends in 2008 turned into a nightmare after dark. Jen and her neighbor were out in his boat when he fell backward onto her head. Then he used her neck almost like a springboard to push himself back up to stand again.
Immediately, she saw a flash of bright white and had a warm feeling that gave way to searing pain. Then she realized she couldn't feel her legs. It was clear something was very, very wrong.
At first, her neighbor didn't believe that she had been hurt, claiming that she was faking her injury. In cases like this, when someone indicates they may have a spinal cord injury, it's important to believe them. Keep them still and get help from emergency services as quickly as possible.
Unfortunately, this didn't happen for Jen. Due to her injury, she couldn't sit up or hold anything to maintain balance during that terrifying trip over choppy waters back to the boat ramp. It took a lot of pleading for her neighbor to relent. Finally, he loaded her into the floorboard of his truck, then drove her 45 minutes away to the hospital.
Getting the News of Her SCI
As soon as Jen arrived, the hospital staff sprang into action to help. It was obvious that she was seriously hurt. However, the true extent of the damage wasn't fully known until they ran some tests.
Despite her pain and fear, Jen tried to maintain a positive attitude. But then the doctor sat down with her to tell her that her neck had been broken and her spine was severely compressed at the C5 and C6 level. In other words, Jen was now a quadriplegic, unlikely to ever walk again.
That was when Jen let herself cry.
Life During Rehab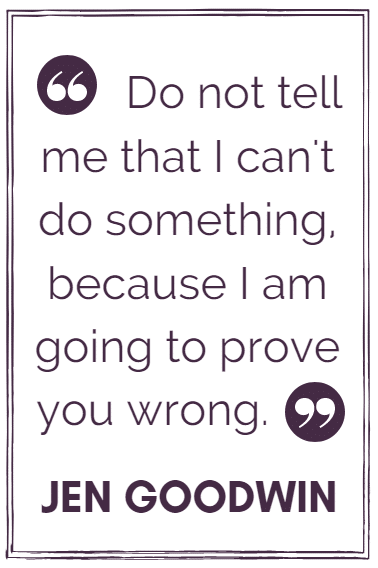 Naturally, Jen was heartbroken at all that had happened to her, but she didn't let herself stay down for long. She was ready to take on whatever challenges lay ahead. Her surgery was scheduled on a Sunday, and she transferred to the rehabilitation center on Thursday, one of the fastest post-surgery patients that the staff at the hospital had seen.
Her first goal was just to raise her hand high enough to scratch her nose. Initially, she had no lower extremity movement and no control of her triceps, because of the level of her injury, but she kept that tenacious drive and continued working hard to meet challenges head-on and eventually was able to achieve that first goal she had set for herself. "I just looked at it like, 'This is my chance, so I'm going to give it absolutely everything I've got every single day,' and because of that, I was able to get a lot stronger," says Jen.
Moving Forward
Jen was determined to push through therapy and work hard. However, it felt like a lot of the techniques and skills they were teaching her in rehab wouldn't be possible for her.
Even so, she was able to regain some strength after a lot of practice and therapy. This was validation that hard work really could make things possible that hadn't felt possible before.
Altogether, she spent nearly 2 years total in rehabilitation therapy, including a controlled intensive therapy study at the Shepherd Center in Atlanta.
During that time, she also met some of her best friends. They affectionately dubbed themselves, "The Quad Squad," and they still meet up regularly for vacations and get-togethers.
Keeping an Eye on Goals
Jen's ultimate goal during rehab was to learn to walk again. Finally, she was able to walk down the length of a basketball court and back. It took an hour and was achieved with the help of 2 therapists, a spinal electronic nerve stimulator (or e-stim), and a walker. This was a turning point for Jen in figuring out her next goals.
"I decided I could either learn to walk, or I could learn to live," she says of her decision to move on after focusing entirely on rehab for over two years. Because she gave her all and worked as hard as she could, she felt able to let go of the old goals and focus on new ones.
Jen faced plenty of new challenges after she came home from rehab. She had to use her new skills from therapy while working to develop new strategies for accomplishing daily activities around the house. She also learned to drive again with a modified car.
Later, she devoted almost a year to designing and planning an accessible home next to her parents' house. Then another year was spent just learning how to live in it on her own.
Learning to Self-Cath as a Quadriplegic
One additional aspect Jen had to consider was learning how to self-cath. It can help to have a catheter supply provider with trained product specialists on staff who are willing to take time to listen to concerns and questions. She found 180 Medical through a spinal cord injury event and has been with us ever since. "I absolutely love 180 Medical. You guys 
have always been great about getting the supplies I need and letting me know about any new products that come out. I can always rely on you to get my supplies to me when I need them," says Jen.
Depending on the level of injury, some may not be able to manipulate a catheter on their own. Jen tried out a few different catheter options while using a gripping catheter clamp to better hold them, but when she tried out a newer option the Coloplast SpeediCath Compact Set, she knew she'd found the perfect fit for her needs. "It's so nice that they fit right in my purse. They're super discreet and ready to go, and I can actually grip them with my hands." Since Jen loves to travel, it's super handy to have an option for catheters that are lighter and take up way less space in her luggage too.
"Never Lose Sight of What You Want"
It wasn't always easy. From the frightening night of her injury through years of hard work and dedication to physical and rehabilitation therapy, the journey to where she is now was long and challenging. Jen understands that things can seem bleak to those who have been recently injured, but after going through all she has, she encourages others to not lose sight of goals or give up.
Thinking about what might come next was never far away from Jen's mind as she settled into daily life. There were a few big dreams that she had always wanted to accomplish that kept coming up in her mind, and she decided she wasn't going to let her spinal cord injury get in the way of achieving those dreams.
Check out this awesome video from Permobil Corporation! You can meet Jen as she talks a bit about her goals and her experiences with her wheelchair.
Find out all about the next chapter of Jen's life in 
Part 2 
of our two-part series.